He was called in to help with a spa, but Brian Van Bower ended up pitching in with three watershapes in all -- each of which offered unique hydraulic challenges and all of which contributed to creating an elegant, water-defined penthouse space overlooking the Atlantic Ocean.

By Brian Van Bower
It's a great time to be a watershaper.
With so many talented designers out there, it's a world in which it's increasingly common to rush past conventional boundaries and deliver projects that delight the eye, warm the spirits and bring smiles to the faces of those lucky enough to enjoy them. There are extraordinarily skillful builders and subcontractors out there as well – people whose ability and determination are
It's a bit misleading to say that Longwood Gardens' Main Fountain Garden is 'back,' observes Robert Nonemaker, declaring that the $90 million revitalization has produced something that recalls the original -- but exceeds it on so many levels that it's almost beyond comparison.

By Robert Nonemaker
To say that I've avidly followed the just-completed process of restoring and renovating the Main Fountain Garden at Longwood Gardens is putting it mildly: This water display has been part of my life since I was ten years old, and I'm proud to say that it's responsible both for my profound interest in water in motion and in some ways for my being a professional watershaper today.
So it makes sense that I was there at Longwood Gardens (Kennett Square, Pa.) on May 27, 2017, when the fountain
Along with concerns about water consumption, questions on space allocation and energy use constitute the 'Big Three' among issues raised in sizing up fountain projects. Here, Robert Mikula wraps up this three-part series by offering answers that turn doubters into advocates.

By Robert Mikula
In recent years, most watershapers have had to speak up in defense of their projects when prospective clients start asking questions about water use and how a pool or pond or fountain can possibly represent a sustainable use of a precious natural resource.
These questions even come from those who are fully committed to making water a part of a business or civic setting or a feature in a home environment: They're looking for ways of
The revitalization of Longwood Gardens' Main Fountain Garden is nearly complete -- an ideal time, notes Robert Nonemaker, to step up with a progress report as well as a preview of some of the awesome, breathtaking upgrades being applied to this 80-year-old treasure.

By Robert Nonemaker
Three words come to mind when I consider what's been happening with the Main Fountain Garden at Longwood Gardens for the last two-and-a-half years: ambitious, audacious and amazing.
The people behind the project, from Longwood's management team to all of the outside players who signed on to get the work done, were supremely ambitious in deciding to reconstruct a historic national treasure – first commissioned in 1931 – and bring it abruptly up to 21st-century standards for performance, automation and serviceability.
They were audacious to the extent that they decided that all of this should happen in plain view, with no visual obstructions to hide what was going on from the public at large – no construction pen, no yellow tape, no barriers of any kind to keep the observers who crowd the fountain's famed Conservatory Terrace from seeing exactly what was happening with their beloved water display.
But so amazing! Although it had been in decline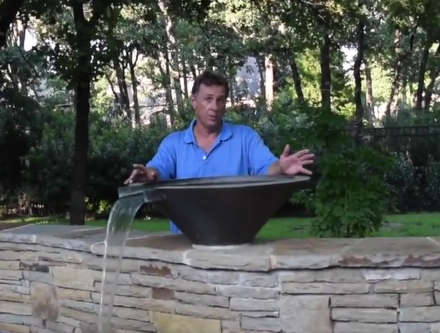 By Mike Farley
Water bowls emerged not long ago as a key element in the Watershaping Industry's ongoing campaign to bring dimension, sound and vitality to residential backyards and commercial settings. They go a long way toward masking traffic noise, which is cool, but even in a space that's perfectly quiet, they offer up soothing sounds while bringing a sense of variety and visual stimulation to projects of just about any size or extent.
As with the many
Needing to testify to the sustainability of a fountain project is now common. The good news, writes Robert Mikula, is that it's becoming easier to defend the inclusion of any type of watershape if you make resource conservation a clear, distinct, reachable goal from the get-go.

By Robert Mikula
As purveyors of fountains and other forms of decorative or recreational water, watershapers are faced these days by an immediate challenge: What we do is generally classified as "unsustainable" by an environmentally conscious public because they erroneously assume poor performance when it comes to the way we approach water consumption, use of space and energy efficiency.
On the surface, these are serious knocks on
We're all naturally attracted to water, writes Robert Mikula, but with perceptions of its preciousness and scarcity on the rise, it has become increasingly difficult to ensure its inclusion in built environments. Here's the first of three articles about pathways through the obstacles.

By Robert Mikula
As watershapers, we're comfortable using our chosen medium as a place-maker, an entertainer and a resource for recreation. In doing so, we take advantage of the fact that water is a unique, extremely versatile substance that can be manipulated in innumerable ways.
We also accommodate the thought that, supreme among design media, water has a pronounced and often profound effect on people who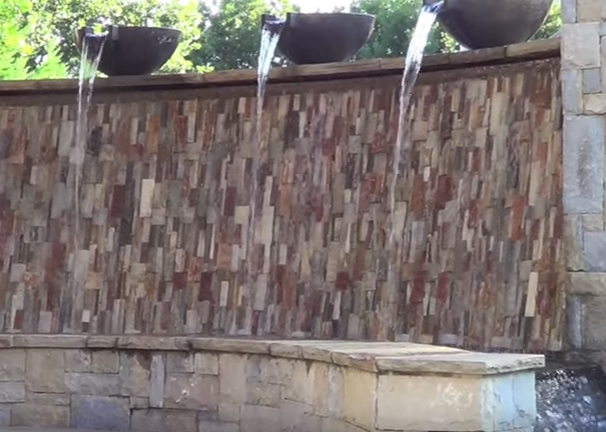 By Mike Farley
In concept, water walls are pretty straightforward: You pump a bit of water to the top of a structure and set up a weir or spillways or a system of emitters to release water so that it moves down the face of the wall the way you want it to flow.
In actuality, however, water walls are much more complicated than that. In fact, there are lots of things that
An extensive facelift for Chicago's famed Navy Pier involved creating a brand-new park at its entrance, complete with a large interactive fountain. Working in so public a space amps up the pressure, notes Asmaa Elkorazati -- and puts a premium on having the right project team.

By Asmaa Elkorazati
Projects in significant public spaces are rewarding on many levels, but they also carry their fair share of challenges, mostly in the forms of scheduling, coordination and communication.
For us at Crystal Fountains (Concord, Ontario, Canada), these hurdles are beyond familiar: For decades, we've been a go-to working partner for fountain and interactive waterfeature projects around the world, from the Crown Fountain
Working far from his U.S. home base is nothing new for Josh Martin. But in the case of the Yas Mall in Abu Dhabi, the scale of the project -- combined with the large number of watershapes and their abundance of precision details -- kept things interesting, one feature after another.

By Josh Martin
When it comes to ostentatious and even audacious aquatic displays, there's no doubt that the Middle East now boasts some of the world's most incredible watershapes. Even a quick survey reveals a tremendous range of architectural and hydrological marvels in which technology is paired with grandeur to stunning effect.
Several instances of this exuberance appear on
By Mike Farley
This is one of those cases where, from a design perspective, I said just about everything I wanted to say about rain-curtain effects in the video linked below.
They look great, they sound even better and my clients love them. So what else is there to consider? Well,
The fountain basin was designed for children at play, but a deteriorating finish was making it much less fun than it should have been. Enter Ron Melbourne, a specialist in reviving watershapes in their time of need: He saved the day with felt, adhesive, PVC and well-applied heat.

By Ron Melbourne
Yards Park is a wonderful open space in the Capitol Riverfront neighborhood of Washington, D.C. One of its main attractions is in the middle block of the park, where you'll find a grand watershape with a footprint that covers an area spanning 20 by 135 feet.
At one end, there's a fountain/waterfeature that immediately catches the eye. But the big draw
In the year to come, the renowned Main Fountain at Longwood Gardens will be undergoing a mass-scale renovation. Robert Nonemaker is tracking the process for us, beginning here with an insider's report on the grand display's gradual decline -- and imminent rebirth.

By Robert Nonemaker
When the management at Longwood Gardens announced in late 2014 that the Main Fountain Garden would be taken offline and become the subject of a $90 million restoration project, anyone who has ever visited the gardens had to be happy.
I've been a regular visitor and huge fan of the Longwood for most of my life, and it's been sad through the years to watch various systems break down and the overall performance of what was left gradually