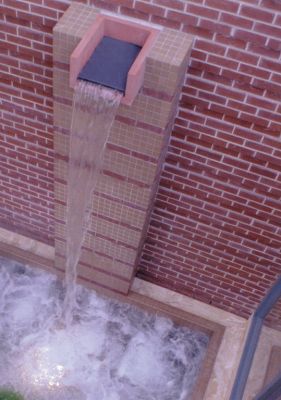 By Paul Ryan & E.C. Medley
Given the way bodies of water interact with gravity, a great deal of the personality of any swimming pool is set by the flat surface of the water and its reflective qualities. In our work, we've found a variety of ways to capitalize on that flatness by creating focal points that are distinctly vertical in nature.
In fact, we've found that working on the "y axis" and focusing on upright structures as diverse as arches, walls, columns and waterfalls can yield a variety of stunning visual effects: Exterior spaces and vistas can be connected or distinguished, architectural shapes can be contrasted or echoed, shadows or reflections can be cast, and privacy or openness can be enhanced.
The fact that these effects cut both ways makes them appealing to a custom builder who strives to give clients something unique and lets the characteristics of the individual setting drive the design process. It makes the work more challenging, yes, but it also makes it more fun and rewarding.
In many cases, the vertical elements we use can be subtle and retiring – a slightly raised bond beam, for example, or a small waterfall. More often than not, however, we gravitate toward the bold and declarative by integrating water into architectural forms and creating dramatic and