Fountain People (San Marcos, TX) has upgraded its familiar Fountain-in-a-Can (FIAC) product line with a new, manual Integral Throttling Valve that allows a fountain's water height to be adjusted from the top-plate without ever having to enter the fixture: On-site adjustments are now fast and easy using a wrench at the surface of the fountain. For details, click here.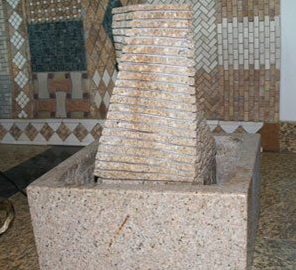 Carved Stone Creations (Kaukauna, Wis.) offers a line of carved stone fountains that take their design cues from modern art. Setting aside common classicism, the units take forms that complement modern or minimalist architecture with columns, broad bowls, shapely pedestals, granite spheres and a variety of other curving and linear forms. For details, click here.

Fountain People (San Marcos, TX) has introduced its Zen Series line of fountain nozzles for use in zero-entry fountain systems as well as application with beach-entry pools. The flush-mounted nozzles, which can operate in as little as three to six inches of water, are capable of producing solid streams that create dynamic water-column effects. For details, click here.