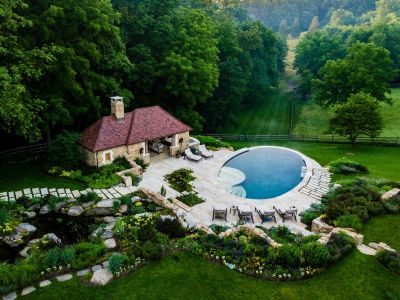 By Scott Christie
My recent article in WaterShapes left readers in some suspense.
As reported last time (click here), we were most of the way through the design process and were actually getting ready to start important work on site when the homeowners sprung something new on us. They'd just returned from a trip to Europe, and they'd been so inspired by what they'd seen that they wondered if we could inject a sense of the "Old World" into the project.
The goal had previously been about creating a naturalistic setting in which wilderness seemed intent on reclaiming the space. Their fresh desire was to make explicit the notion that a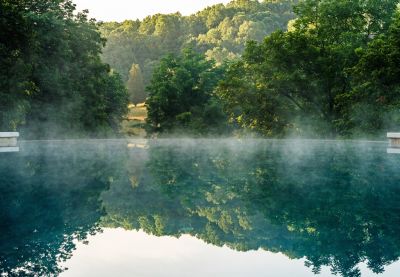 By Scott Christie
There's a lot to be said for working with the same homeowners through extended periods on various projects on single sites. From easier communications and familiarity with personalities to full awareness of site dynamics and the capabilities of local talent, the advantages of these long-term relationship quickly collect in long lists.
In this particular case, we at Hess Landscape Architects (Lansdale, Pa.) have worked on one particular property for a pair of clients for ten years now. This has included a variety of projects on an estate that covers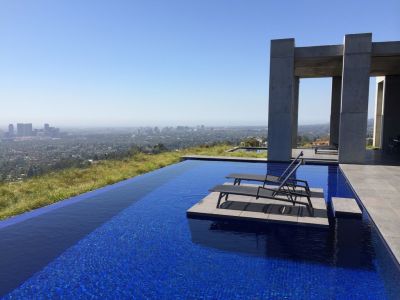 This was one of those cases where a project that offers all the indications of a direct path to success took a couple of weird turns that complicated things in unusual ways.
The pool and spa are located high up in Trousdale Estates, a canyon-hugging neighborhood above Beverly Hills, Calif. The views are magnificent all the way to downtown Los Angeles in one direction and to the Pacific Ocean in another – and the spaces in which the pool and separate spa had been placed took the fullest possible advantage of those prospects.
Our client was a multifaceted home-design/build company that had a distinguished track record with this sort of all-concrete