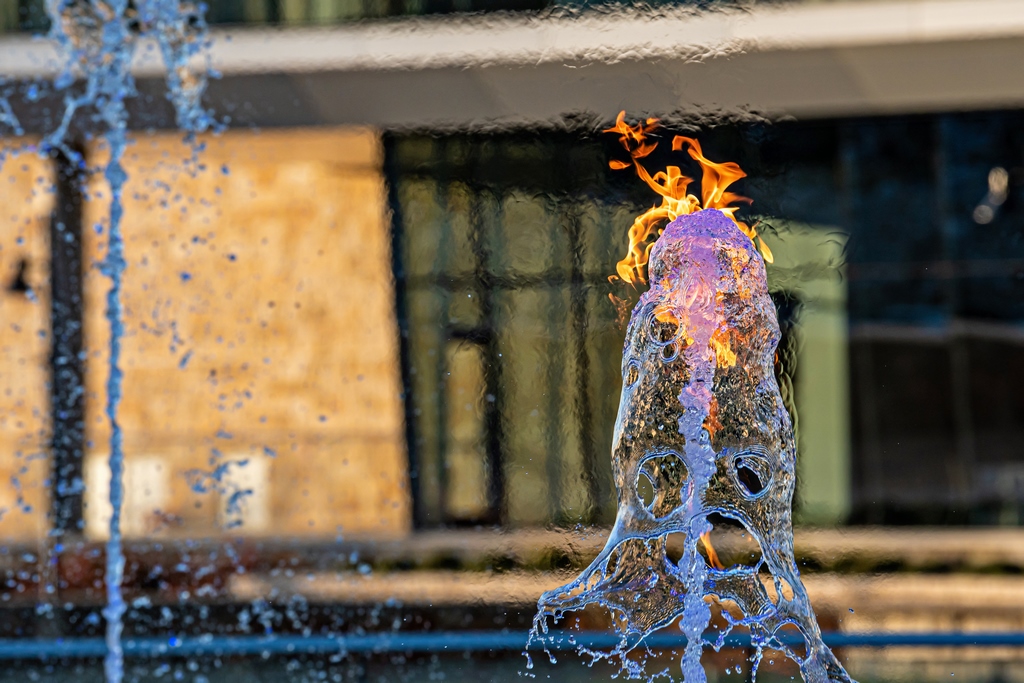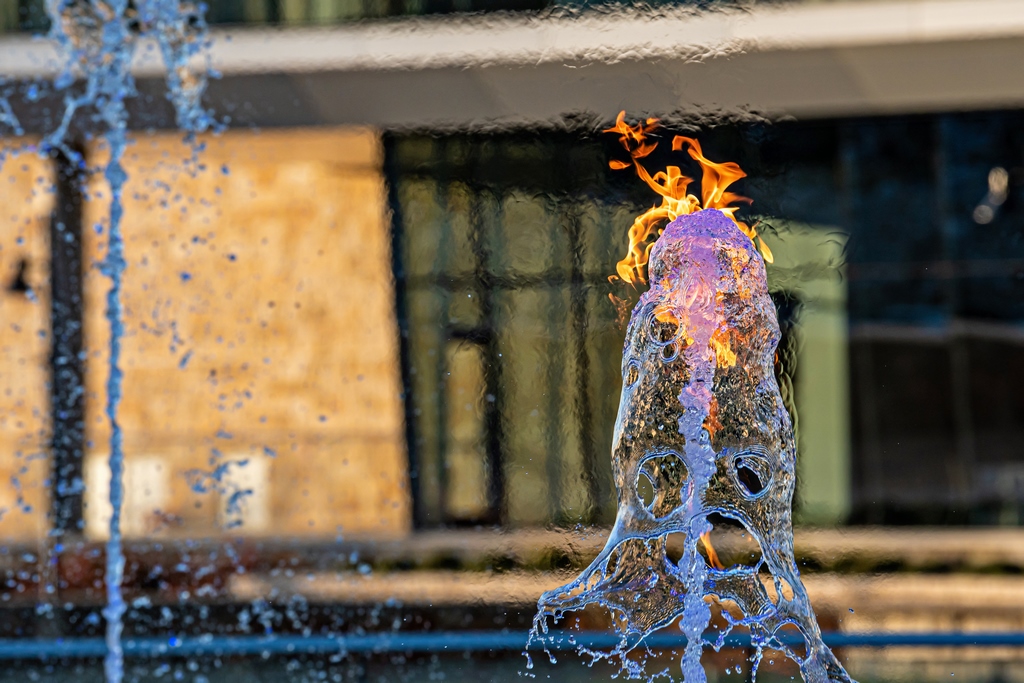 When commercial property owners are looking for a competitive edge that will attract visitors and customers, many turn to fountains. The sustained value of water displays has proven an effective investment across a spectrum of public-facing settings. Here's a look at some successful examples.
By J. Wickham Zimmerman and Dan Burgner
It's no secret that watershapes can add tremendous appeal to commercial spaces. A thoughtfully designed and constructed fountain, with its unique offerings for the senses, is almost unparalleled in the ability to attract people to different types of venues. The attraction to water within the human psyche is hard-wired and timeless.
What commercial property investors may not realize is that these installations can also add measurable value to assets and even augment net operating income (NOI) for property owners and operators. This means their initial investment into a well-executed feature can pay for itself over time and provide additional long-term revenue, making the installation extremely worthwhile in any economic climate.
In fact, the economics of incorporating a fountain into a commercial space can significantly impact a property's bottom line and future financial potential. Because our companies are experts in delivering one-of-a-kind experiences for tenants and visitors at commercial spaces, we have seen firsthand how water features can deliver profitability for stakeholders.
In designing and constructing water features for a breadth of property categories, Outside the Lines (OTL) has extensive expertise in delivering fountains, rockwork, and themed environments that truly move the needle for investors.
Equally, BExperiential specializes in providing and implementing a large array of practical solutions to the current and future challenges that retail and mixed-use properties face, including generating steady cash flow. Water features play prominently in these solutions.
Here are some of the ways we have seen water features help commercial properties thrive through added value, leading to increased revenue and profitability.
DRIVING FOOT TRAFFIC
We have witnessed foot traffic at commercial spaces increase significantly after implementing water features with specific characteristics such as dancing water jets, music, dramatic night-time lighting effects, and the combination of fire and water. These characteristics draw people from miles around to experience them.
For example, at the Island in Pigeon Forge, a 300,000 square-foot mixed-use entertainment complex in Pigeon Forge, TN, OTL's team delivered a show fountain featuring jets of water synchronized to music and lights. The project serves as the centerpiece for this destination, attracting guests to its programmed shows and encouraging them to linger longer at the center.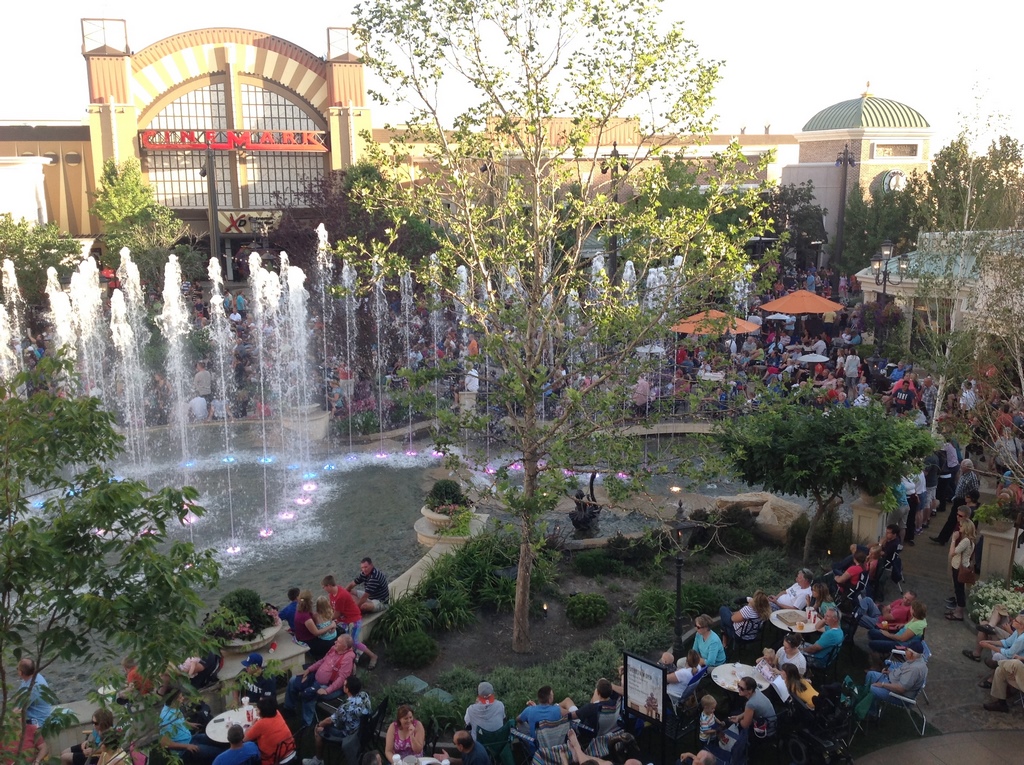 The shows are especially impactful at night, when the colored lights and dancing jets synced with the music truly stand out in the darkness. The dramatic anticipation of the sun setting so the show can begin is part of the joy of experiencing a show fountain — and this anticipation keeps guests who arrive during the day from leaving before the excitement starts.
Another example is the special-effects show fountain OTL's artisans and builders designed and constructed at Texas Live! — a $250 million sports, hospitality, dining, and entertainment complex in Arlington, TX. The project's dancing flame nozzles and 57 fast-paced chaser jets that launch water over 25 feet in height combine for an effect that takes guests' breath away on a daily basis. The striking fire-and-water shows delight Arlington residents and visiting sports fans while distinguishing the development from all others. This dynamic combination of fire and water is a sure bet for drawing in crowds.
In yet another example, large-scale projection onto a wall or centrally located structure can be incorporated into a water feature to create a statement that expands the fountain's visibility and attracts more people to it. The show fountain OTL's team created at EpicCentral, a 172-acre park site in Grand Prairie, TX, is a prime example of the use of projection.
Augmenting the experience of all the above-mentioned effects through projection is an excellent way to generate foot traffic to a commercial space. In addition, property owners can directly monetize projection by selling this service to tenants such as retailers, food and beverage vendors, and others who can benefit from additional promotion.
A SENSE OF PLACE
The genesis of many of our projects is the stakeholders' desire to create a sense of place for their commercial property. Watershapes can do this by adding an element of wonder to a location and even creating new reasons for guests to be there. While this clearly helps the property owner, it can also expose consumers to tenants and vendors within or near the venue, providing additional economic benefits to the region.
A great way to augment a sense of place is to provide exciting and unique experiences that people can't get anywhere else. For example, the slogan of University Place, a 112-acre lifestyle and retail destination in Orem, UT, is "Unlike anything else in Utah County" due to its variety of live/work/play options.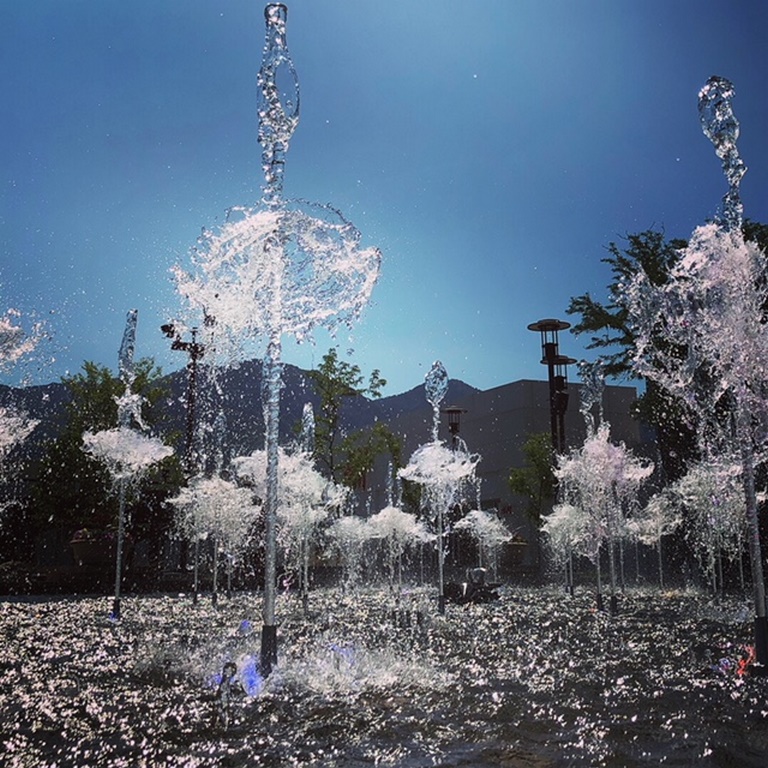 OTL designed and built a stunning show fountain and interactive deck, an integral part of a performance park that developer Woodbury Corporation installed at the center several years ago. It still provides a constant draw for locals and visitors, according to Woodbury general manager Rob Kallas. "The water feature surely is the centerpiece of the park," says Kallas. "We feel it brings a number of visitors to our center as we promote it with other events at the park. The patrons are mesmerized by the fountain and its coordinated dancing musical displays."
The "sense of place" benefit of water features for vendors at a destination is so tangible that restaurant tenants often request to be located near fountains, enabling their customers to enjoy the sights and sounds of these water features as they dine. One such case involves the state-of-the-art show fountain OTL's team delivered at The Village of Meridian, a shopping center in Meridian, ID. When executives from The Yard House visited the center during construction and saw the 65,000-gallon fountain, with its shows choreographed to light and music, they requested a location with a patio facing the display.
"The fountain at The Village at Meridian has always been a focal gathering spot at the property that is loved and admired by our community," says Hugh Crawford, director, property management – intermountain region, for CenterCal Properties, owner of The Village at Meridian. "Many of the best dining seats in the entire valley are on the patios of the restaurants that surround the fountain."
TANGIBLE DELIVERY
The ultimate goal of driving foot traffic and creating a sense of place at a commercial space is to elevate revenue and increase profitability for stakeholders.
When people are motivated not just to visit commercial places but also to stay there longer, the potential for them to spend more money at the locations rises. Moreover, when guests feel as though they are in an inviting, comfortable, or even luxurious environment, they also are more inclined to increase their monetary spend.
Today's fountains can help commercial properties to create that high-end environment, and resort-style income-generating tenants such as coffee shops, cafes and restaurants, breweries, and merchandise vendors located near fountains further contribute to that atmosphere. All of these elements combined attract customers, distinguish properties from their competitors, and enable tenants and owners to benefit from increased sales.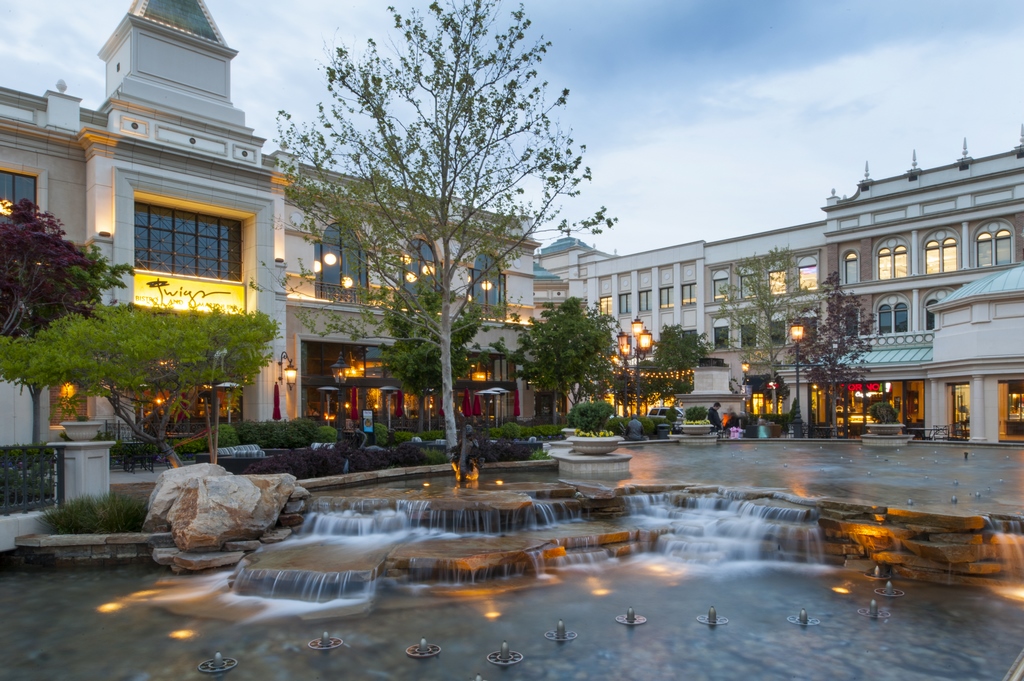 "People who come to our venue stay longer once they are here because of the show fountain and thus spend more money on shopping — especially food and impulse purchases," notes Kallas.
Stakeholders can further monetize water features by offering paid naming rights to the fountain, renting out the space for events or leveraging it as a setting for local advertising campaigns. The latter has limitless applications, as sponsors and advertisers want to be associated with entities that create a unique sense of place, positive sentiments, and of course foot traffic. In these ways, investment in a water feature pays for itself over time and can even generate profits for property owners.
BY THE NUMBERS
Let's look at a hypothetical case study that illustrates this point. A show fountain that costs an owner $5 million to install would require $220,000 of NOI to produce a 10% return on that investment with a depreciation of 25 years. That fountain could easily draw an incremental 100 guests daily to experience the shows. At an average spending estimate of $100 per person per day, that would collectively produce $3.65 million in annual sales. Assuming that one-third of those dollars go to tenants paying a 6% percentage rental, then $73,000 of additional percentage rental would be produced.
Further, assuming an average rental rate premium of $16 per square foot from tenants who want to be located near the fountain, the water feature would also bring in as much as $112,000 in additional annual income. Naming rights at $8,000 per month could generate $96,000 per year, and just one event — birthday party, wedding, meeting — per month at $5,000 per event could deliver an extra $60,000 per year.
All told, the additional annual revenue generated by the fountain would total $341,000—well beyond that 10% return. Also, at a 5% cap rate, the increase in real estate value from the fountain would be $6.82 million — significantly above the initial investment for the water feature.
Annual NOI and Value Gain from a Fountain
Expenditures
Revenue
Initial investment
$5M
Additional rent percentage from tenants located near fountain
$112,000
Naming rights fees collected
96,000
Rent percentage from additional 100 guests/day
73,000
Event revenue – one event per month
60,000
Total additional annual revenue
$341,000
Increase in property value at 5% cap rate
$ 6.82M
In addition, as the common area of a property comprises a substantial portion of that space, this area can and should be generating revenue. Adding a watershape to the common area creates a great guest experience, a unique environment that becomes a focal point, differentiates the property, and provides its own return on investment.
SOUND INVESTING
It's verifiable, not only do water features enhance the aesthetic appeal of commercial spaces and make them fun places to visit, they can also impart significant value to those venues and deliver numerous financial benefits for investors and tenants.
By driving foot traffic, creating a sense of place, and providing additional opportunities to monetize properties, fountains can deliver tangible income far beyond the capital costs and help assets thrive well into the future.
J. Wickham Zimmerman is CEO of Outside the Lines, Inc., a design-build themed construction company that specializes in creating one-of-a-kind rockwork, water features and themed environments for retail entertainment, hospitality, gaming, and golf properties around the globe. Dan Burgner is CEO of BExperiential, Inc., a firm that helps properties boost profits by transforming venues into immersive, multisensory destinations.