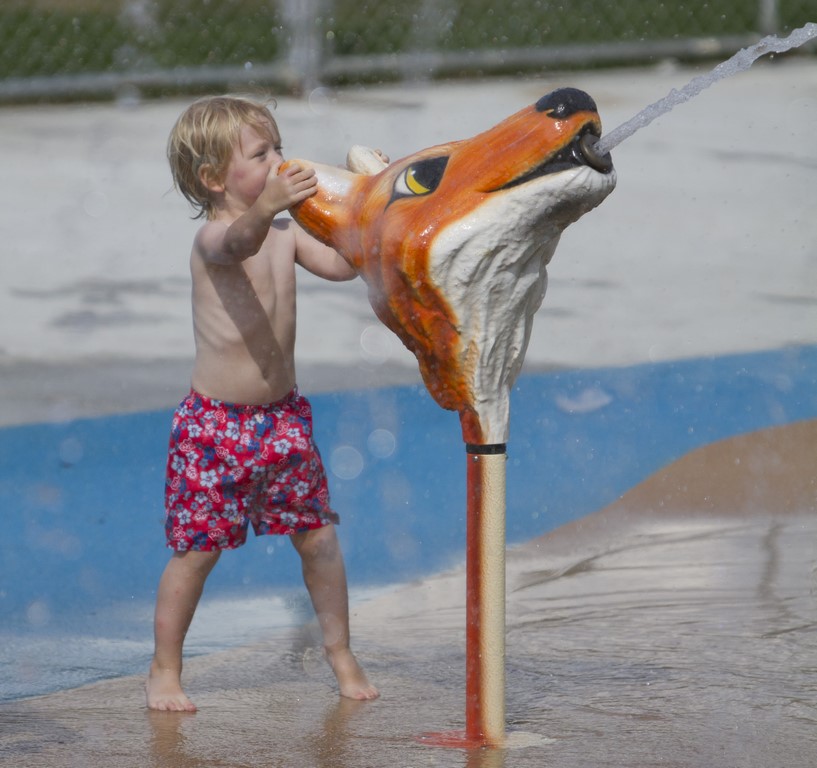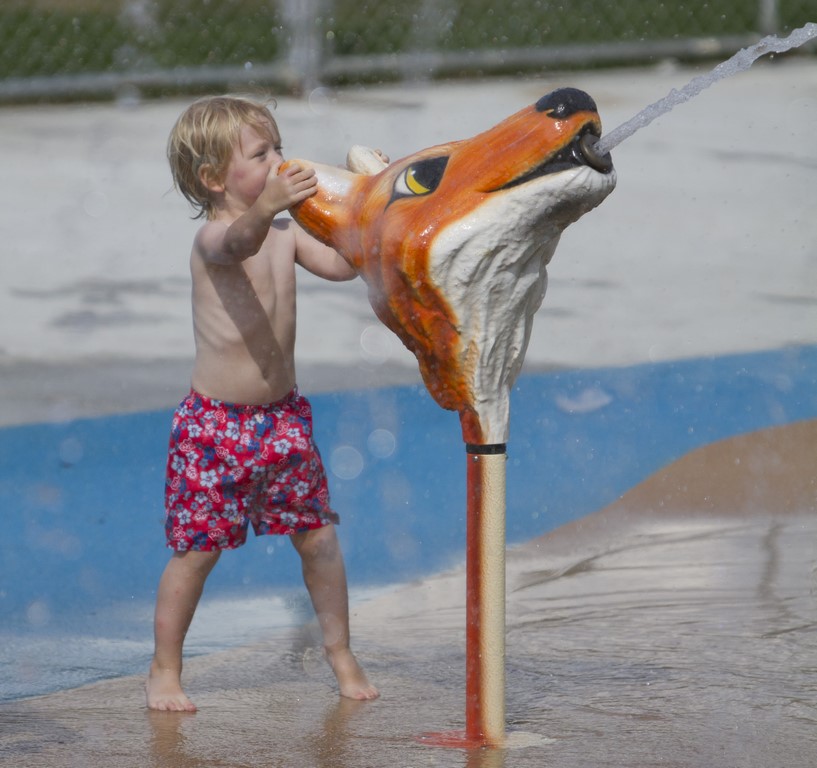 Creating water playgrounds that appeal to multiple generations is both a science and an art, explains "playologist" Shelley Robinson. Here she profiles an enduring splash-pad project that was designed to delight kids and their parent alike with the use of custom features and large doses of imagination.
By Shelley Robinson
It takes careful forethought and design discipline to create a sense of whimsy. Kinsmen Park Splash Pad is a perfect example. A unique, completely custom manufactured splash pad located within Queen Elizabeth Park – in the heart of the Edmonton's River Valley, on the south side of the North Saskatchewan River – the space invites kids of all ages, including those of the grown-up variety to gather in a place designed purely for fun.
This highly visual waterpark is extremely colorful, with spray features uniquely designed and custom manufactured to provide a nature and wildlife theme, reflecting the natural beauty surrounding the park. Visitors enjoy a clear vision of the splash pad's play area from the high-level bridge crossing the river, where elements such as bears and owls climbing water towers, and buckets, designed to look like beehives dropping water on squealing children, can all be seen.
Installed in 2015, the splash pad is credited with attracting thousands of visitors from the community every summer – a reminder of the power and value of insightful watershape design and construction.
CREATIVE COLLABORATION
When the City of Edmonton embarked on this splash-pad proposal, they worked with our firm, Park 'N Play Design, a Canadian based, national organization with offices throughout the country. We met with city representatives and suggested a custom designed splash pad which uses animals, flowers, and bugs to reflect the natural elements in the area.
They agreed immediately, so we worked closely with designers and artists to create a splash pad with fun, vibrant, nature themes, and made a one-of-a-kind splash pad experience. Our goal was to celebrate the riparian wildlife along the Saskatchewan River and, more than anything, create a place where people of all abilities could come together for the same reason, to have fun in the water.
Water Odyssey worked closely with our team to design and create honey bears climbing poles, owls sitting on the tops of barrels, and fox and lynx heads that spray water, all are rendered in vibrant colors to attract children of all ages. The city was very receptive to our concepts and Water Odyssey was a brilliant partner, with their staff of creative and talented artists who helped bring our ideas to life. Their design team was able to show us 3D renderings and they were immediately approved.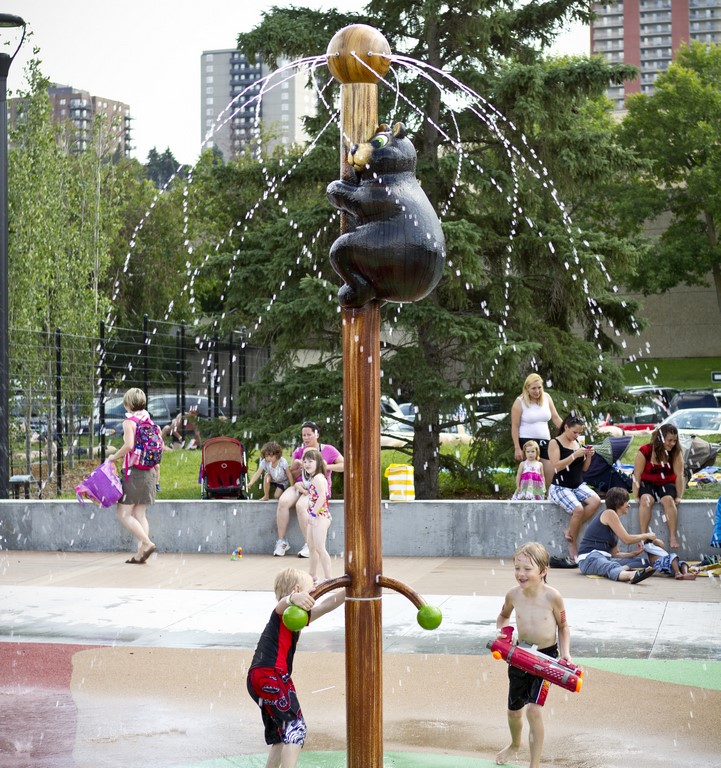 Some of the more notable features include a tall pole with an owl perched at the edge of the barrel. There is also a unique Maypole, which not only sprays water in ribbons, but also offers a spinning capacity where users can rotate the pole to create eye-catching water patterns. The feature spins 365 degrees and is topped with a honey bear that looks like the bear is climbing a tree. The splash pad also offers a "spin and spill" water dumping feature, comprised of custom designed beehive buckets that tip over as they fill with water.
The entire splash-pad play area measures roughly 93.75-by-38.5 feet, providing 2,372 square feet of wet play area, while recirculating 235 gpm of treated water.
INCLUSIVE DESIGN
The splash pad is multigenerational, meaning it is 100% inclusive for users of all ages and all abilities. Users can crawl, walk, run, or roll into the splash pad and engage in other forms of water play. The entire design is based on age-appropriate play zones. Each zone flows into the next, increasing in water feature size, from smaller features to larger interactive water play. The nature-based theme of the water features is fun and reflects the uniqueness of the beauty along the river.
As a "playologist," my passion is to create inclusive spaces, my goal is to create play, inspire movement, stretch muscles, and get the giggles started. When I watch kids playing in this splash pad, I'm so pleased to watch them get excited as they try to anticipate when the water will spray or dump on them.
The water features are all set to different sequencing patterns with controllers, so everything is a surprise for the kids. The features we chose not only foster independent play, but also co-operative play – as kids invent games and work together to spin water features to make buckets dump more water and create further excitement by running between the water features.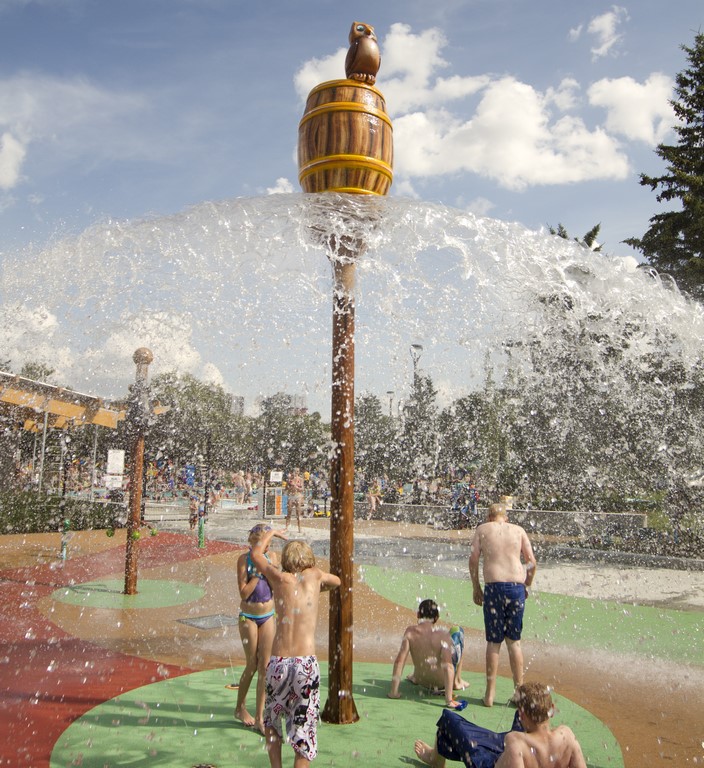 The arrangement of play features in a splash pad is key to ensure those with physical, developmental, or cognitive limitations have areas to participate in, as well. A variety of sensory experiences build upon one another to make the facility more inclusive for those with such limitations.
Designers can create a sequence of features, starting with sensory exploration, with something as simple as a bubbler, and gradually move towards those with increased intensity­ – drawing users into the splash pad. When done properly, this sequencing provides participants the opportunity to try something more powerful, such as an archway with spraying water, but it also allows them to quickly retreat to a less forceful feature. Moving from one zone to another allows users to explore the area at their own pace.
PLAY ZONES
Unlike playgrounds rated by suggested ages, we believe it is important for splash pads to be defined by the intensity of their water features. For example, some children are not keen to get their head wet as it is a sensory experience, and this is not necessarily related to a specific age group. Physical, cognitive and developmental stages indicate how each child develops their ability to process sensory experiences differently. A child should not have to adapt to a space but the space should be designed to include all.
From a user standpoint, it is important to have zones with lower water use that progress through a sequencing path, moving up toward more energetic features, such as dumping buckets. As a result, water feature manufacturers now offer product lines with different intensity levels and options to accommodate the overall size and plan of a splash pad for potential users.
Today, many elements are available to make play sequencing an engaging attraction. One can start with a range of bubblers and water-weaving features to create visually interesting patterns, drawing users into the splash pad without the fear of being confronted with a lot of water all at once.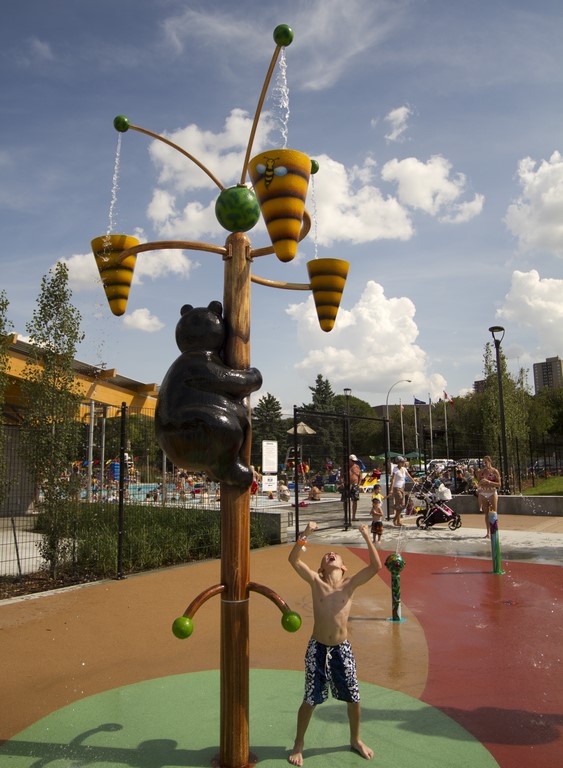 In the case of the Kinsmen Park splash pad, the customized spray features are all based on standard play features offering a variety of water intensity levels for a fully inclusive water play experience.
SIGHT LINES AND SUPERVISIONS
In addition to the inclusive play elements incorporated into a splash pad, providing unobstructed sightlines across all areas is key for supervising children, especially those who might be experiencing physical, developmental, or cognitive limitations.
An inclusive splash pad can make any park or community an attractive gathering space for all.
When designing facilities to include older generations, both the splash pad surface as well as the surrounding area need to be flat to accommodate the wheels of walkers and wheelchairs, and it should not have any irregular cross slopes either, for those with mobility and balance limitations.
The surface must be slip-resistant, smooth, and flat. Older users are generally in a supervisory role and, therefore, it is important to provide comfortable areas for them to stand or sit and still be able to oversee children. Shaded seating and accessible routes to benches make a splash pad highly successful for caretakers, especially grandparents.
GATHERING ENJOYMENT
A splash pad play area can become a gathering place for people of all abilities, ages, and backgrounds to relax and connect through the joy of moving water. Having a custom designed splash pad also invokes community pride and ownership. The naturally inclusive landscape of a splash pad not only offers a fun adventure for the community, but also satisfies their unique physical and cognitive needs.
A simple but powerful space, an inclusive aquatic facility offers a glimpse of the larger picture of universal well-being and connectivity. A custom designed splash pad gives local communities something to call their own, something to boast about, and something to post about on social media as well.
The Kinsmen splash pad, with its one-of-a-kind, custom created water features gives this Edmonton park a unique visual appeal and reflects the natural beauty of its surrounding river valley. Splash pads such as Kinsmen, offer a zero-depth aquatic solution, which takes its cue from nature by combining the sensations of different water movements – flowing, misting, jetting – and using it to create an uncompromising custom design for an unequalled play adventure.
It's a very happy place and we were proud to be a part of taking it from concept to reality — all with a touch of whimsy.
Shelley Robinson has been on the Park N Play Design team for almost 20 years, creating and marketing Outdoor Recreation. Her passion lies with Championing for Inclusive Public Outdoor Recreational Spaces. As a certified inclusive design educator, she shares her passion and knowledge with each community she partners with.