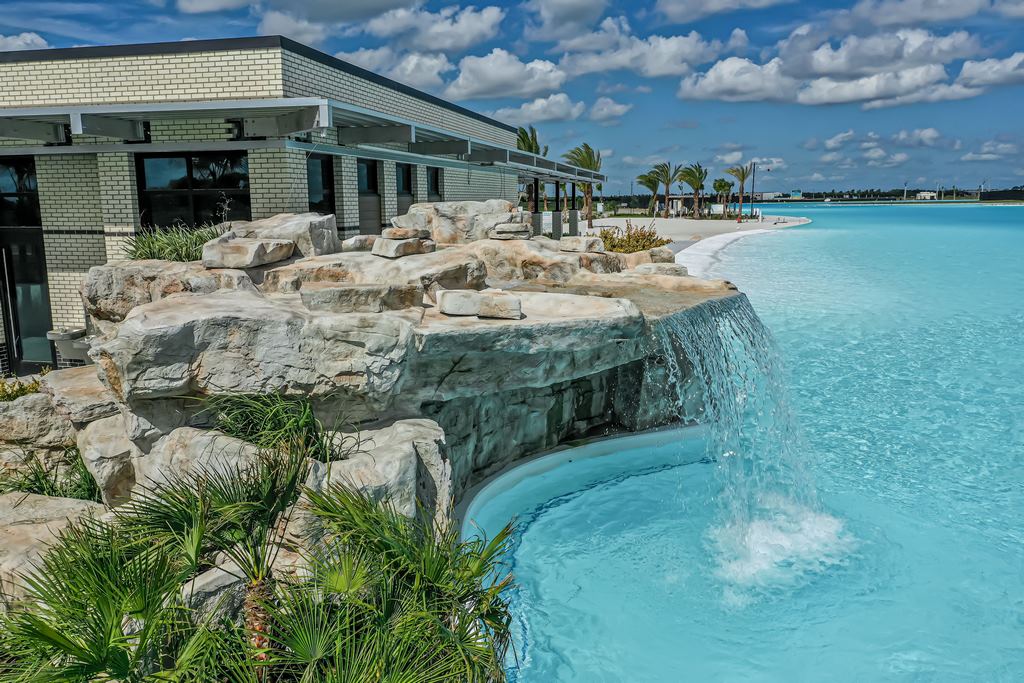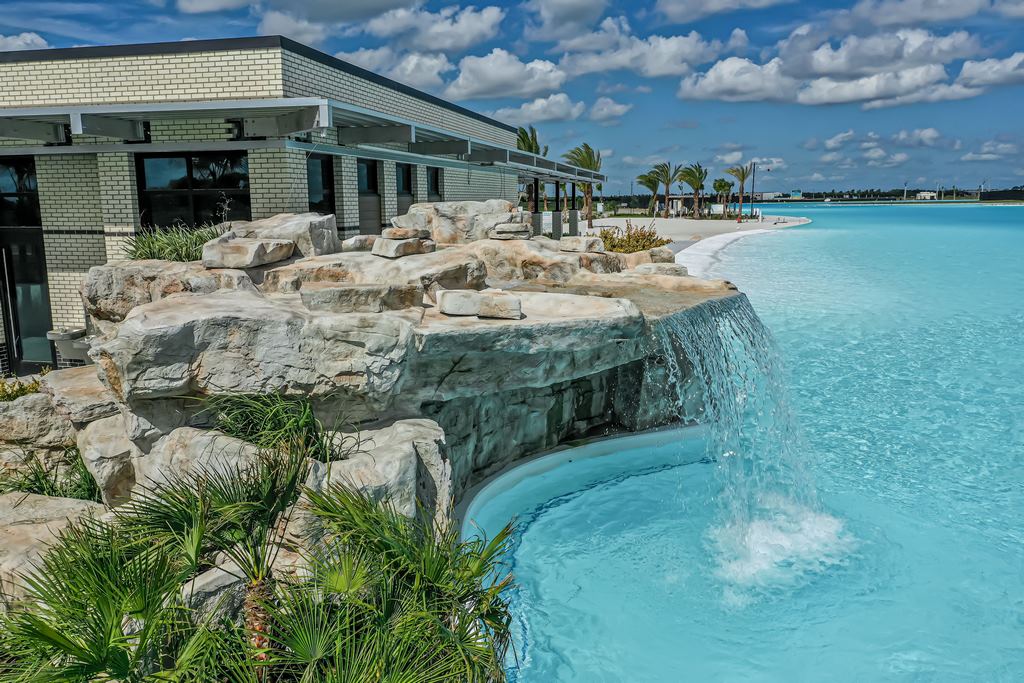 Rico Rock was recently asked to provide its GFRC panels for a large waterfeature for an even grander lagoon made by the Chilean firm, Crystal Lagoons, a company that has set records around the globe for creating the largest recirculated swimming pools ever built. The result is a stunning feature on the "shore" of a Texas housing and resort development that offers luxury in a dynamic recreational setting.
By Bruce Riley
Using innovative technology that conserves water and lessens environmental impact, Crystal Lagoons is a company that has installed stunning water lagoons all across the globe. One of their most recent installations is named Lago Mar – a massive 12-acre crystal clear water lagoon located in Texas City, Tex., and is the first of these outsized pools to offer public access.
These massive amenities have created an international sensation over the past 10 years. Invented and patented by company founder, Fernndo Fischmann, the vessels feature sparkling water that is maintained by a proprietary, and somewhat mysterious, treatment method. Today, the company has offices on five continents and holds over 2,000 patents in 190 countries.
They have become popular in resorts and housing developments, where the lagoons add value to the properties where they're located. Marketed as a unique, staycation destination, the Lago Mar lagoon contains a whopping 24-million gallons of water, is 1,700 feet in length, has depths up to ten feet at its deepest point – and it boasts a one-of-a-kind water feature constructed from our company's cast-concrete artificial rock panels.
ON THE EDGE
We worked closely with landscape architect Lacy Hamilton at KGA DeForest Design in Katy, Tex. to develop the feature, which includes a combination waterfall and grotto that used about 2,000 square feet of GFRC panels needed to create this one-of-a-kind custom water feature.
This was not the first time that one of our water features were included on this type of lagoon. We built a similar project at a Crystal Lagoon in Humble, Texas about four years ago and found the functionality and natural beauty of the product to be ideal for the application. At Rico Rock, we take pride in being is easy to work with, and the flexibility of the product is ideal for on-site installation.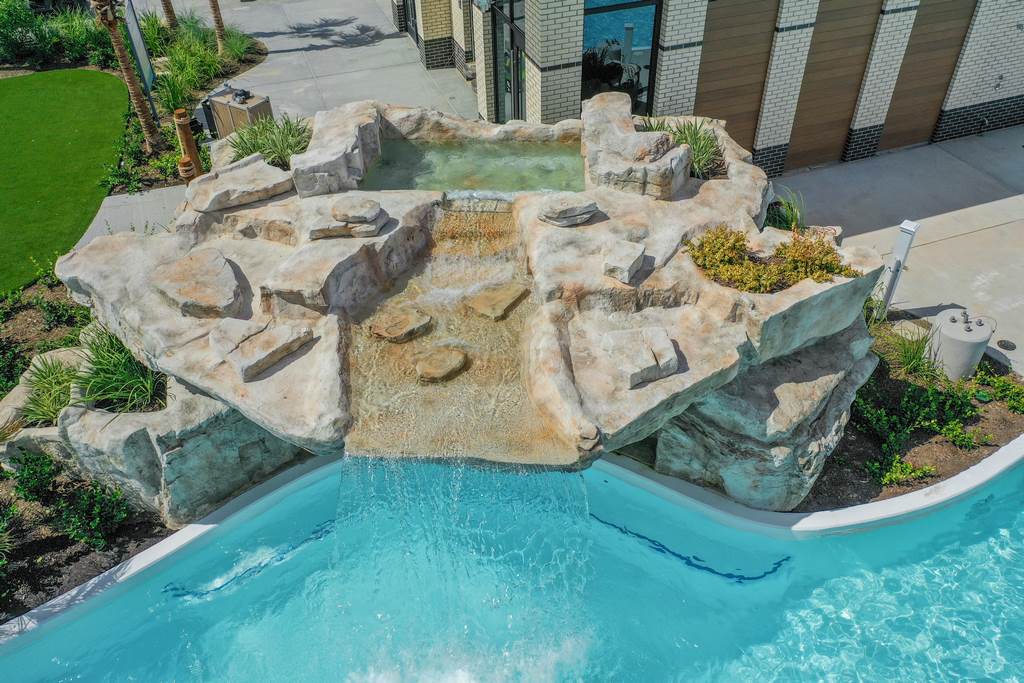 This particular grotto style water feature incorporates precast boulders from our standard waterfall kits. The rock panels are from our Limestone series, an appropriate choice given that limestone is a predominant type of rock formation in Texas.
As with all of our GFRC (glass-fiber-reinforced concrete) rock water feature systems, this custom-made water feature utilizes steel-reinforced construction that we believe is superior to using natural stone – in addition to being about half the cost of natural stone. Not only is the GFRC product lighter weight and less expensive than natural stone, but the building process is easier to control and predict.
RELIABLE CONSTRUCTION
Creating water features with natural stone can also often be really unpredictable. Builders can spend all day arranging the natural boulders and the labor costs can get out of control very quickly. The artificial rock is easier to work with, the color matches and the work involved is very predictable, with no hidden surprises like you have with natural rock.
Also included in the design of the water feature, were a half-dozen planting pockets where native plants were incorporated into the water feature along the sides, top and base of the water feature, making it appear a part of the surrounding landscape.
Our system makes it particularly easy to create planting pockets throughout the structure which soften the water feature and allow it to easily integrate into the overall design of the lagoon.
Bruce Riley is owner and managing director at Rico Rock, a manufacturer of artificial rock panels located in Orlando. He has been in the rock and waterfeature business since 1976 and was one of the pioneers in the use of artificial rock in conjunction with swimming pools.
For more on faux rock installation from Bruce Riley, check out this vintage and very "playful" WaterShapes project profile.