Working on the Waterfront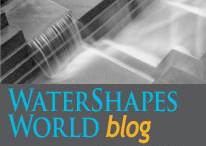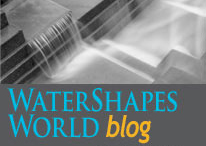 Locating pools and other types of watershapes adjacent to natural bodies of water presents a range of exciting design opportunities. Perhaps the most familiar is the iconic vanishing edge, a design feature that remains a popular choice for water-side sites where water-on-water views cab be used to make the outer edge of the pool appear to vanish.
Beyond that familiar example, placing water next to water almost always carries a powerful visual impact and in many cases blends the built environment with beach or types of waterfront access linking the natural and manmade spaces in fun and inviting ways. It's also true that working near the water's edge increases the level of difficulty and expense.
In this WaterShapes edition, you'll find two articles that address the challenges and restrictions of working near natural bodies of water, one by landscape architect Timothy Rumph and the other by pool builder, Bill Drakeley. Both discussions offer detailed perspectives on the hurdles and opportunities inherent in waterfront work where complying with environmental regulations can become a way of life.
Those challenges come mostly in the form of various easement and setbacks established to minimize disruption of natural habitats, as well as rules limiting the amount of impermeable surfaces in order to reduce runoff into adjoining natural waters. As both Rumph and Drakeley explain, knowing the regulatory ropes in advance is step one in the design process.
As Rumph explains, regulations and jurisdictions in his market on Long Island, N.Y., can broadly differ from place to place: "Ocean-front areas are largely governed by the Federal Emergency Management Agency (FEMA), while nearby bays and inland ponds of fresh- and saltwater varieties are overseen by New York State's Department of Environmental Conservation, as well as municipal regulations. This means there are, on occasion, multiple layers of federal and state regulation you have to analyze in detail to understand what can and cannot happen on site."
In addition to setbacks, there are also requirements aimed at protecting people and property in the event of storm surges or even just high tides. Working on the waterfront can also require contending with high water tables and sandy soil conditions. While high ground water is usually easily addressed by setting up a dewatering system during the installation process, building in unstable soil can require significant foundational substructure to support the vessel.
Taken altogether, it's easy to see why waterfront work can be problematic, especially if you aren't fully prepared to meet these and other potential issues. That's why it only makes sense to work with people who have experience working in and around environmentally sensitive environs. Having a firm grasp on the process and potential issues with waterfront projects is the only way to design accordingly and avoid the frustration of being caught by surprise.