What Happened to Beijing's 'Water Cube' Aquatics Center?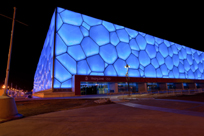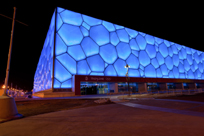 Article: Learn more about the Beijing National Aquatics Center (the "Water Cube") from Wikipedia. Click here.
Video: Watch a CNN interview with one of the building's architects, which was conducted at the time of the Olympics. Click here.
Video: Get a feel for what it's like to swim in the National Aquatics Center. Click here.
What has happened to the facility since the Olympics concluded?
About half of the building has been turned into an indoor waterpark, which opened to the public on August 8, 2010. The park includes water rides, water slides, a wave pool, spa areas, and so forth. The remaining half of the facility is also used for various water-based activities, including swimming, aquatic sports, fitness and recreation.

Photos: Visit a Web site devoted to the attractions at the waterpark. Click on the following link:
http://tinyurl.com/3py4dns