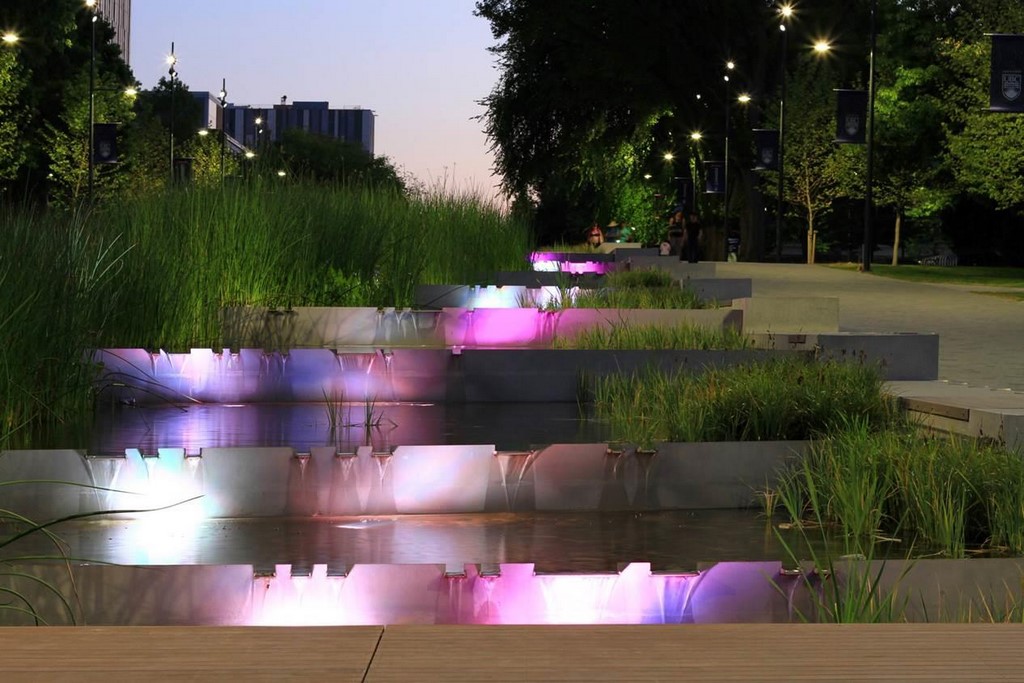 In recent years, most watershapers have had to speak up in defense of their projects when prospective clients start asking questions about water use and how a pool or pond or fountain can possibly represent a sustainable use of a precious natural resource.
These questions even come from those who are fully committed to making water a part of a business or civic setting or a feature in a home environment: They're looking for ways of defending themselves when those same questions come at them from business contacts or friends who see watershapes as "unsustainable."
In the second article in this series (click here), we covered water use as a key part of these discussions. This time, we'll move on to cover two additional forms of objection that, in our experience at Crystal Fountains, are every bit as capable of derailing a project – that is, space use and energy consumption.
SPATIAL VALUE
There are indeed people out there who see fountains and other watershapes as complete wastes of space. On the one hand, they'll say they damage the environment both through their use of precious water and through the necessity of chemical treatment of water that comes in contact with humans; on the other – and this is particularly true in cooler climates or in drought-affected regions – the product has a reputation as forming "dead space" that becomes an eyesore when not in operation either because of winter weather, public events or water-use restrictions.
Happily, watershapes are so well appreciated for both their aesthetic and interactive qualities that concerns about downtime are typically manageable. But we've also found that a measure of creativity is wonderfully persuasive: By making the fountains we work on at Crystal Fountains, a design/manufacturing firm based in Toronto, Ontario, Canada, nearly as functional and aesthetically pleasing during downtimes as they are when in operation, we bypass the "dead space" stereotype that has sapped momentum from too many past projects.
Dedicating fountain areas to multiple purposes is one way to broaden the appeal of fountain projects. One precious slice of deck space on the Royal Princess cruise ship, for example, does double duty as a fountain and as a seating and gathering area (left and middle), while the 7,000-square-foot fountain footprint at Washington Harbor in that city's Georgetown district makes itself useful as an ice skating rink through the cold-weather months (right).
With fountains, for example, it's easy to stretch utility by designing them as dual-use features. Making splash pads or wet decks convertible to performance venues is one possibility. You can also turn them into ice-skating rinks when the weather turns cold. With just a bit more inspiration, it's also possible to deactivate a fountain only partially, allowing water effects to become part of a show or a decorative backdrop for an event or even wintertime fun.
Consider Washington Harbor, which is home to a 7,000-square-foot sequencing fountain in the Georgetown neighborhood of Washington, D.C.: From April through October, the fountain operates as a display feature, with shows of water, light and music served up every 30 minutes. From November to March, the fountain space becomes an 11,800-square-foot skating rink. In this instance, "off" is as functional, attractive and beautiful as "on."
Or how about Citygarden in St. Louis, Mo.? Inaugurated in 2009, this sculpture garden shows how an expertly executed public space can invigorate a city. Spread across nearly three acres in the heart of the downtown district, the space includes 24 artworks encompassed by three prominent waterfeatures that invite visitors to the space. Once temperatures begin to dip in the fall, the jets in the popular play deck are switched off and covered with translucent globes. LED lights within the fountain are left on, providing the park with colorful, attractive décor throughout the long winter season.
Multi-tasking fountains can take on numerous alter egos when the need arises. At Citygarden in St. Louis, Mo., for instance, a large fountain deck becomes a glowing art exhibit when translucent globes placed over the jets in wintertime are lit by the fountain's colorful LED lighting array (left and middle). For its part, the fountain deck at Grand Park in Los Angeles gives way with ease to serve as a performance and play space (right).
As suggested above, solutions of this sort are also within reach in drought-afflicted areas where water supplies can be cut off at just about any time or season to meet a current crisis or show a local government's awareness that everyone needs to pitch in to conserve water. (Commercial property managers and even homeowners can be sensitive to these pressures as well.)
As one among many examples, the splash deck in front of Grand Park's historic tiered fountain in downtown Los Angeles doubles as a performance space and play area, giving the large surface multiple uses that are immediately responsive to prevailing water-usage concerns and conditions in drought-sensitive contexts.
ENERGETIC RESPONSES
The issues of space use defined just above are significant on all sorts of psychological levels, but they fade quickly with the application of some creativity. That's not exactly the same case when issues of energy consumption are raised: No amount of cleverness in programming or aesthetic brilliance helps when the focus turns to the costs of running and maintaining watershapes.
The good news is that the industry has made great progress on this front in recent years. The focus here will be on the fountain systems with which I'm most familiar, but the principles and philosophies we apply in our projects are applicable more or less across the board.
In our case, the focus has been on advancing smart controls and timing systems – with the former used to monitor energy use during peak periods and optimize fountain performance for maximum energy savings. Wind sensors are important here: We use them to adjust fountain performance to limit splash and needless energy use, ramping down jet effects, for example, when the breezes stiffen.
Energy efficiency is often about smart control systems. At the wind-exposed Point State Park in Pittsburgh, Pa., for example, sensors moderate the flow (and the energy expended) when the breezes get too strong (left). The fountain at Lone Butte Casino in Chandler, Ariz., has motion and proximity sensors that kick into action in response to pedestrian activity (middle). Finally, the fountain on the University of British Columbia's Vancouver Campus has a timing system that activates it only during ten-minute class breaks – and cuts off the flow altogether late at night (right).
For their parts, timing systems are used to ensure that a fountain is operating at the times it is most likely to be appreciated. This can also involve deployment of proximity sensors that switch fountains into passive mode during lulls in pedestrian activity – and kick them back up to active mode when an audience is detected.
The circular waterfeature on the Vancouver campus of the University of British Columbia offers a great demonstration of this approach: It is designed to conserve water through use of a timing system that activates the fountain's cascade jets only for the 10-minute walking breaks between classes, limiting water losses and mirroring the ebb and flow of university life. Water and energy are further conserved at night, when the fountain space settles down to become a reflecting pool.
Lighting is a big component in a modern fountain's energy profile: Choosing the right technology for a waterfeature can significantly reduce its energy needs. For the most part, this means abandoning incandescent lighting in favor of light-emitting diodes (LEDs).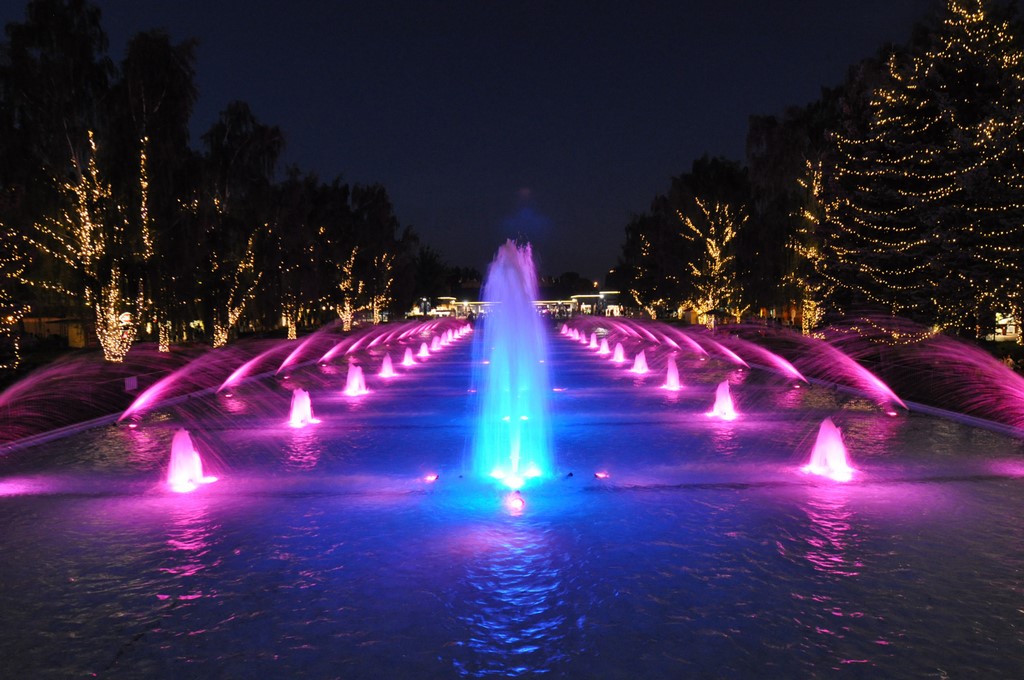 Lighting is a big part of the energy efficiency/savings picture. When this fountain at Canada's Wonderland amusement park was renovated in 2011, all 504 of its incandescent lights were replaced with LED lights – and the result was a reduction in energy costs of more than $32,000 along with more than $25,000 in savings related to longer service lives and ongoing maintenance costs.
Helpfully, this particular shift in technology is about much more than energy savings: Compared to incandescents, LEDs are not only supremely more energy efficient, but they also have much longer service lives while offering increased design flexibility through almost limitless color combinations.
We've learned that this energy-efficient approach applies just as well in retrofits and renovations as it does in new construction. Refurbishing an existing waterfeature by replacing old technology with new lights is a cost-effective method of making the feature more sustainable. And it's generally a big win because any technical update along these lines usually corresponds to an increase in visual appeal.
Canada's Wonderland in Vaughan, Ontario, Canada is a case in point here: Regarded as the country's biggest amusement park, the facility greets its guests with its iconic Royal Fountain, a large rectangular waterfeature that has been operating since the park opened in 1981. As part of a renovation in 2011, the park replaced all 504 incandescent lights in the fountain with state-of-the-art RGBW LED lights – a move that results in a savings of nearly $60,000 per year, about half in energy savings and half in reduction of bulb-replacement cycles.
FACING THE FUTURE
That last point about retrofitting has implications well beyond lighting: In fact, all system components should be evaluated on regular schedules to maximize cost and energy savings. In our case, this means we spend a lot of time thinking about jet operation.
In traditional fountains, for example, pipe-and-pump systems feed jets by drawing water from a reservoir or surge tank and transporting it to a pump room through a series of pipes. From there, the water is pushed back out to the fountain and through nozzles to create the desired effect.
By contrast, the newer air-driven systems use an air compressor instead of a pump to build up pressure and send water skyward. Here, the usual suction and discharge lines used for a pump system are replaced with air lines.
Savings are possible with either approach: In pipe-and-pump systems, heights can be controlled by much more efficient variable-frequency drives (VFDs), while air-driven systems use pressure regulators to control jet heights. Both systems require filtration, but the similarities stop there: Compared to convention pump systems, air-driven nozzles are between four and 14 times more energy efficient.
Fountain technology is evolving in some interesting ways. While traditional pipe-and-pump systems will endure (left), some newer systems use air drives to project water into the air (middle and right). In cases where a project's sustainability is pushed to the limits with respect to power consumption, a case can be made for making the switch to the newer air-drive technology, which can be 14 times more energy efficient than a traditional system.
In addition, air pressure within air-driven systems can be stored and used later, allowing the jet effects to be activated for brief spurts even if the fountain system itself isn't being powered. Water hammer is no longer a factor, either, meaning much less wear and tear on system components. Infrastructure requirements are reduced as well, lessening an air-driven system's environmental footprint during installation and commissioning. All in all, it's a remarkable technological leap.
There are clearly lots of issues and possibilities to weigh here, but returning to the philosophical point made in the first article of this series (click here), sustainability in waterfeature design is all about finding the equilibrium between captivating observers and conserving resources.
Credit Watch
This series of articles is an expanded version of a course prepared for use by architects participating in AEC Daily's continuing-education programs.
AEC Daily is registered provider of these courses and offers them free through it's web site, which also offers extensive product information and industry news. For more, visit aecdaily.com.
— R.M.
We all recognize that the presence of water promotes many physical and emotional health benefits and can (and should) be a key component in responsible designs. We also know that waterfeatures thrive best within sustainable projects when the project team applies a holistic, early-integration approach combined with intelligent design techniques.
An integrative process design that incorporates watershapes within overall site plans as early as possible is just the ticket: Ground-floor involvement and consideration of water-related issues from the start makes it easier to explore alternative water supplies, whether the best choice is graywater, rainwater, air-conditioning condensate or a combination of all three.
We know that water is a vital resource. We also know, as professional watershapers, that water significantly enhances environments in which it appears: It is an essential element of life that entertains, attracts and soothes. When we balance our approaches – figure out how to captivate and conserve effectively – we can continue in our efforts to make water parts of our everday experience.
And we can do so in full confidence that we've done our part, responsibly, in more ways than one.
Robert Mikula is director of special projects at Crystal Fountains, an international waterfeature specialist based in Tioronto, Ontario, Canada. He has more than 20 years' experience in design and project management and is also a registered landscape architect who spent several years designing aquatic theme parks before taking his current post. Mikula is also active on the education front, having participated in many seminar programs and written numerous magazine articles on water effects, illumination and systems design. For more information, visit www.crystalfountains.com.