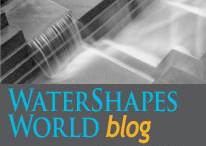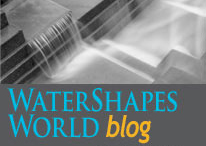 The cliché is true; to know where you're going you've got to know where you've been. Like all professions, watershaping has a rich history of innovation and groundbreaking achievements. Unlike other more heralded fields, however, there is no watershaping hall of fame – but if there were, you'd find many an inductee covered in these pages.
Most every field of human endeavor has its superstars, its seminal figures, its progressive beacons who challenge the status quo and advance the state of the art.
From the earliest days of WaterShapes until now, we've always looked toward those who, in today's common parlance, might be called "thought leaders." We've made looking back at great works a habit because watershaping per se has not traditionally been seen as a distinct artistic endeavor, and therefore has been challenged in the historic figure department.
Are there aquatic equivalents of Mozart, Rembrandt or Shakespeare? In terms of artistic and technical achievement, of course there are; but when it comes to the misty world of history and public consciousness, not really. That shortcoming disappears, however, when you look at the way some of the greats in the fields of architecture, landscape architecture and fine arts have used water in many of the world's greatest places. In fact, the world of watershaping does have a rich history of visionaries who have pushed the creative envelope to great effect, but you have to go looking through the right eyes.
Perhaps the most prominent example is Frank Lloyd Wright. Fallingwater may be his most obvious and dramatic use of water, and it remains an amazing interface between structure and the water that flows beneath it, but there are many other fine, albeit far more subtle examples within his cannon — everything from the triangle pool at Taliesen West to the minimalist and geometric vessels at residences like the Innis House in Los Angeles, or his final work, the Lykes House in Phoenix.
Wright is only the tip of the iceberg. Luminaries such as Lawrence Halprin, John Lautner, Mia Lin, Julia Morgan, Luis Barragan, Ricardo Legoretta, Thomas Church, and reaching way back to Capability Brown in the 18th Century, and many others have all made distinctive, if not signature use of watershapes. Their influences have been felt far and wide in the world of watershapes and beyond.
In this WaterShapes edition, you'll find a wonderful article by Raymond Jungles, in his own right one of today's most accomplished and visionary designers working with water and the landscape. As he discusses, he is widely known for being heavily influenced by the great Brazilian landscape artist Roberto Burle Marx, another pioneer in the use of water as a design element.
When you step back and think about it, the way the greats of art and architecture have used water, it often stands out as one of, if not the most striking feature in some rather legendary settings. It's hard to imagine, for example, Hearst Castle without the Neptune Pool, or the Playboy Mansion without its infamous grotto, or the Mall in Washington without the reflecting pool or Monet's Giverny without its bucolic pond. Frederick Law Olmstead may be known for creating some of our nation's greatest public spaces, but there's really no question that Central Park wouldn't be the same absent its seven bodies of water.
All of that is why WaterShapes has always made a point of celebrating the grand design traditions and legendary designers who have shaped our environments and our consciousness. After all, it's impossible to invent the future without an appreciation of the great achievements of the past.