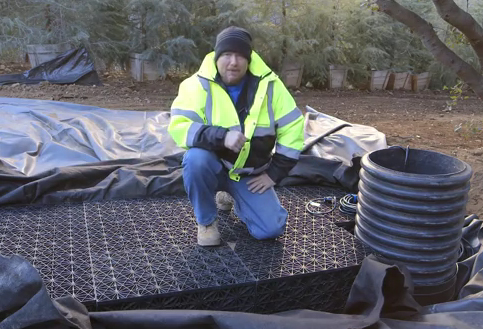 This is another instance in pond construction in which experience is a huge advantage: When it's time to size and set things up for a long, cascading stream leading down a reasonably steep hill to a pond-free basin, there's nothing about the process that I'd like to approach without knowing exactly what is needed.
Let's take two key points covered in the video linked below to illustrate that point: First, there's a natural tendency to size components such as the culvert pipes used to create pump vaults before they're finally placed, basically because it's much easier to cut them somewhere else – that is, in a place you can stand comfortably and get lots of help to hold the pipe steady as you go.
But experience tells me otherwise – that I should let the pump-vault pipe ride high and trim it later, however awkwardly, when I know exactly what level it should take. This may not be an earthshaking observation, but making a mistake with a pre-cut pipe section is not anything I want to do: I can't make it taller, and if I need to make it shorter, it's far harder to cut off fractions of an inch than it is to trim off several inches.
Second, it's easy to make a mistake with liner overlapping and cutting things too close. It would seem in a flowing system that gravity will work in your favor with even a minimal overlap, but anyone who has worked with ponds and streams for any amount of time knows that water is an incredibly dynamic agent and will wick upward and flow along unexpected pathways – and this generally involves going where it shouldn't.
Again, experience tells me to be generous with overlaps as we move up the hill: As we've learned, the best insurance policy against future leaking is a bit of overkill with this step in the process.
For me, the fun parts of the project are near at hand, but I know if we don't get the routine, tedious parts of the project taken care of adequately and with due care, any mistakes we've made will come back to bite us, sooner or later.
To see how we lay the groundwork for a big waterfall project, click here.
Eric Triplett is founder and chief executive officer at The Pond Digger Waterscape Design & Construction in Yucaipa, Calif. He may be reached at [email protected] ponddigger.com.