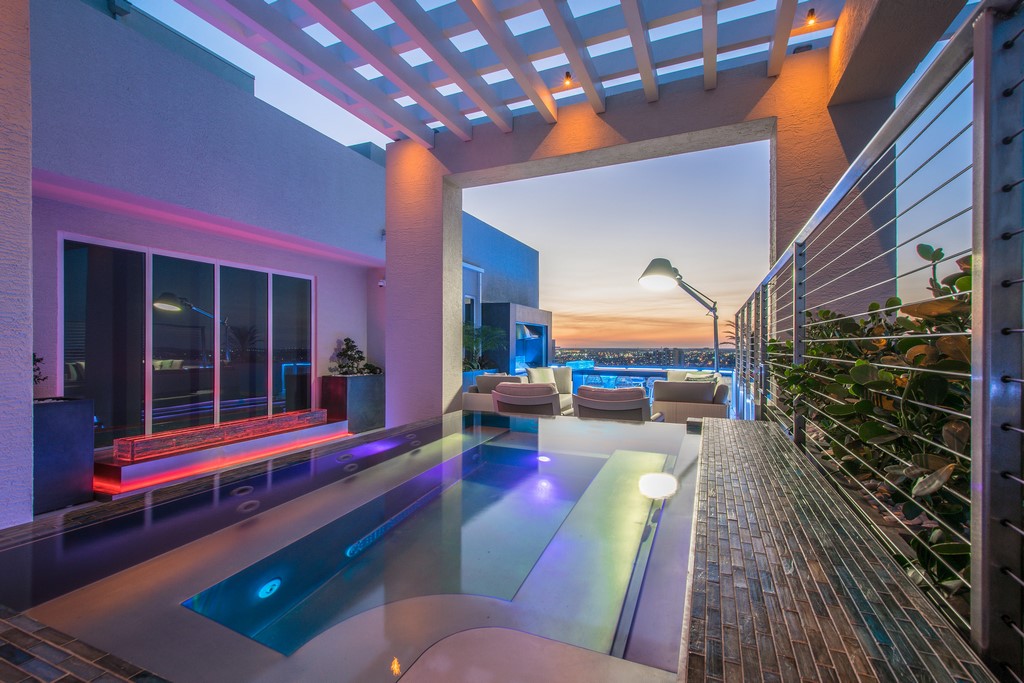 It's a great time to be a watershaper.
With so many talented designers out there, it's a world in which it's increasingly common to rush past conventional boundaries and deliver projects that delight the eye, warm the spirits and bring smiles to the faces of those lucky enough to enjoy them. There are extraordinarily skillful builders and subcontractors out there as well – people whose ability and determination are making the execution of the extraordinary seem like no big deal.
Most important of all, there's a substantial population of home and property owners who are adventurous and forward-looking enough that they're willing to see what develops. Some participate in the process, while many others sit back and enjoy the ride.
The project covered here is one of these amazing projects – a unique collaboration of artists who had the opportunity to turn an already dramatic setting into something truly spectacular.
Our own role in this project was limited: We were brought in by the pool contractor to consult on key hydraulic issues and played only a small part on the creative side – but the results are so awesome that our staff at Aquatic Consultants (Miami, Fla.) takes great pride in saying, "Yeah, we worked on that one."
AN ELEVATED STAGE
The project is located on Singer Island, just to the north of Palm Beach, Fla. It's associated with the penthouse of a building that rises more than 20 stories above the beach – a privileged perch offering spectacular views on all sides.
The homeowner worked with Krent Wieland of KWD Landscape Architecture (Delray Beach, Fla.) to prepare the design and run the project in association with Willoughby Construction, a general contractor based in Jupiter, Fla. Willoughby hired AAA Custom Pools (also based in Jupiter) to complete the spa and systems related to the stacked waterfeature.
We had worked with the landscape architect and the pool contractor before, so stepping into the process was fairly easy for us.
The tiered waterfeature is a marvelous glass structure assembled by Christopher Reisert of Reflective Collections (West Palm Beach, Fla.). By day, its beauty reminds me of glass block compositions I liked many years ago. By night, a custom lighting system makes it stand out with an otherworldly glow. (All photos by Josh Quick, J Quick Studios, Jupiter, Fla.)
But there was quite a bit to be done in a very small space that was to include three substantial water elements: the abovementioned spa and waterfeature as well as an outdoor-kitchen service table with a runnel that spanned its length and spilled into a glass tank.
The artistic glass treatments related to the runnel and the waterfeature were prepared by Christopher Reisert of Reflective Collections (West Palm Beach, Fla.). I particularly admire his brilliant restatement of the glass-block look: This was a detail I personally liked in its 1980s/'90s heyday, and I was delighted to work with such a creative extension of the concept.
As noted above, we at Aquatic Consultants worked mostly on system hydraulics. We started with the stainless steel spa (manufactured by Bradford Products, Wilmington, N.C.), which was fairly routine beyond the fact that the space available for equipment was extremely limited and required some unusual convolutions, including placement of the heater on the other side of the planter behind the spa's long side.
ON CALL
Once we became involved, our acquaintance with all the players drew us into the team in approaching the project. With the spa under control, for example, we also helped the pool contractor figure out the flow dynamics of the waterfeature, which was intended to present a glass-like surface on the top level.
The original design had called for injecting all water in the system on the upper level; to keep the stainless steel walls wet on the lower walls, this meant that the flow on the top level had to be quite voluminous – so much so that the water was undesirably turbulent.
Our original focus on site was the hydraulic system for this stainless steel spa – ideal for the compact, rooftop setting but a bear when it came to figuring out what we could fit and where. It has a gorgeous tile that harmonizes nicely with the frosty look of the deck's other waterfeatures.
We stepped in and suggested installing a bypass line so that some water flowed directly to the lower basin, thereby supplementing its water supply and adding enough additional flow below to keep all the steel walls wet without producing any surface turbulence on the top of the glass structure.
While we were at it, Willoughby Construction asked us to review the plans and help with hydraulics related to the kitchen table's runnel. In this case, it was a matter of specifying the right variable-frequency-drive pump to create flows that could change with the mood, from a quiet trickle to a stronger cascade.
Shown here in paired day/night shots from similar angles, the outdoor-kitchen table with its runnel is a real scene-stealer, changing from cool translucence to chilly radiance as the evening passes. It's a wonderful artistic achievement – the kind of watershaping with which we love to be involved!
In all cases for this project, we worked with variable-speed pumps: It's our experience that it's tough to get people to agree on what flow and noise levels work best in any given situation. With a variable-speed unit, we can concern ourselves with appropriate minimums and maximums and let the homeowner or property manager figure things out from there.
For us, this was all in a day's work. But the privilege, the honor, of being asked to participate in a project on this high a level is something we'll never take in stride. Simply put, it's a thrill to be involved with bringing such incredible creativity to practical form.
Through the years, we've been lucky to lend our knowledge and creativity to dozens of these cutting-edge projects – many as lead designers and some (as in the project discussed here) in more or less supporting roles. It never gets old, either way; better yet, it never, ever stops being fun.
Brian Van Bower runs Aquatic Consultants, a design firm based in Miami, Fla., and is a co-founder of Genesis 3; dedicated to top-of-the-line performance in aquatic design and construction, this organization conducts schools for like-minded pool designers and builders. He can be reached at [email protected]