Ten Landscapes: The View East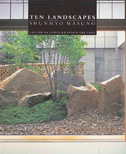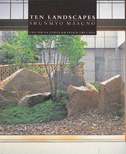 For a long time now, I've been dismayed by what I see when certain of my fellow watershapers attempt to incorporate "natural" elements into their pool designs. The ubiquitous piles of rocks and the odd grottos slapped onto the ends of freeform pools are so common I can only conclude that too few of us know any better.
This has led me to seek out design guidance that can teach us all how to do a better job of representing nature in our work – a quest that inevitably brought me to books on Japanese gardens. What I've found here is a tradition filled with concepts that transcend cultural boundaries and can easily be applied to projects in any number of styles or settings.
It's all about the disciplined and detailed use of stone, organic forms and layered views as well as the strategic use of plant material and a range of watershapes – principles we should be using in our work in the here and now. In fact, although I'm not given to making such sweeping statements, I am comfortable in saying that every watershaper should study the Japanese garden tradition. I've never been to Japan, but taking a trip there to learn more about this wonderful design sensibility has moved to the top of my list of professional priorities.
Short of hopping on a plane to cross the Pacific, let me recommend a book highlighting the work of a master practitioner of the art: Ten Landscapes, written by landscape architect and Buddhist priest Shunmyo Nasuno (Rockport Publishing, 1999). This compact, 106-page book stands among scores of other titles on the subject, but I believe this one does a particularly fine job of demonstrating the precision, subtlety and broad applicability of the principles of Japanese garden design.
Nasuno has been creating large and small garden spaces across an amazingly wide range of settings since 1975 – everywhere from condominiums and office parks to residences and, in one case, a golf course in Scotland. Many of these works are not "Japanese gardens" in anything approaching the traditional sense, but they all exhibit the way these design principles can be applied universally.
---
Now you can purchase the title reviewed here – and other books reviewed by Mike Farley – through our online WaterShapes Store! Click here.
---
The great strength of this book from a designer's perspective is the detailed way in which Nasuno shares his method of work, from conceptual sketches, detailed drawings of extremely small details and plan views through to construction photos and beautiful images of the finished work. Through it all, he offers pertinent, insightful access to the ways he brings his background in Japanese garden design to bear in each situation.
Every project has a watershape of some kind – or at least a representation of one in the form of a dry streambed – but there are no swimming pools. Even so, his work is so powerful and the coverage so on point that I didn't see that omission as being a problem. His method of detailing the rockwork in a waterfall, for example, is so precise that we're able to see both why and how he's so capable of artistically representing nature in controlled, effective ways.
Whether you pick up this book or any of the many other treatments of this topic, I believe this is where we need to start when it comes to infusing our work with natural details that ring true.
Mike Farley is a landscape designer with more than 20 years of experience and is currently a designer/project manager for Claffey Pools in Southlake, Texas. A graduate of Genesis 3's Level I Design School, he holds a degree in landscape architecture from Texas Tech University and has worked as a watershaper in both California and Texas.