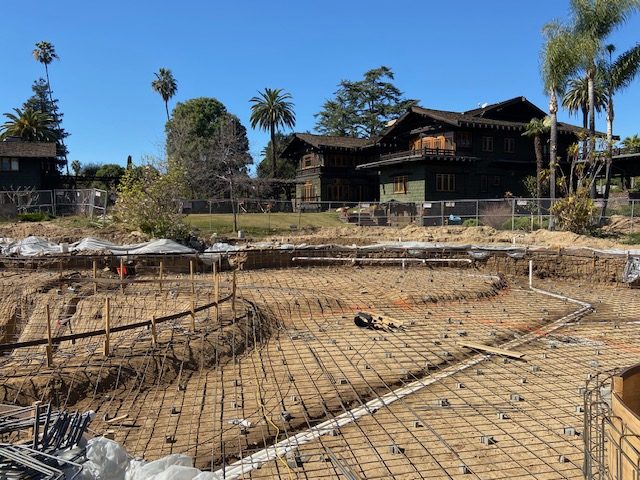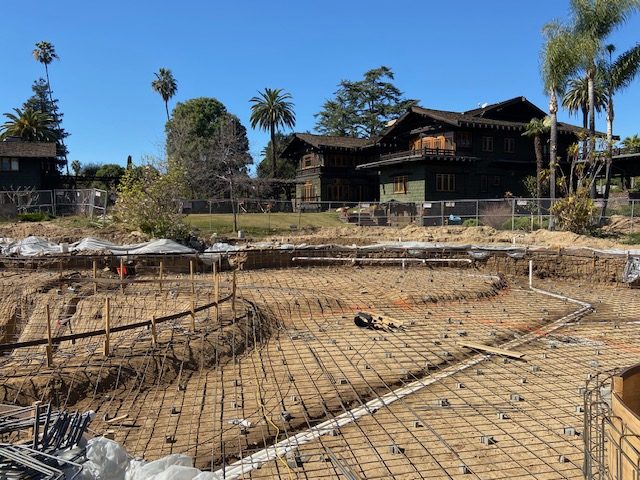 On February 17, Watershape University presented a special on-location edition of its Wolfpack Webinar Wednesdays. Hosted by Dave Peterson, the program took a deep dive into a massive natural swimming pool project currently being installed in one of Southern California's most historic private residences.
Known as The Robert R. Blacker House, located in Pasadena, Calif., the historic home was designed by legendary architects, Greene & Greene, pioneers of the Arts and Crafts movement of the early 20th Century. Built in 1907, the home is an older and larger version of the famous Gamble House, located just a few miles away, which is a public museum and event facility.
Both the Blacker and Gamble houses were used as sets in the 80s blockbuster movie, "Back to the Future" with the former used in exterior shots and the latter for interiors. Both homes are widely heralded as definitive examples of the Greene & Greene design tradition.
The Blacker House is currently privately owned, and for the past 20-plus years has been undergoing a painstaking restoration to its original condition, including the original decor and furnishings design by the architects. More recently, the landscape on the eight-acre property is undergoing a complete renovation, including the addition of a massive swimming pond that is located over the footprint of a pond that was part of the original garden spaces.
During the webinar, course titled "Construction: 1946," Peterson interviewed pool and pond specialist Troy Becker of California Natural Pools, a natural swimming pool design and build firm located in Ojai, Calif. The project was at the steel and plumbing-installation phase, revealing an incredibly ambitious design that includes a deep diving pool and a massive "regeneration zone." This is an area of the pond that uses natural biological processes to generate clear and safe water.
The elaborate watershape was designed by Isabelle Greene, a renown landscape architect, botanist and illustrator, and granddaughter of Henry Mather Greene – one of the original architects. Having spent much of her childhood at the Blacker House, Greene was the perfect choice to design the landscape, including the natural swimming pond.
As Peterson and Becker describe it, the project is a hybrid between a natural swimming pool and a pond, and will likely serve as a high-profile example of watershaping based on naturalistic design. Natural Swimming Ponds (NSPs) replace the harsh chemistry of oxidizers and disinfectants with nature's biological equivalent in the form of plants and beneficial bacteria. Becker is one of the leading practitioners of the method, noting that this particular NSP is one of the largest and most elaborate he's built to date.
Check out the presentation here.