Splendor Beneath the Seas


Renowned sculptor, Jason deCaires Taylor believes that for art to truly inspire change, it must be more than simply thought-provoking, but must also reach further and provide wide-ranging benefits on multiple levels. To clear that high bar, Taylor has decidedly aimed low — beneath the waves.
Eric Herman
Editor's Note: This article first appeared in WaterShapes' December 16, 2020 edition.
Over the past 15 years, Jason deCaires Taylor has created several underwater "museums" or "sculpture parks" located around the world, placed mostly underwater in popular dive locations. His haunting displays include nearly a thousand full-scale sculptural and environmental works of art covering mostly human subjects depicted across a spectrum of commonplace settings and activities.
In a very real way, he has made the bottom of the ocean his canvas.
Taylor installs his life-size sculptural works in areas frequented by snorkelers and SCUBA divers in some of the world's most beautiful and often ecologically endangered waters. He first gained worldwide notoriety in 2006 with the first, and still most famous, of these installations in the water's off the island of Grenada in the West Indies.
The 2006 exhibit has since been listed as one of the 25 Wonders of the World by National Geographic and its location ha been permanently established as a protected marine reserve. Taylor followed that achievement in 2009 when he co-founded Museo Subacuatico de Arte (MUSA), a massive collection that includes more than 500 of his pieces. They are located in various exhibits off the coast of Mexico between Cancun and Isla Mujeres.
He has since installed numerous other works in the Caribbean, Mediterranean, the River Thames and other locations.
DEEP MEANINGS
For those who might understandably wonder what's the point of installing art in settings where only a relatively few people will see them, Taylor's work has a surprisingly utilitarian purpose. The works are made with pH-neutral materials, mostly cementitious, and are located in areas that have experienced reef decline.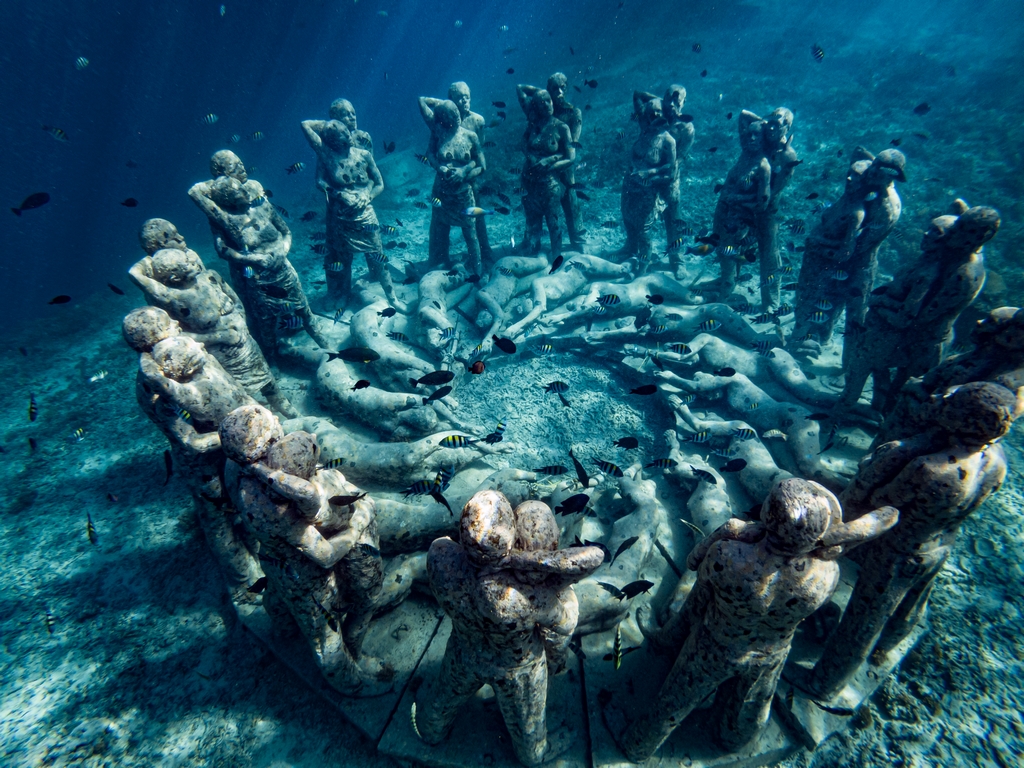 Part of the art, he says, is the way it serves as reefs that promote the development of numerous marine species. In that way, his works explore the aesthetics of what he describes as "decay, rebirth and metamorphosis.
The greater purpose is to not only marine conservation, but to raise public awareness of the many factors impacting ocean ecosystems throughout the world, as well as the remarkable beauty of marine environments. Ironically, most of Taylor's figures represent human experience above the waves.
"We can see ourselves in the everyday faces of these sculptural peoples that are entombed beneath the waves," he explains on his website "The underwater context allows an otherworldly reflection. These works truly allow you to step out of your daily life and entre an entirely different reality, charged with the notion that it is a reality under threat."
Taylor's work has challenged the art world to embrace a new paradigm for not only the presentation of art, but also a new meaning — one that is defined by entropy and impermanence.
"Taylor is engaging in producing what Goethe referred to as morphology, or the science of formation and transformation of organisms," writes essayist, John K. Grande. "As sculptures they migrate to the underwater, a place we consider out of bounds, far from the human sphere, and yet they address through their manufacture, their selection as subjects and eventual entropic change, a new definition for sculpture as a way of facilitating and underwriting inevitability of change."