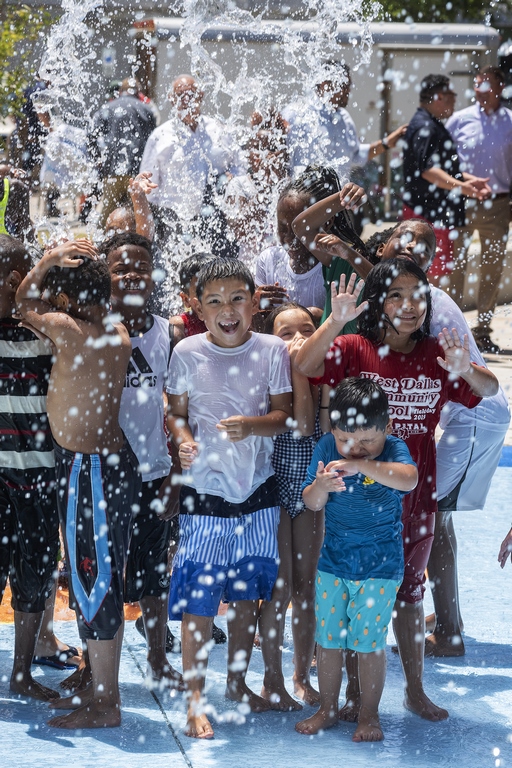 Splash pads have jumped in popularity by bringing fun to a variety of public spaces. But there's one key factor to keep in mind in their design and installation, writes Chris Thomas, that helps these inviting, entertaining features serve the broadest possible spectrum of visitors.
Creating inclusive play areas is a priority for parks, aquatic facilities and other public places where people gather. From the watershaping perspective, it's part of a current trend in which many recreation departments, homeowner associations, and community centers are installing splash pads with features that welcome users with a wide range of developmental, cognitive, and physical abilities.
When it comes to splash pads, inclusion is achieved by using a variety of water features, flow, spacing, size, surfacing and color to make the feature more accessible to its users. This egalitarian approach coupled with the needs of a given community dictate specific requirements within the design, which is why meeting with community leaders and residents is typically the most effective means of gauging needs, as well as presenting ideas decision makers might not have yet considered.
Responding to those needs and desires via the splash-pad design requires an open-mind and an understanding of the spectrum of available interactive water features, which have continued to evolve with growing splash-pad popularity.It's always important to remember that splash-pad design is far from a one-size-fits-all proposition.
LIMITED MOBILITY
When we talk about inclusive design, the language translates into a number of specific features and design characteristics. For instance, the surface and slopes of a play area must be designed keeping users with physical disabilities and limited mobility in mind. The structural slab upon which the splash pad is built is extremely important so the water drains properly to avoid puddling or ponding, which can be dangerous.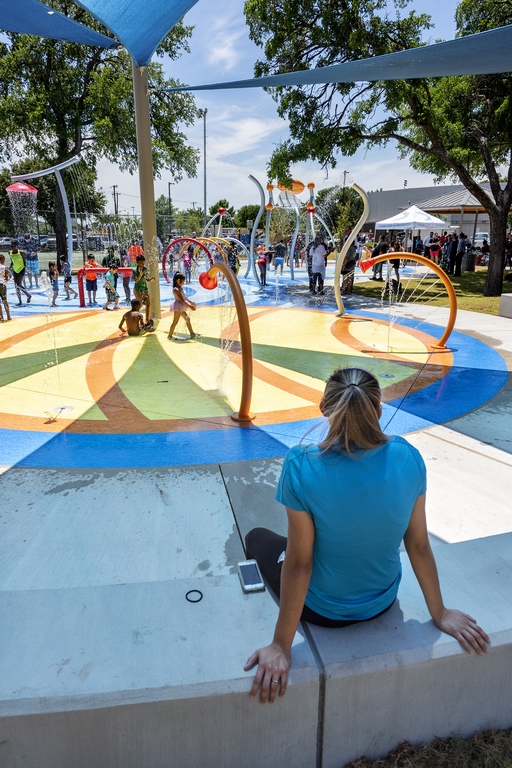 The surface must be flat and provide clearance for maneuverability around each of the play features. There are specific requirements for slopes and cross slopes on splash pads dictated by the Americans with Disabilities Act (ADA) to ensure safety and inclusivity. The placement and size of drains must also be such the water does not collect in an area and create hazards for users.
Not only do users with mobility limitations need to be able to easily move from place to place on the splash pad, but they must also be able to operate all the features in the play area. Being able to grip, grasp, push, and pull different components is something not all children can do. Splash pads especially designed for inclusivity use features that are intuitive to operate.
Designers agree many features can be too complex for some users to manipulate and have multiple features is of little use if visitors can't immediately work them. The more successful features are those where one can just walk up and start using them rather than having to look for the activator. Water cannons, for example, are easy to use because of the up-and-down motion of the unit turns it on and off.
The arrangement of play features is another key to ensuring those with developmental or cognitive limitations have areas within a splash pad to participate. A variety of sensory experiences that build upon one another make the facility more inclusive for those with developmental and cognitive limitations. For example, designers can create a sequence of features, starting with sensory exploration with something as simple as a bubbler, and slowly graduating to those with increased intensity, which draw users into the splash pad.
When done properly, this sequencing provides participants the opportunity to try something more powerful, like an archway with spraying water, but also allows them to quickly retreat to a less forceful water feature. Moving from one zone to another allows users to explore the area at their own pace.
SENSORY ASPECTS
Unlike playgrounds rated by suggested ages, splash pads are defined by the intensity of their water features. For example, some children are not keen to getting their heads wet, a sensory experience not necessarily related to a specific age group. Experienced designers understand each child develops their ability to process sensory experiences differently. It is therefore important to have zones with lower water use that progress through a sequencing path, which moves up to more energetic features, such as dumping buckets.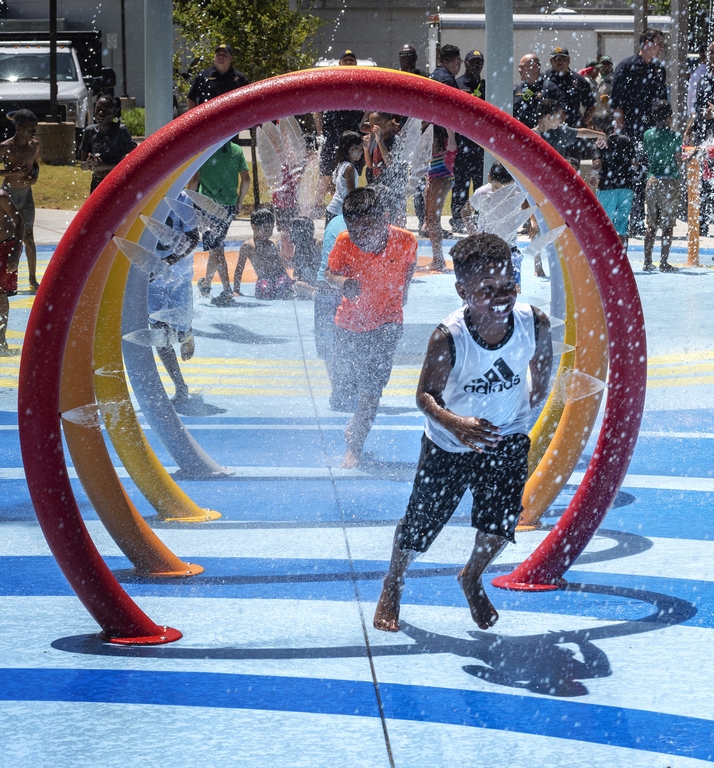 As a result, manufacturers of water features now offer product lines with different intensity levels and options to accommodate the overall size and plan of a splash pad for potential users.
Today, many elements are available that make play sequencing an engaging attraction. One can start with a range of bubblers and water-weaving features to create visually interesting patterns, which draw users into the splash pad without the fear of being confronted with a lot of water all at once.
Here are some other areas that should be considered during the design process:
• Older generations: When designing facilities to include senior citizens both the splash-pad surface and the surrounding area need to be flat for the wheels of walkers and wheelchairs. and should not have any The surface must be slip-resistant, smooth, and free of irregular cross slopes for those with mobility and balance limitations.
Older users are generally supervising, and therefore, it is important to provide comfortable areas for them to stand or sit and be able to oversee children. Shaded seating and accessible routes to benches make a splash pad convenient for caretakers, especially grandparents. The splash pad or spray ground is often the centerpiece of the design while the supporting group pavilions, benches, and shade areas help create an inclusive environment for older generations.
• Sightlines and Supervision: In addition to the inclusive-play elements incorporated into a splash pad, providing unobstructed sightlines across all areas is key for supervising children, especially those who might be experiencing physical, developmental, or cognitive limitations. Designers avoid or minimize large, solid elements thus limiting the places where children can hide.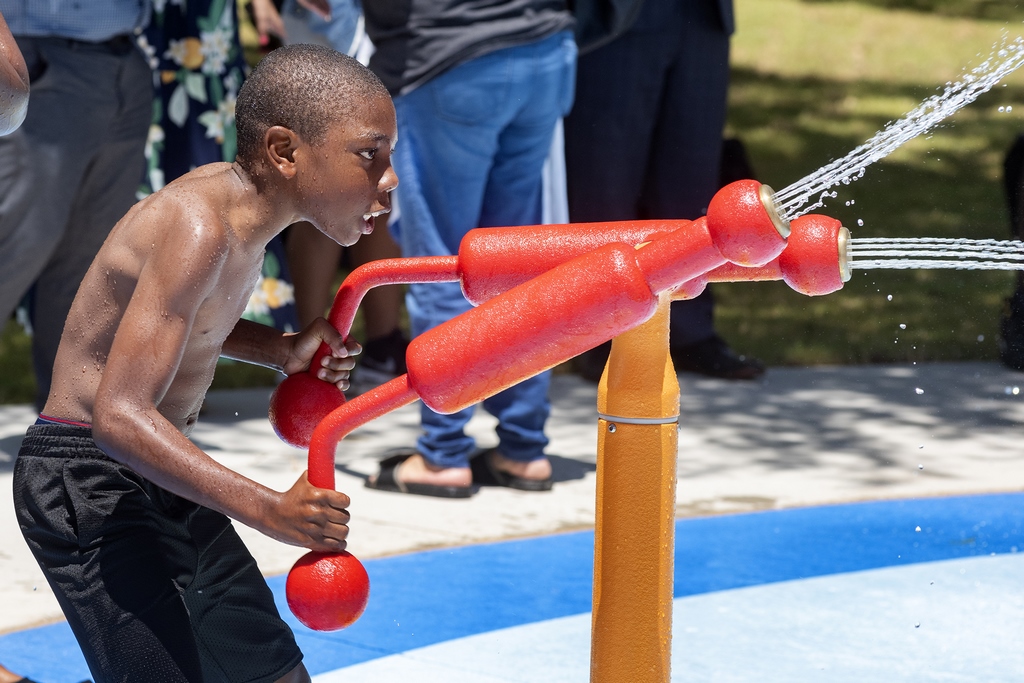 • Sights and Sounds: As with any community gathering space, having a visually striking splash pad can provide excitement and interest for all users. Using a large, iconic water feature piece within the splash pad is important.
Large buckets of water that anchor the splash pad add an element of attraction even when the facility is not in use. Just watching the water flow—even from a distance—adds to the excitement. One of the more eye-catching options for splash pads are large rings that spray a mist. These are both attractive and easily integrate into a sequencing design for inclusive play.
Having water splash, cascade, and bubble creates a series of soothing sounds, which invariably enhances the ambiance. A larger variety of these components encourage play, fun, and exploration while cooling the skin and soothing the mind with different water sounds.
• Year-round appeal: It is also important to remember splash pads serve more than mere water play areas. By employing strategies to enhance the overall visual aesthetics, a splash pad can lend year-round appeal to a facility, even in the winter. Some clients, especially homeowners' associations and residential developments, are very interested in adding lighting to their splash pads and changing their colors several times a year. (For example, red and green can be used around the winter holidays.)
Offering lighting as one of the many features helps designers think outside the box, as custom water and lighting elements can be used to create an exciting visual impact.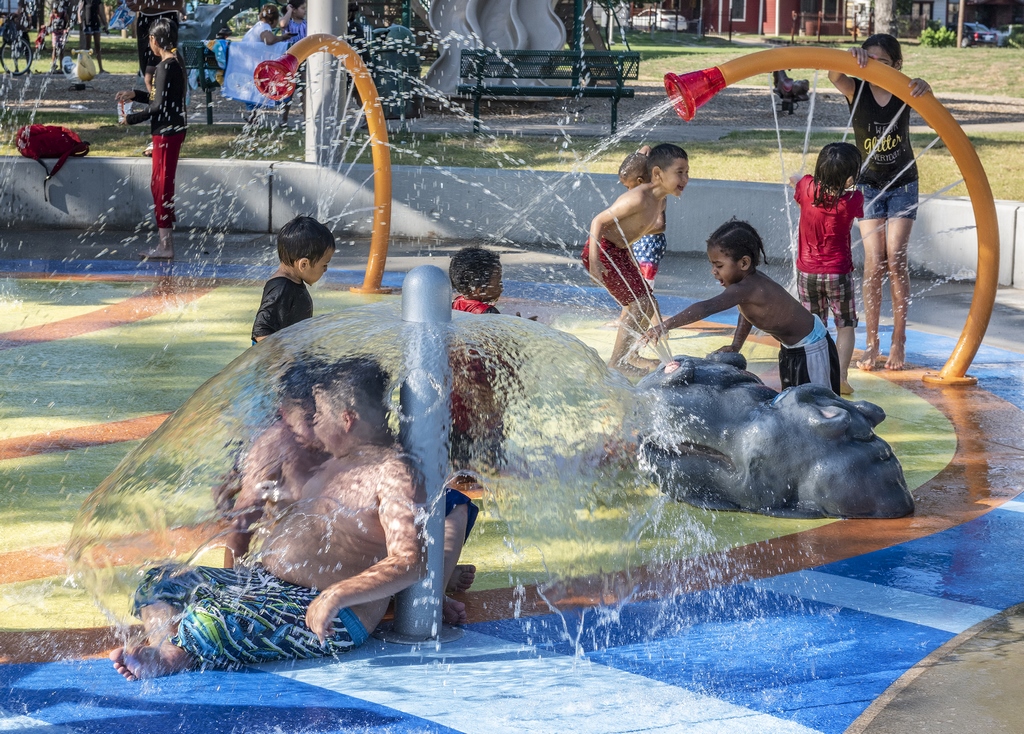 • Feature selection: When choosing inclusive play products from different manufacturers, one must take into consideration everything from durability and 'play value' to products that provide a variety of experiences. When selecting a manufacturer, one should choose a partner that can provide a full product line that offers inclusive play water features. Many companies can customize these elements, too.
If you address these considerations, a splash pad play area can become a gathering place for people of all abilities, ages, and backgrounds to relax and connect through the joy of water. Not only does the naturally inclusive landscape of a splash pad offer a fun adventure for a community, but it also satisfies a broad spectrum of unique physical and cognitive needs.
A simple but powerful space, an inclusive aquatic facility offers a glimpse of the larger picture of universal wellbeing and connectivity that can be achieved when designed with inclusion in mind.
Special thanks to Adam Brewster, landscape architect at Dunaway Associates, a civil engineering and landscape architecture firm, for his insightful input into splash-pad design.
Chris Thomas is director of marketing for Fountain People, Inc., a fountain design and equipment-manufacturing firm based in San Marcos, Tex. He has a decade of experience promoting the physical, mental, and social benefits of water features and aquatic play. Over the years, Thomas has contributed to industry publications, and collaborated with consultants and end-users to bring their vision to life. He can be reached at: [email protected]