By Jim McCloskey
I confess to having a weakness for this sort of fountain: There's probably something about the mixture of water and "animated" sculpture that grabs my imagination in a way that isn't true of many large-scale water displays.
It this case, it may also have something to do with serendipity and the fact that, the first time I saw this composition, I came upon it entirely by chance. It was about ten years ago, while I was in Irving, Texas, for a series of meetings and had part of a day to myself to walk around and take in the nearby sights.
It was early in the morning when a view of Williams Square opened up and I saw the Mustangs of Las Colinas, a string of larger-than-life bronzes by Robert Glen that seem to run through a narrow watercourse. (That "stream" and the surrounding plaza were devised by SWA Group, a landscape architecture firm with offices in California, Texas and overseas.)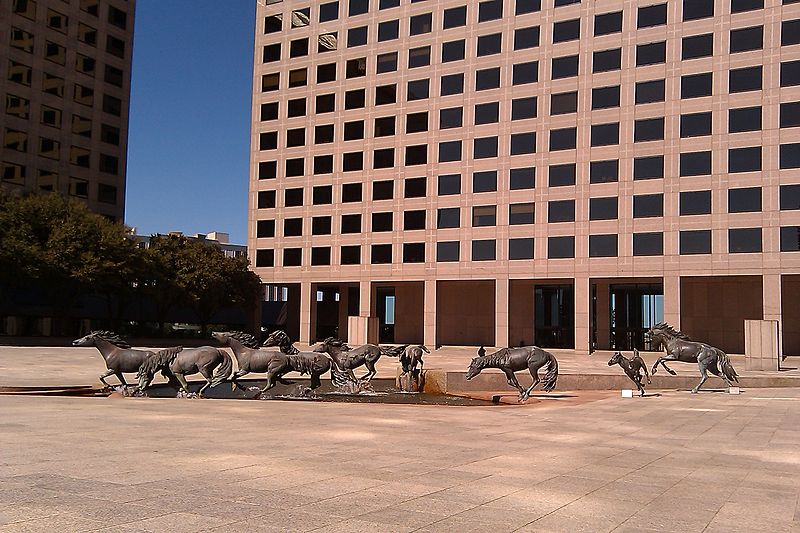 The composition was eight years in the making by the time it was unveiled in 1984, and I remember well the high (and much-deserved) level of attention and praise it gathered in the architectural press at the time.
This is exactly the sort of chance encounter that made me happiest about being a steady traveler for so many years. If you find yourself in the Dallas area and have any opportunity to see this work of watershaping art in person, I strongly recommend the effort!
To see a brief video of the Mustangs at Las Colinas, click here.