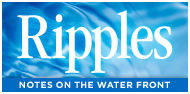 Compiled and written by Lenny Giteck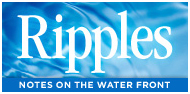 Swimming Pools a Focus
At Coppola Winery
Renowned movie director, producer and screenwriter Francis Ford Coppola is blazing new trails in the winery business by including two swimming pools and other family entertainment features in his eponymous winery, located in the small Northern California town of Geyserville.
"The philosophy is about family and entertainment," observed Corey Beck, director of winemaking and general manager of the Francis Ford Coppola Winery, "two things that are very dear to Francis. You have children…you love wine, you love food and you want to come up to the wine country and experience it, but what do you do with the kids? He wants a place that can satisfy everybody.
The two pools, which are connected by a swim-through, have a combined area of approximately 3,600 square feet. Usage of the pools and towels that are supplied is complimentary; European-style "cabines," which include private showers and changing areas, are available for rental at $25 a day.
The pool area also has a café with a special children's menu, plus comfortable lounge seating. The winery itself features displays of movie memorabilia from various Coppola projects.
Sources: napavalleyregister.com and insidescoopsf.sfgate.com
More: For additional information about the winery, go to www.FrancisCoppolaWinery.com
A Swimming Pool
In Your Airplane?
Ripples knows that despite the recent financial troubles of the watershaping industry, you just might be on the verge of buying your dream private jet. If so, you're probably asking yourself, "Will I be able to have a swimming pool onboard my Airbus A380 super-jumbo?
Funny, that's pretty much the question that someone posed on the Web site gateway2interest.ws: "I want to know if it is physically possible to have a swimming pool in an airplane such as in the animated cartoon series 'Goldie Gold and Action Jack,' and some films.
A number of well-considered answers – mostly dealing with issues of weight and sloshing – were forthcoming. The following reply was Ripples' favorite: "Water is extremely heavy, so it depends on the weight thresholds of the plane. In an 8 x 15 Endless pool with a standard height of 42" you're looking at 200 pounds per square foot. Theoretically, for takeoff and landing, the water could be pumped to secure storage tanks, then pumped back once the plane reaches altitude. Crazy to think about or even attempt, but it all seems feasible with a small pool.
Perhaps not surprisingly, this contribution came from Endless Pools Swimming Machines.
More: To read the other takes on this intriguing question, go to http://tinyurl.com/4q94kbm
…or a Swimming Pool
Shaped Like an Airplane?
In case you don't foresee being able to purchase an A380 anytime soon, how about building a pool in the shape of a plane? That's just what a gentleman named Bill Whitesell did in Medford, N.J., in the 1960s. To learn about the history of The Flying W Airport and Ranch and see a photo of the unusual pool, go to http://www.flyingwairport.com
Mr. Bean Takes the Plunge
– and Lands Wet Laughs
If you've never seen Mr. Bean, the bumbling but loveable idiot played by British comedic actor Rowan Atkinson, you're missing out on a real treat. To get your feet wet on Bean – a Chaplinesque figure who almost never speaks (with words, that is; his amazingly expressive face speaks volumes) – Ripples recommends that you watch "Mr. Bean Goes to the Swimming Pool." The online version is just a few minutes long, but it's guaranteed to make you want to see more of the Beanbrain.
Video: Go to http://tinyurl.com/ykwjabj
Woman Takes the Plunge
– and Lives to Laugh Again
Ripples cautions: Kids of all ages, do not try this!
Last month, the Web site channelnewsasia.com reported that a Chinese woman fell 40 meters (12 stories) from the balcony of her condominium in Singapore, landed in the complex's swimming pool and lived to see another day.
Dr. Kevin Yip, a specialist at the Singapore Sports and Orthopaedic Clinic, said, "It really is a combination of the posture… She fell (and) she was in a vertical position. The balcony broke some of the force and she landed on water in a sitting position, and that had reduced the impact," The woman reportedly only suffered some bruises as a result.
Scuba Santa Swims to
Save the Oceans' Fish
We conclude with a follow-up to WaterShapes EXTRA!'s exclusive interview with Santa Claus, published in our special holiday issue, in which he revealed his deep appreciation for watershapes and swimming. Since then, we've seen evidence that Santa doesn't just talk the talk or even walk the walk — he swims the swim!
On December 17, Santa stopped by the swimming pool at the Indian Boundary YMCA in Downers Grove, Ill. (the actual town featured in the classic movie "It's a Wonderful Life" ) to greet the kids. Equipped with scuba gear on top of his normal attire, he proceeded to decorate an underwater Christmas tree with help from the youngsters.
Five days later, Santa also visited a major ocean aquarium in Shanghai, China. Again wearing scuba gear, St. Nick swam with the fish in an effort to spread the word about ocean conservation. Said Chinese Santa (a.k.a. Zhou Zhanhong): "We have a lot of different species living in our aquarium. Some are specially protected and others are rare or endangered species. We are taking this opportunity to let more visitors and guests care for and protect them.
Who knew that Santa Claus can scuba dive – much less speak Mandarin?
Sources: mysuburbanlife.com and shanghaiist.com.
Photo: To see Santa at the Indian Boundary YMCA, click here: http://tinyurl.com/4hcjz3n
Video: To see Santa at the aquarium in Shanghai, click here: http://tinyurl.com/4mr867m
Until next time,
happy watershaping to you!
– Ripples is compiled and written by Lenny Giteck