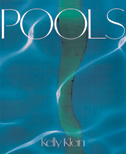 It's unlikely that anyone back in 1992 would have imagined that the daughter of fashion designer Calvin Klein would change the way we think of swimming pools.
That might be a slight exaggeration, but to me there's no question that Pools by Kelly Klein, first published by Rizzoli 15 years ago and rereleased late in 2007, was unique at that time in treating pool design as a legitimate art form. In many ways, in fact, I think her book may well have ignited the design revolution that has unfolded in the years since it was first published.
I didn't run across this oversized volume until 1999, when I attended my first Genesis 3 design school. Instructor Mark Holden had displayed a number of books on a variety of design topics on a table, and front and center was a copy of Klein's oversized volume — the only book he'd brought that dealt exclusively with swimming pools. I was immediately impressed: Nowhere had I ever seen pools treated with such lavishness and so distinctly artistic an attitude.
The book was long out of print by then, but I kept looking for a copy and was always depressed to find that the only ones available were selling for $400 or more — a true collector's item, and it was about pools! With the recent re-issue, I was finally able to track down a copy of my own at a far more reasonable price.
Why all the fuss about what is essentially a picture book, largely text-free, compiled by a young woman who previously had absolutely nothing to do with watershapes? Quite simply, Klein was way ahead of her time, a visionary who used the book to capture and celebrate an underappreciated art form.
And as she put it in her introductory notes, "This book is for inspiration." It succeeds brilliantly on that level as well.
Legendary status aside, I'm amazed at how well this compilation of images still holds up to professional scrutiny. There are beautiful photos from all around the world — Japan, France, the South Pacific, Italy and, of course, Hollywood — in every conceivable style from classic rectangles to naturalistic forms and everything in between.
The images depict the range from turn-of-the-20th-Century plunges to pools completed just before the book was published, and many were taken by the famous fashion photographers Klein credits with blazing her trail by using pools as backdrops for photographing celebrities and models.
Most eye-catching of all (in my humble opinion) is a gatefold spread depicting a vanishing-edge pool set against a sweeping view of a meadow — an image that changed the way lots of us look at this most spectacular (and now familiar) of pool-design elements. It's also worth noting that Klein demonstrates her father's penchant for sensuousness, with many of the photographs depicting nudes in tasteful, artistic ways.
In some respects, Klein's treatment of pools might be considered excessive and perhaps self-indulgent — dismissible as great photographs of what are in many cases pedestrian watershapes. For my part, however, I'd argue that the book's excesses are what make it so wonderful.
Today, a decade and half after its initial publication, Pools by Kelly Klein is just what I thought it was when I first saw it: In a word: classic!
Mike Farley is a landscape designer with more than 20 years of experience and is currently a designer/project manager for Claffey Pools in Southlake, Texas. A graduate of Genesis 3's Level I Design School, he holds a degree in landscape architecture from Texas Tech University and has worked as a watershaper in both California and Texas.