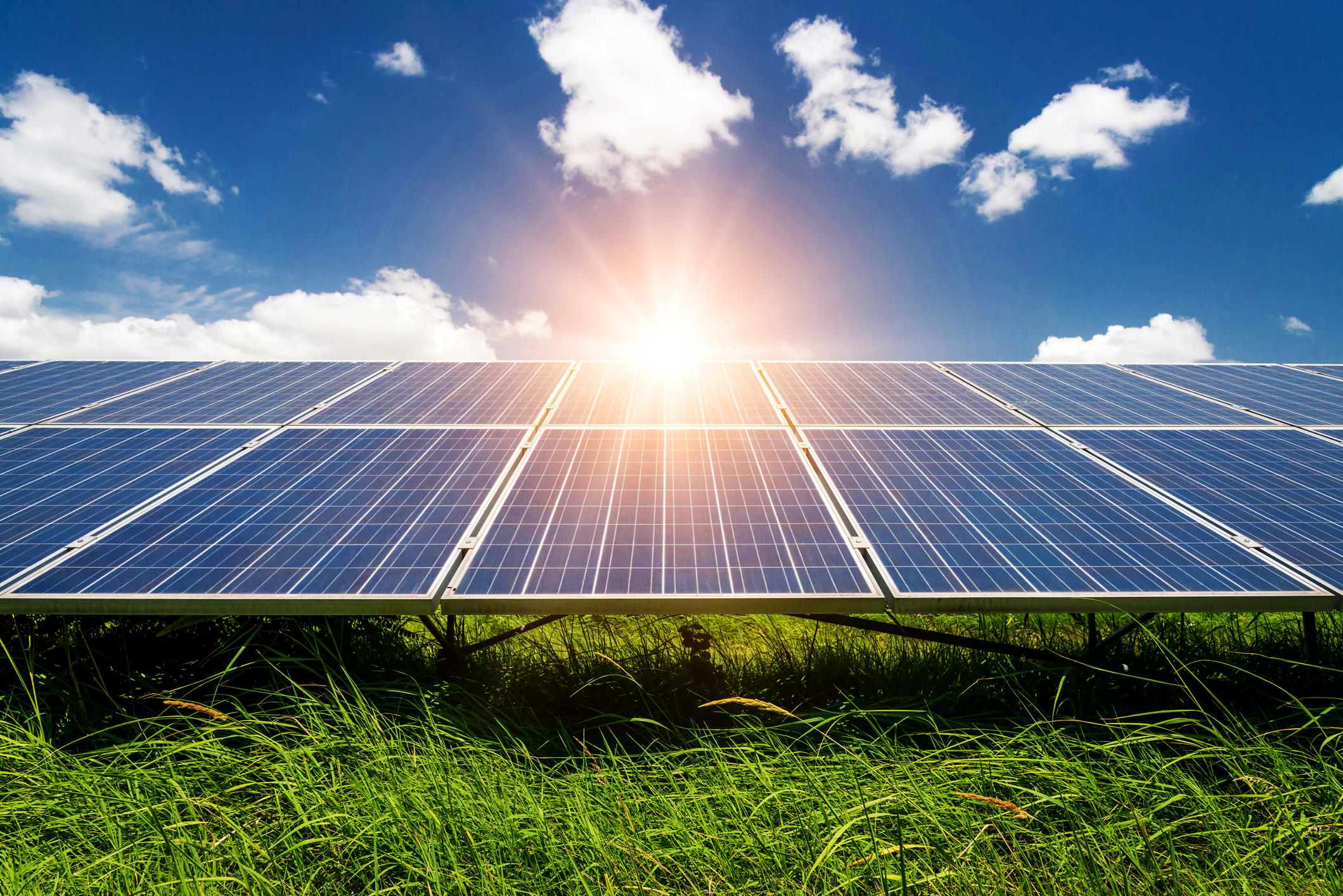 Creating swimming pools that save on energy costs is a consuming passion for Douglas Cook. As he explains here, he achieves best results with combinations of energy-smart solutions — often including solar heating and power generation — that can lead to dramatic savings.
Those of us in the swimming pool design-and-construction business know all about our clients' concerns over energy bills. Only the very wealthiest of clients don't care how much it costs to run their systems; most everyone else does.
After all, no one likes to get bad news in the form of high monthly electric or gas bills.
Energy costs are one of the issues that discourage pool ownership, and it certainly compromises the watershape experience for many homeowners that do invest in a pool or a spa. That's why I've devoted much of my career, and focused a large part of my design practice, on creating systems that don't break the bank when it comes to electricity and heating costs.
BRIGHT HORIZONS
Energy savings come in many forms in pools and spas: including efficient hydraulics, variable-speed pumps, LED lights, pool covers and efficient heat sources including high-efficiency gas heaters, heat pumps, geothermal and solar.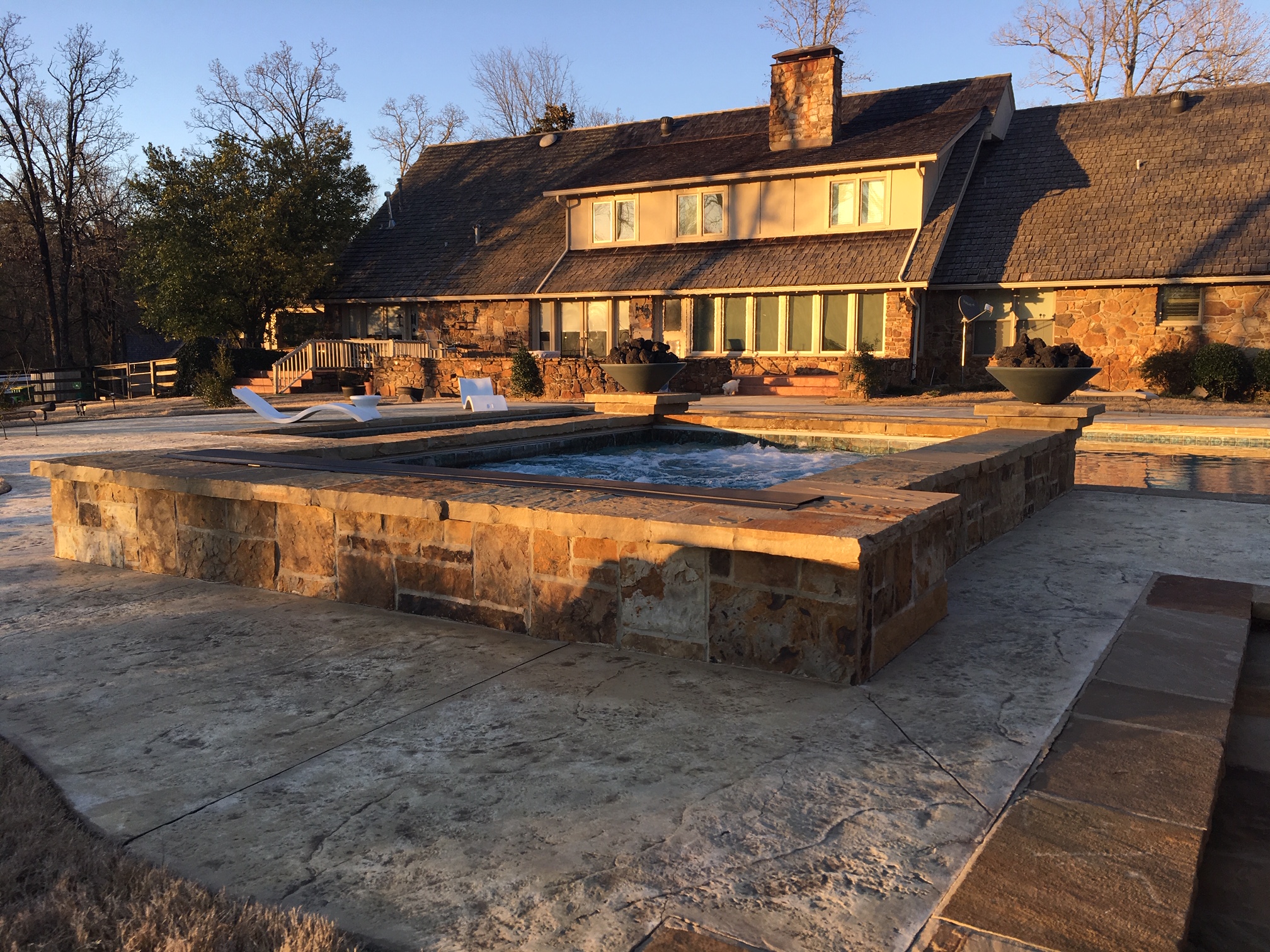 This spa includes a cover, a variable speed pump, and an efficient plumbing design. Still, the energy bills prompted to install a solar heating system.
Each of those areas is a discipline onto itself, but to maximize efficiency, the best-proven approach is to wisely combine those measures to create synergistic effects that maximize savings. In some rare cases, pool systems are integrated with the home's heating and cooling systems to enhance the efficiency of both the house and the pool. In commercial facilities heating is often integrated with building boilers and HVAC systems. I once read about a gymnasium pool in France that is heated by the Btus generated by a neighboring data processing center. I've seen similar approaches where heat exchangers are used to capture heat from AC units in restaurant kitchens. Point being, saving energy encompasses a vast set of possibilities.
I've also seen some very interesting concepts at recent pool industry conventions. One was a special heat exchanger with a valve that runs refrigerant to a pool heat pump when the home's AC is on. And another that locates a passive heat exchanger in attics to capture the Btus that are generated as the sun beats down on the roof.
One of the "brightest" of possibilities is found in the solar-energy industry. Like many people in the pool industry, I long considered solar a curiosity at best. But when I started analyzing energy efficient technologies and their potential ROI, I quickly came to see remarkable value in passive solar-water heating and photovoltaic electricity generation.
As cliché as it might sound, the adage is true that the sun is ultimate free energy source. It shines half the time and once you establish a system to capture it, the Btus and Kilowatt hours are free. In concept it's as simple as that. Solar technology has advanced, making it far more accessible, affordable and practical than it once was.
MY SOLAR JOURNEY
When it comes to solar in swimming pools, it's always been a relatively small segment of the industry. I'm not entirely sure why that's been the case, other than the general observation that ours is an industry that has many slow adapters in its ranks. Certainly that's not to say companies manufacturing these systems haven't experienced success.
During the recession, I was in HVAC School looking for new ways to generate income. As part of the 18-month program, I took a class called Green Energy Resources. I didn't realize it at first, but that class, which served as my introduction to renewable energy, especially solar, would ultimately alter the course of my career.
The instruction covered all of the ways solar and other technologies were being used at the time to design and build homes that are energy efficient, using only renewable energy sources. From the very start, I could see how using the infinite energy of the sun, in particular, could make sense from a variety of perspectives — economic, technological and environmental.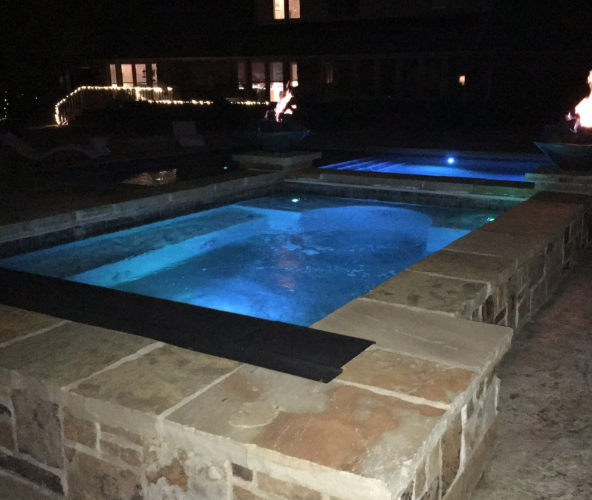 LED lighting has overtaken the pool and spa industry, providing longer-lasting, programmable color and significant energy savings.
Other solar-driven opportunities came my way, including a solar education class at the University of Tennessee in 2011. That class focused on the technology used to make solar power generation part of any energy system where you need electrical power.
Through that program I earned credits toward being certified by the North American Board of Certified Energy Practitioners (NABCEP). Although I did not finish earning my certification, through the process I was exposed to the basics of the technology and especially the free power that solar can deliver, across a wide range of applications and settings, including pools and spas.
YOUTH MOVEMENT
From then on, I've had a strong interest in the future of solar, all of which led me to attend my first Solar Decathlon in 2015 in Irvine Calif. It was an amazing event produced by the U.S. Department of Energy.
The Solar Decathlon is a series of biannual national competitions that started back in 2001 that draws students and interested professionals from across the country and indeed, around the world. The central feature of the event is a massive design competition where teams from universities and technical institutions are selected to design solar power systems for properties in different climates. It features a tour of 14 homes that are built onsite all to the highest possible energy efficiency standards, and all featuring photovoltaic solar power systems, and other efficiency measures designed by the student teams.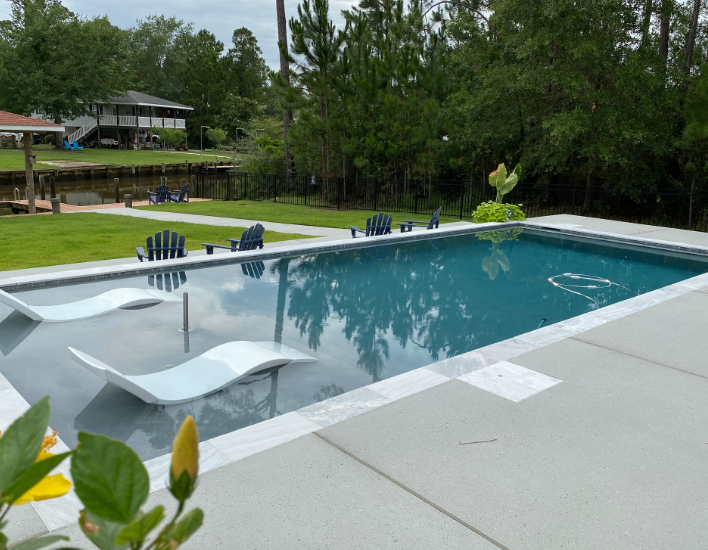 The use of automatic covers is supported by rectangular pools, but the cost savings, and safety, form many clients is well worth the design limitation.
The emphasis is on solar and other areas such as energy efficient home construction and renewable technologies. Teams of students design the homes in compliance with stringent Department of Energy rules and all applicable building codes. It's a rigorous process leading to inventive solutions and creative designs.
One of the big revelations I experienced at the event was how solar can be applied almost anywhere, not just places where the sun shines all the time. One of the top entries in the decathlon, for example, was a home designed for efficiency in Buffalo, N. Y., called the "Grow House." It was built for the decathlon in Southern California, but as part of the program was later shipped to the area for which it was designed, in that case, upstate New York. The same was true of entries designed for the desert, mountains and other climate zones. The common denominator was that all the homes would be powered entirely by solar.
At this event especially, I could see that the solar industry was growing and that somehow it needed to be incorporated into the pool industry. Seeing all those young people embracing energy efficiency and renewable energy offers a strong indication that our future energy consumption will be defined by using less energy with more of it coming from renewable sources. I believe recreational bodies of water should be treated the same way.
It also occurred to me that children being born today may well grow up in a world where they never own an internal combustion engine. The future, it seems, is already here.
UTILITY CONNECTIONS
This past October, my journey continued at the Tennessee Valley Solar Conference in Franklin, Tenn. It's an event produced by the legendary Tennessee Valley Authority highlighted by a fantastic set of panel discussions with speakers from different industries and energy-related organizations. They covered a wide range of topics including the future of solar in the Tennessee Valley, the role of local power companies, and specific technical topics including battery storage systems.
In broad strokes, the TVA is committed to adopting renewable energy sources, particularly solar and is incrementally moving away from fossil fuel energy sources, like coal. TVA is putting much of its focus and resources into utility-scale solar than it is in individual residence rooftop systems.
There's also growing popularity of shared solar in what some call "neighborhood gardens". The concept is like an actual garden when neighborhood residents share in the care of the garden and its crops, places such as condo complexes and housing developments will have solar gardens that residents can buy into and utilize the energy the system produces.
That's just one of the ways that solar is gaining traction in our region. Other recent news includes Amazon and Facebook opening facilities locally under the proviso that all the energy provided to those properties come from renewable sources. Obviously, large-scale solar is playing a big part in those deals.
As my understanding of solar, the technology and the incredible future it represents continues to grow, I find myself drawn deeper and deeper into incorporating photovoltaic power generation into swimming pools. We have an amazing opportunity to join a future that is as bright as the sun itself.
Douglas Cook is owner and founder of Net Zero Pools, a Jackson, Tenn.-based design and construction focused on creating energy efficiency.