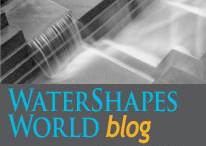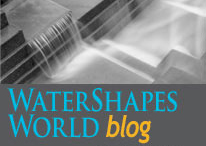 As I noted a couple weeks back, my to-do list of household projects has long included installation of a small fountain.
In the place I had always intended to put it, I figured that the watershape would be visible from the redwood deck where we do most of our warm-weather entertaining; from the stone deck where we do most of our weekend reading and relaxing; from our bedroom window; from the living room; and, partially obscured by a big, flowering Brugmansia, from our dining room.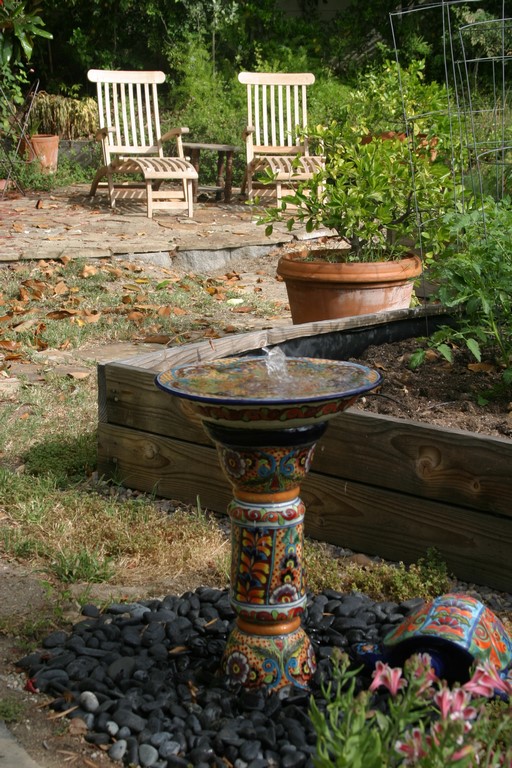 Even more important, I was delighted by the prospect of the sounds it would make and how they would help stimulate a proper mood in all of those locations. To that end, my plan was to place a larger-than-necessary basin beneath the fountain to act as a resonating chamber: Water would flow through a layer of rocks and drip randomly and tunefully into the hidden pool below.
The path to success seemed fairly direct; all I needed to do was avoid getting cocky. (Yes, my readers, I've been paying attention for all these years!)
The first challenge, as reported previously, was to drill a hole in the bowl of what had started out as a solid Talavera birdbath. I'd given it to Judy as a gift about five Christmases ago, and we never seemed to keep up with its water needs – a problem that was the inspiration for my project.
With some trepidation, I worked slowly through a set of eight masonry bits, gradually and carefully making the hole large enough to accept half-inch tubing. I then sealed the wound with silicone, figuring the exposed clay would eventually swell a bit and spoil my good work.
That done, I visited Pondbiz, a purveyor of pond equipment and supplies in Canoga Park, Calif. They had just the basin I needed, but they didn't have the solar-powered/battery-supported pump I'd envisioned using to save myself a whole range of electrical-supply chores. I purchased the basin and left without a pump, returning home to sort through my solar options on the Internet.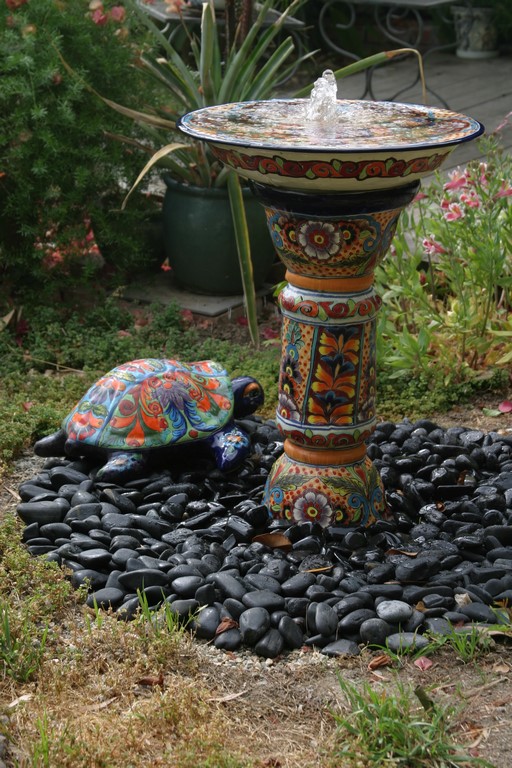 Within 30 minutes, I'd convinced myself that none of the available solar options would do. Everything I saw was on the wimpy side with respect to flow rates and water-lifting ability, and the comments on even the most promising systems were filled with tales of disappointment. So I returned to Pondbiz, visited once again with my new friend Dawn Temple and purchased a conventional pump.
By day's end, the basin was buried, I'd set up the fountain and pump for a trial run and used an extension cord to get things going. And was I disappointed! The 140 gph pump didn't move enough water to do more than barely wet the bowl's edge, resulting in no visible flow of water and the production of almost no sound at all.
Within the hour, Dawn had helped me exchange that pump for a robust 260 gph unit and all was well: The plume rose the four or five inches above the surface I'd been hoping for, the flow over the edge was enough to help generate the sound I was after and all I needed to do was rig a permanent, GFCI-protected power supply – another couple hours' work the next day.
The best thing? About five minutes after I had the system up and running, birds started playing in the water. In the first hour, I saw five different species, including a mourning dove that did its bathing in the trickling water at the fountain's base.
So now, after 30 years of observing what you do, I am finally a novice watershaper. But I won't be hanging out a shingle anytime soon: I remember all too well what I wrote above about not getting too cocky . . .