Meeting and Fooling the Eye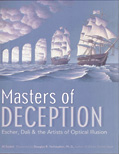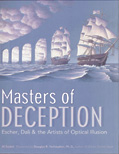 Although we might not commonly think of watershaping and exterior design in this way, a great many of the details we shape are designed to fool the eye or somehow create illusions. Consider the pools that are made to appear so natural that they don't seem to have been man-made — or vanishing edges that conjure the impression that there's no visual boundary between the surface of a swimming pool and a distant body of water.
Those are two familiar tricks of the trade, but if you stop and think about it, there are many less-obvious examples as well: water flowing under a bridge that leads to nowhere; rocks half buried in the landscape to give the illusion that they are part of a subterranean geological formation; small bits of individual tile that come together to form a mosaic image; or modular walls that appear to float in space.
In my own work, to add another example, I've started to be deliberate about working with phenomena such as forced perspective, making seemingly rectangular pools narrower on one end to give the impression that they're longer than they really are — and I've done the same thing with pathways.
In other words, we often find ourselves in the business of creating false impressions — which is why I recently gravitated toward a copy of Masters of Deception: Escher, Dali & the Artists of Illusion by Al Seckel (Sterling Publishing, 2004). At first glance, this 300-page book might seem to have little to do with watershaping or landscape design. After all, it examines the work of two-dimensional artists who use visual trickery to delight, confuse and even frustrate viewers: These are artists who, unlike us, are not constrained by inconvenient realities such as gravity, volume, mass or literal representation.
---
Now you can purchase the title reviewed here — and other books reviewed by Mike Farley — through our online WaterShapes Store! Click here.
---
Yet the deeper I delved into this book, which is all about things that are not what they seem, the more I accepted the fact that artists such as Salvador Dali, M.C. Escher, Jos De Mey, Sandro Del-Prete, and Shigeo Fukuda (included among the 20 featured in the book) have something to teach us despite the fact I see no direct way to transfer their boldest ideas to our work.
For starters, studying the works of these artists makes sense because we have a need to be familiar with significant artistic genres (including these optical illusionists) of which our clients may be fans. In this particular case, there's fantastically broad popular appeal, with just about everyone seeming to get a kick out of things that fool the eye.
Moreover, in terms of simple design inspiration, the bag of visual tricks represented in the book goes a long way toward explaining how perspective, form, geometry and imagery can be used to create impressions and illusions. I don't see using these concepts in overt ways, but I have the immediate sense that they are already informing the subconscious part of my creative process and are helping me perceive my designs in new ways.
Also, there's no escaping the fact that it's great fun to look at the works of these artists and learn about how they arrived at their various approaches. At the very least, it serves to remind me that although design can be a very serious matter, it also can and should be about fun and fascination as well.
Mike Farley is a landscape designer with more than 20 years of experience and is currently a designer/project manager for Claffey Pools in Southlake, Texas. A graduate of Genesis 3's Level I Design School, he holds a degree in landscape architecture from Texas Tech University and has worked as a watershaper in both California and Texas.