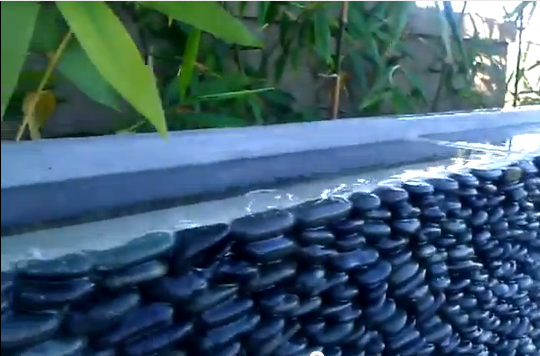 These days, clients who've been out to see a bit of the world come at designers and builders with all sorts of interesting ideas and requests. For the most part, they've seen something they or their children really like and want to get an appropriately scaled version of the same sort of water effect as part of their own backyard resorts.
mySpaceiv>
In the case described in this video, for example, my clients had been someplace where they'd seen dancing water walls – that is, the type in which water is released in different parts of a wet wall's expanse at different times and at different flow rates, creating waves and even whitewater effects that sweep across the surface.
On a large scale, these effects use computer controls and all sorts of actuating valves and equipment and costs tens of thousands of dollars beyond basic materials and construction. The project at hand was definitely not on that scale, so we had to develop another illusion-making solution – one that ultimately cost just a few hundred dollars.
Incidentally, you probably won't recognize the site, but this is the project that was the subject of my first Video Gallery item on site access – the one in which two mini-Bobcats performed their own weird foxtrot to make way for the dancing water wall.
To see the video, click
here
.