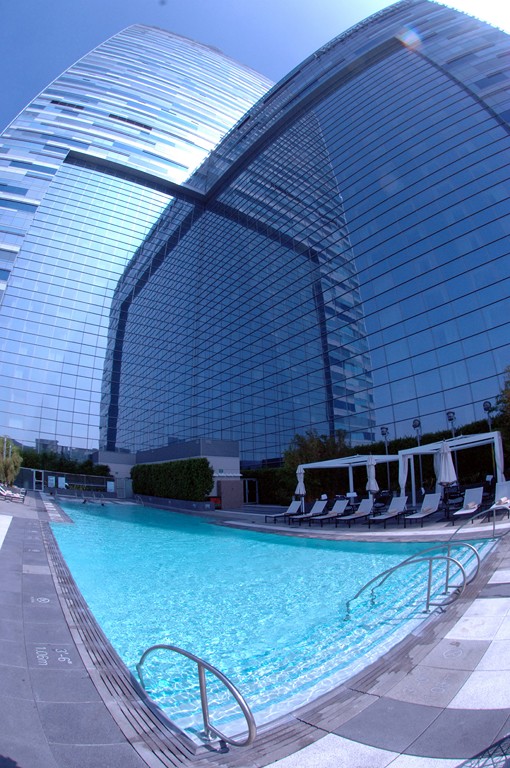 By William N. Rowley
There's no denying the difficulty of building a high-quality inground pool, but the welcome fact is that the earth can conceal a range of little imperfections, from small leaks to minor structural defects.
When you build a pool or some other watershape above grade as an integral component of a multi-story building, however, everything you do is magnified because the work is always exposed. Essentially, you lose the margin for error that might be possible with an inground installation.
This past spring, work was completed on two high-rise watershapes our firm engineered as part of L.A. Live, a multi-purpose, entertainment-oriented complex situated near the Staples Center and the Los Angeles Convention Center in downtown Los Angeles. The pool/spa combinations were placed on the fourth and twenty-sixth floors, and although they have simple rectangular forms, they represent the absolute state of the art in above-grade design and construction.
We at Rowley International (Palos Verdes Estates, Calif.) were thrilled to be part of the project, which includes theaters, restaurants, retail stores and a 54-story skyscraper – the largest built in Los Angeles in more than 20 years. The site was developed by the Anschutz Entertainment Group (Los Angeles); designed by the global architecture firm Gensler through its office in Santa Monica, Calif.; and built by general contractor Webcor, a high-rise specialist (Culver City, Calif.).
In all, structures in the $2.5 billion complex encompass 5.6 million square feet spread across and above the 27-acre site. The pools were part of the skyscraper, which houses both a J.W. Marriott hotel and a Ritz Carlton condominium complex.
The watershapes, of course, were just a minuscule component in the overall project, but they're located on large exterior decks and are meant to serve as key amenities and social hubs. The fourth-floor pool is part of the Marriott property, while the twenty-sixth-floor pool is for residents of the Ritz Carlton condominiums.
LOFTY LEAKS
It's well known in the engineering and construction trades that work on above-grade watershapes requires greater all-around levels of expertise than does an inground residential or commercial installation. As a result, architects, general contractors and clients – particularly those who have experience with these sorts of projects – tend to be selective about their working partners.
Among the paramount concerns in above-grade construction are weight and leaks, which we accommodated here by using foam wherever we could to reduce the volume of concrete required to build the shells and by placing the watershapes within concrete containment vessels to minimize possible issues related to sealing all of the necessary penetrations.
Our firm has extensive above-grade experience, so Gensler invited us to become involved with engineering the system. In addition, we were pleased to be asked to oversee the installation and make sure everything went exactly according to plan.
They wanted us to be involved not only because of our track record and awareness of the specific areas where above-grade work is different from inground work, but also because nothing we were going to encounter would come as a surprise the way it might to a firm that hadn't tackled this sort of project before.
The first and perhaps most obvious point to consider in working above grade is that all pools leak to one extent or another. No matter how hard we all strive to create vessels that are completely watertight, leaks are virtually inevitable. With an inground pool, these minor emissions are likely to go unnoticed and detected because they don't cause any real problems.
All of that changes in a pool suspended above grade in a building where leaks, no matter how small, are completely unacceptable. Obviously, you don't want water dripping down into enormously expensive living, work or utility spaces, nor do you want to run the risk that a leak in one place will travel along beams or other structural elements and cause damage at some distance from a hard-to-detect source.
This is why all of our above-grade pools, including these two, are built inside concrete containment vessels. These outer containment vessels – ten inches thick and designed with the least possible number of well-sealed penetrations – are designed as integrated structural components of their buildings. For their part, the shotcrete pool shells are six to eight inches thick and include the normal complement of penetrations for plumbing and lighting.
The equipment rooms for these commercial pools and spas are notably complex – a fact that put an absolute premium on developing highly detailed installation plans and making everything as orderly and clear as possible to simplify any downstream maintenance that might be required.
With their number kept to a minimum, it's possible to be rather maniacal about sealing penetrations to the containment vessel. It's also desirable to have the plumbing and electrical runs go as directly as possible to the equipment room to minimize chances of traveling leaks.
In our projects, we use plastic water stops to seal penetrations. For the L.A. Live pools, however, the waterproofing consultant had us use stainless steel pipes and fittings at every penetration – the reasoning being that the waterproofing material would create a better seal with stainless steel than with plastic. (This meant that we also had to bond each fitting to meet electrical codes.)
The other key point is that it's difficult to make concrete totally waterproof. We used a concrete mix that was meant to exceed a compressive strength of 4,000 pounds per square inch – which in a perfect application can come close to being watertight – but we could take no chances. In the gutters, which we would not be covering with plaster, we eliminated the possibility of any moisture penetration by coating the shotcrete surfaces with CIM, a material made by Chevron Corp.
SILENT AND CLEAN
In almost all above-grade projects, space is at a premium, meaning that the vessels are either partially or entirely suspended in areas otherwise devoted to human occupation – adjacent to hotel rooms, a restaurant or perhaps a health club. This means, among many other things, that you need to be conscious of noise.
We've encountered situations in the past where noise from either the plumbing or from people swimming in a pool creates a din that invades adjacent spaces. Experience tells us that remediating such problems can be both difficult and expensive.
Concrete Options
Often in above-grade projects, we'll advocate the use of stainless steel panels instead of shotcrete for the pools we place inside our concrete containment vessels. This eases the waterproofing task while keeping down the overall weight.
In this case, however, we were building to the owner's specifications, and they insisted on concrete. We managed to keep the weight down by using foam spacers within the shell wherever we could.
— W.N.R.
As luck would have it, the pools at L.A. Live are not located immediately adjacent to hotel-guest or tenant living spaces, so the sounds of aquatic activity aren't an issue. This left us to deal solely with the noise of the system in operation, where again our experience leads us to deploy two measures we use on all of our above-grade projects.
First, we design systems with flow rates no greater than three feet per second – meaning we use big pipes and small pumps. The oversized plumbing can be a problem in the sorts of tight spaces you find in these environments, but when you make it clear to everyone involved why it is necessary, we find consistent cooperation – particularly when we point out that the slow flow rate also contributes to energy efficiency.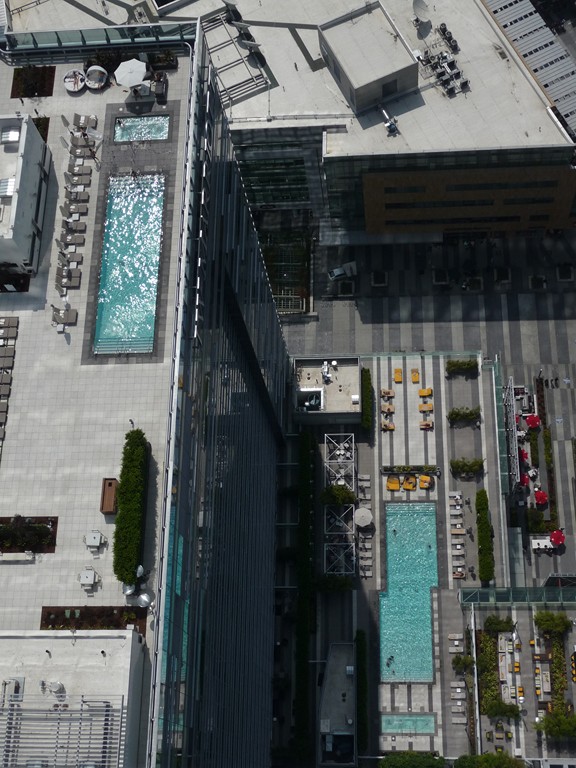 Seen from the top of their 54-story host building, the watershapes offer jewel-like invitations to relax and enjoy the water, the broad decks and the southern California sunshine.
Second, instead of using conventional pumps with 3,600 rpm, two-pole motors, we specified pimps with 1,200 rpm, six-pole motors that in this case were provided by Paco Pumps (Brookshire, Texas). Combining the lower rpm pump/motor with the larger plumbing results in significantly increased up-front costs, but these systems have the advantage of operating in near silence. Indeed, when the pumps are running, you can stand right next to them and have a comfortable conversation and in fact need to place your hand on the units to make sure they're running.
The above-grade setting also influenced our approach to chemical treatment. Normally, we would specify chlorine feeders and sodium hypochlorite for sanitization in pools of this size. The owners, however, did not want large quantities of chlorine moving to the equipment rooms, so instead we installed saltwater chlorination systems from ChlorKing (Norcross, Ga.)
Typically, commercial pools don't use saltwater chlorination because health departments are either unfamiliar with the technology or simply haven't embraced its benefits. True to form, local officials initially balked at the idea, but with a great deal of careful cajoling, educating and negotiating, we were able to secure approval.
Perched on the twenty-sixth floor and commanding outstanding, long-distance views of the city, the upper pool and spa serve as social centers for residents of the high-rise condominium complex.
For pH control, we use carbon dioxide instead of muriatic acid – again to avoid transporting hazardous chemicals through the building. My original idea was to piggyback our feed lines onto the carbon dioxide system used by the building's bars and restaurants, but we unable to make it happen.
ADEPT ADAPTATION
In most pools of this size, we'd also typically select high-rate sand filters and set up automatic backwash cycles. In this case, however, there was nowhere to route the backwash effluent at an adequate flow rate. To solve this problem, we went with banks of oversized cartridge filters from Pentair Water Pool & Spa (Sanford, N.C.), providing large mop sinks in each equipment room to allow for cleaning the cartridges.
The watershapes may be simple in form, but they come with nice details – including the elegantly sweeping rails, the stone grates for the perimeter-overflow systems and the use of depth markers and warning signs that align with the aesthetics of the setting about as well as they can.
One area in which we were able to spin off the building's system was in heating the pools. We worked with the mechanical contractor, Murray Co. of Rancho Dominguez, Calif., to set up heat exchangers that would transfer waste heat generated by the building's heating, ventilation and air-conditioning system. This saved us having to install conventional pool heaters that would have required venting (and additional space).
From the Bottom Up
At the client's insistence, the above-grade pools described in the accompanying text were made using shotcrete.
An obvious question I raised early in the project had to do with how we were going to get the shotcrete up to the twenty-sixth floor, where one of the watershapes was to be located. (The other was to be on the fourth floor, so I knew a standard shotcrete rig would do the trick.)
The answer was swift and easy: The project managers from Webcor (the general contractor) assured me that they could pump it up there, no problem. And they weren't kidding.
Before we shot the pool, Webcor installed a six-inch standpipe from ground level up to the twenty-sixth floor. When the time came, they attached it to one of the biggest pumping rigs I've ever seen. This rig lifted the material vertically to the right level, at which point it was attached to a long hose that reached across the broad deck to the pool's location.
To make this work, Webcor wanted the material to be extremely viscous to ease pumping, so the concrete mix was extremely rich. That was fine by us, as we were happy to increase the concrete's compressive strength to help prevent leaks.
When the shoot was finished, Webcor's crew simply disconnected the hose and capped the pipe on both ends, leaving it in place and full of shotcrete. Now that standpipe is a permanent part of L.A. Live's high-rise structure.
— W.N.R.
As for the pool itself, if there's one way in which above-grade installations are generally easier it's in setting up their gutter systems. At L.A. Live, both pools use systems of grated, pre-cast concrete gutters and full-perimeter overflows. Designing and installing these systems was facilitated by the fact that the deck itself is a raised set of pavers. As a result, the gutters, which are sized to accept the full surge capacity, are integrated with decks that effectively act as massive surge tanks.
Naturally, nothing we did on site happened in a vacuum. Throughout the process, we worked directly with various team members to resolve a wide range of issues. One of these, for example, had to do with the fact that, as originally designed, the twenty-sixth-floor pool was sharing space with a structural beam – which, of course, would be impossible.
Serving the needs of hotel guests, the watershapes on the fourth floor are larger than those on the upper level but serve the same sort of social purpose as retreats from the noise and traffic of the city below.
In short order, we had to narrow the dimensions of the entire pool and resubmit the plans the building department – just one example of our wonderful collaboration with structural engineer Eric Brown of John A. Martin and Associates (Los Angeles). We also kept in constant contact with Gensler's project principal, Warwick Wicksman, as well as numerous members of Webcor's various crews.
The level of professionalism that surfaces in projects of this scale and profile is hard to find on smaller jobs, and it's both refreshing and challenging to rise to the task and make certain we play our part in keeping things moving.
Now that L.A. Live is complete, it's also extremely satisfying to know that we've engineered the watershapes for a building that's already made a huge impression on its city.
William N. Rowley, PhD, is founder of Rowley International, an aquatic consulting, design and engineering firm based in Palos Verdes Estates, Calif. One of the world's leading designers of large commercial and competition pools, his most notable projects include partial designs for the competition pools used in the Olympic Games in Munich (1968) and Montreal (1972), and he acted as aquatic consultant for the design of the Olympic Pool Complex in Los Angeles (1984). His projects also have included a wide range of non-competition pools, including the White House pool in Washington, the Navy Basic Underwater Demolition Training Tank in Coronado, Calif., and the resort pool at the Hyatt Regency at Kaanapali Beach on Maui. Rowley is involved in a range of local, state and federal entities, consulting on construction and safety-code requirements. He is also a fellow of the American Society of Mechanical Engineers as well as the recipient of The Joseph McCloskey Prize for Outstanding Achievement in the Art & Craft of Watershaping.