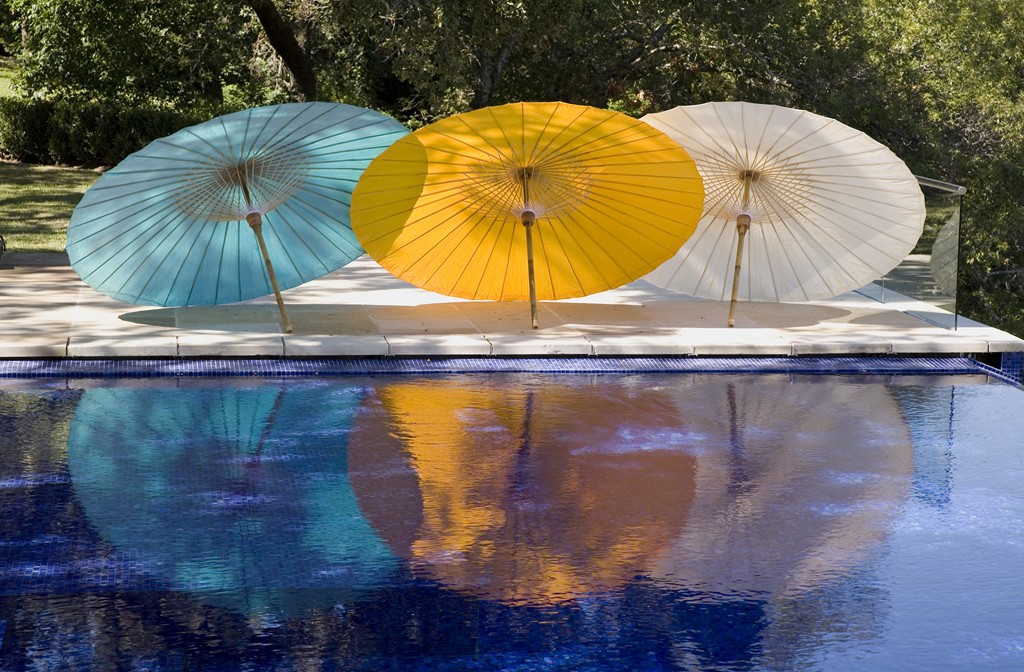 One of the compliments we appreciate most at Root Design Co. is when people say that no two of our projects look alike. Indeed, we pride ourselves on being able to work effectively across a broad spectrum of styles and use both time-tested and innovative building methods in ways that let us focus on details and on making certain we're always generating work that speaks directly to our clients' unique tastes and desires.
To maintain our edge, we limit the number of projects we tackle each year and, at the same time, seek out clients whose enthusiasm matches our own when it comes to pursuing something truly special. When everything clicks, we find ourselves in situations in which we have the latitude to stretch the boundaries of exterior design and deliver unique, genuinely artistic and distinctly one-of-a-kind projects.
Echoing throughout our studio as we work is the word edit. In fact, this term has become a guiding principle in that we refine the spaces we create with our collective imagination by anchoring them in principles of architectural integrity and historical significance and by operating sensibly beneath the environmental canopy provided by the setting. In other words, as we absorb cues from a home's configuration, prime views and view corridors – or from significant plantings on or near the property – sometimes it's the details we leave behind or alter or refine in the editing process that lead us to success.
This is a complex, all-consuming approach to the tasks at hand and makes us function conceptually and practically within multiple disciplines. By design, the results embody personalized narratives that enrich our clients' overall sensory experiences, build their confidence in our approaches to structural design and implementation – and instill in them a sense of the value and security of their investment for the long haul.
A TASTE OF FRANCE
The project featured here stands as a prime expression of these values: In this instance, the master plan draws not only on our creative sensibilities, but also on the eclectic set of influences that have shaped the tastes of well-traveled, well-educated art collectors who became our close collaborators.
The story begins on a cliff overlooking Lady Bird Lake (formerly Town Lake) and an acre-and-a-half site high above downtown Austin, Texas. From the start, landscape architect Barry Landry of our staff worked directly with the clients, who had always wanted a place where they could display the substantial collections of art and artifacts they'd amassed through years of travel. What they wanted, they told us, was something akin to a personal arboretum.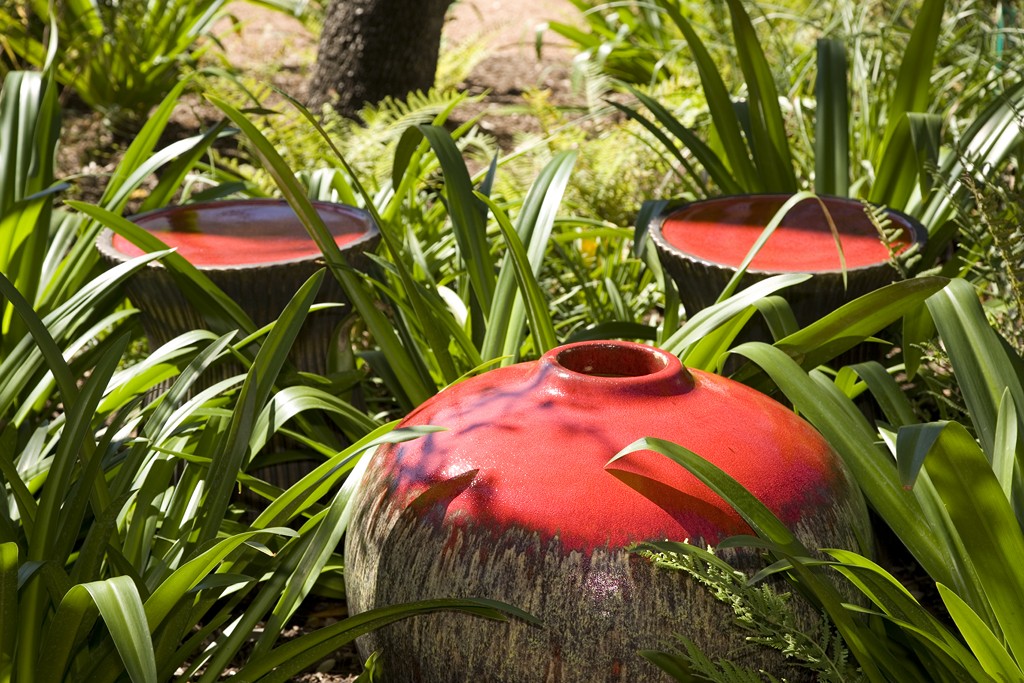 This is nothing outlandish for Austin, a town marked by well-considered and occasionally unusual use of the full spectrum of architectural styles from the observantly traditional to the daringly contemporary. Included on that long band of design possibilities is a local fondness for the French Provençal, a set of features and motifs that work particularly well because the native limestone in the Austin area resembles a material commonly used in southern French architecture, gardens and watershapes.
Using this indigenous, local stone material was certainly easy and let us stay true to the native landscape, but our prime motivation in doing so was that it allowed us to capture a distinctly exotic atmosphere.
The property and its contours helped frame that picture: One of the largest lots in the area, it slopes upwards to a plateau on one side that now hosts the pool terrace and its garden, then flattens out gently across the rest of the site. The existing home we encountered was only about 1,400 square feet in a 1950s-vintage, Mid-Century Modern style – another feature of the site that was to be edited, refurnished, refurbished and renovated.
Interestingly, the clients wanted to start by developing the gardens first, saving home construction for a later date. That way, the future grounds and expressions of water would define the property's character and spirit – all the better, they thought, when it came to inspiring the home's final design.
ELEMENTAL FORCES
While fire and earth were key design considerations, water played the pivotal role in design development. We studied and considered each of those fundamental elements for celebration and display in the master plan from the very start, but water (along with plants) came to the fore in defining zones and creating transitions.
On some level, however, what you see in the photographs is still a work in progress: We have plans for additional work with water and plants that will add congruency and create seamless backdrops for the Provençal-style manor house that will someday be built and ultimately will include several additional water elements. Once complete, in other words, it will be even easier to see just how important water was (and is) to establishing and sustaining the design continuum that permeates the property.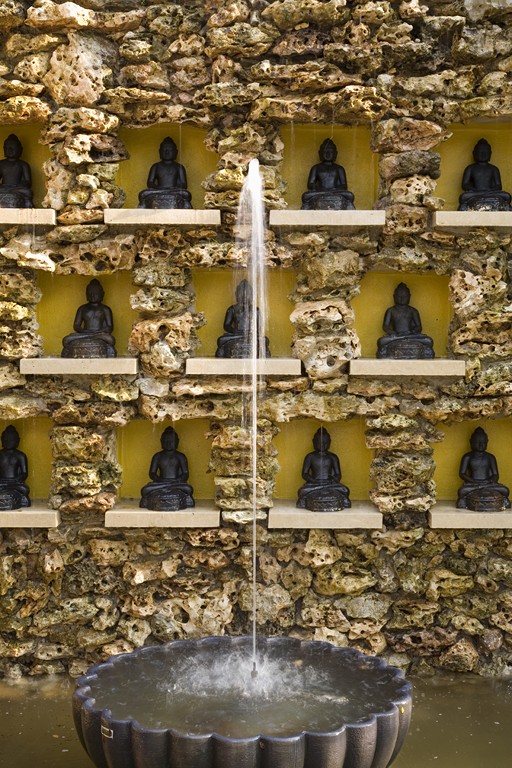 Throughout the long design/construction process, the clients have never been in a hurry and have always seemed to appreciate our attention to quality and detail as well as our adherence to high standards of performance. The project so far has unfolded in phases that have stretched on for nearly five years as the individual garden rooms have emerged – with everything crowned by the all-tile, vanishing-edge pool over which a cabana precariously seems to float.
But there's a wrinkle to the artistic vision: Although the stylistic underpinnings are essentially French, the clients' art collection reflects a wide array of additional, predominately Asian styles, including numerous Balinese, Indonesian, Vietnamese and Chinese objects and artifacts.
That might seem a bit incongruous on a cultural level, but Landry relied on a 19th-century design movement known as Chinoiserie to bridge the gap. For a time all the rage in France and England, this movement offered a distinctly naturalistic alternative to traditional European gardens and their highly controlled, rigidly geometric layouts. More important, it gave us legitimate leave to incorporate winding paths, layered views and Asian art and architectural details into what became a remarkably rich and flexible design palette.
The clients already had an extensive store of Asian art collected from their travels, but they also maintained contacts with artisans in several countries who could generate new pieces in various materials as we sought to incorporate the various Asian touches into a basically Provençal milieu. Landry used these resources to blend an incredibly broad range of ideas into a series of distinctive spaces, each with its own design program within the master plan.
Also celebrated in this grand space was the clients' desire for and love of plants capable of telling their own stories in the garden.
SUBLIME CHOREOGRAPHY
The experience of this project was amazing for our team: a monumental effort led by Landry, who combined his skills in planting and hardscape design with an in-depth historical understanding that left no possibility unturned; and by our company's co-owner/horticulturist/construction manager Duke Cowden, who directed and supervised much of the installation process.
On a balmy Austin evening in the summer of 2007, the clients hosted a private gala during which we had the opportunity to watch the narratives we'd designed into the gardens come vividly to life for all in attendance. Observing what seemed to be near-choreographed passage through the grounds by guests of all ages, we saw how the design functioned and had come to completion.
As the room-by-room tour of the gardens on the following pages reveals, we became fully engaged as designers and builders on a sensory level that led ultimately to the creation of what we (and, we're proud to say, our clients) see as a thriving, living masterpiece.
---
Out Front
Approaching the understated home by passing through an elaborate arbor gate, you encounter a quiet area defined by a stand of Japanese temple bamboo – a rare form of giant bamboo that has an elegant, feathery appearance. At its base is a terraced area carpeted with unmown zoysia grass, a species that develops soft, mounded clumps in wave patterns that suggest wind or the ebb and flow of water. (It also has the advantage of being tough and drought-tolerant in the warm climates in which it thrives.)
Large boulders are deployed here as a retaining wall, but they've been heavily planted with native sedums and succulents so they appear to recede into the slope. This area also appears to be the headwaters for a pair of dry creek beds that guide runoff into drain catchments when it rains. This ornamental drainage structure is thematically significant: It introduces the notion of water as a shaping force that will be a key to what's seen beyond this entry space.
---
The Formal Rose Garden
As one of the most visually entertaining spaces in the garden, the formal rose garden is another area that exhibits the project's core spirit. Landry's design of the central wagon-wheel parterre with the large, chrome obelisk at the hub features borders defined by true dwarf English boxwoods (Buxus sempervirens suffruticosa) and by the overwhelming fragrance of heirloom roses. With its intricate detail, the wheel design spins outward from the core of the space, punctuated by matched pairs of specimen spiral topiary 'Julia Jane' boxwoods.
But once again, an Asian spirit intercedes: The client originally wanted all of the roses to be white to represent purity and divinity. Landry augmented that scheme with the slightest blushes of off-white as well as a few light-peach and pink varieties among the more than 200 roses to create subtle contrasts. The heirloom antique roses are neatly framed by clipped boxwood borders, with ground-plane curlicues and vertical spirals in swirling, classical French lines.
When this garden is at its blooming peak in spring, the fragrance of the roses (enhanced by lavender) reaches visitors before they reach the gate. Once inside, they see a space whose design pays homage to the famous rose garden of the Jardin de Bagatelle in Paris as well as the rose collection at the grand Brooklyn Botanic Gardens.
---
The Walled Garden
This is one of the areas where the Provençal influence is most directly on display: At center of the garden stands a classic plaza fountain at which residents of a typical southern French town would fill their buckets with fresh water. This structure features a number of authentic details, right down to the brass spouts and bucket holders.
Landry designed the wall surrounding this garden room to appear as though it exists in a constant state of decay – the intention being to make it seem as though this area had been there and established long before anything else on the property came along. To achieve this look, we made the wall using small boulders that resemble riprap. In support of this illusion, the top of the wall is fully drip-irrigated and planted with succulents that embrace the wall and make it seem that the structure is being held up by the plants.
We planted the immediate area on top and within the walls mostly with ornamental flowering species to honor the clients' request for a cut-flower garden to supply armloads of fresh flowers for the estate's tables. This space also features a vegetable garden; an ever-changing perennial, herb and bulb garden; a 19th-century-style glass-house conservatory; and, for nighttime indulgence, three wrought-iron canisters that house gas-flame elements and illuminate the gate to draw visitors inside.
This space is also known as the Secret Garden: As in the famous story of the same name, it's a place where people encounter a completely separate place with its own character. (Photo at middle by Paul Bardagjy; photo at right by David Strohl, David Strohl Photography, Austin, Texas)
---
The Ammonite Garden
The focal point of this lush, subtropical corner of the yard is a large sculpture depicting a primordial fossil, the Ammonite.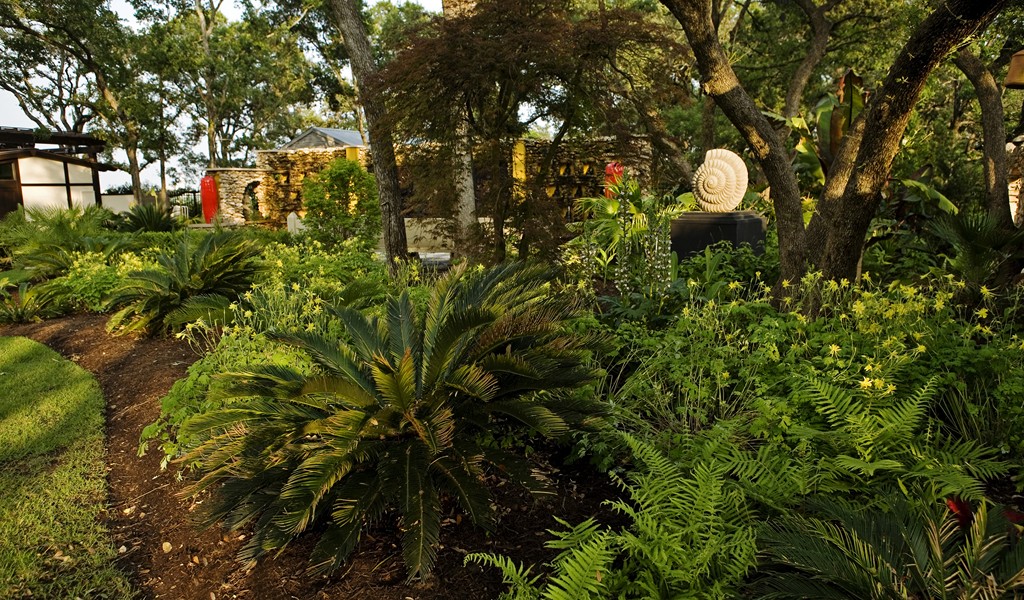 The sandstone piece is set amid plants of exotic and local origin, and the overall intention is to lend a sense of Tropicalismo to the space by including various bananas, gingers, palms and fancy elephant ears. At the same time, the space has a certain Japanese air, with handsome specimen Acer palmatum trees flanking the art piece.
Native blooming golden columbines (Aquilegia x 'Texas Gold') skirt the ground in early spring, but the space more generally features a mixing of indigenous, naturalized and exotic plants selected for their exuberant floral displays, bold foliage textures, striking colors and ever-changing seasonal interest.
---
The Lotus Garden
The term "Asian Fusion" comes to mind when you look at this room, but that modern culinary reference fails to convey the intricacies of this sophisticated Zen garden. In true Chinoiserie style, various Chinese, Thai, Balinese and Indonesian features and details are integrated into a design in which water serves as the mediating presence.
Originally, the clients had wanted a plastered, nine-foot-tall wall as a backdrop for the rectilinear Koi pond, but that simple idea quickly evolved from just adding niches to further embellishing the story with water so that, now, the wall of honeycomb limestone is veiled in a constant trickle of water that nurtures ferns, mosses and aquatic plants.
The composition's reference is to the legend of the serene Buddha levitating above the lotus leaves. To that end, two large, smiling Buddhas face each other from nooks in identical framing walls (representing balance and stability). The smaller icons in the wall niches join the large statues in seeming to float above the mass of lotus leaves – a variety of spiritual symbolism that carries over to the rest of the space as well, with water jets signifying the ascent toward enlightenment and the lifting of one's spirit toward Nirvana.
Lessons Learned Well
Construction of the lotus pond was quite a challenge – a combination of traditional swimming pool construction with finishes and water-management strategies that would ensure the health and prosperity of the fish and water plants.
To make it happen, Duke Cowden of our firm spent a considerable amount of time researching watergardens and consulting with members of a local pond society – especially those who had success in raising Koi.
It all worked: After a dozen mature, beautiful, Japanese-bred Koi were released into the pond and held their own through the first few months, we were all delighted to witness the emergence of more than 800 baby Koi.
B.D.
There's also a living treasure in the form of the Koi that swim easily along the length of the 40-foot pond. At the center of their space is a composition handcrafted in a darkly dyed cement material that has spouts emanating from the mouths of fish set amid representations of lotus blossoms. This feature consists of a series of plaques that spurred the design for the rest of the space.
The special pebble pavers were commissioned by the clients and handmade in Thailand. Each is 18 inches square and is made up of small, flat stones set at angles to create fish-scale patterns. The clients also selected and imported the large, handmade limestone table and bench: These pieces offer a place to relax and take in the setting as well as a striking sculptural element.
Landry's plant selections round out the Asian-inspired scene. Indeed, most of the plants in this area had their origins in China, Japan, Vietnam or Indonesia. Included are weeping, black and timber bamboos along with various palms and cycads as well as a beautiful 'Blood-Good' Japanese maple specimen with large trunks to which slips of weeping cut-leaf Japanese red maple (Acer palmatum dissectum atropurpureum 'Crimson Queen') have been grafted at the tips of the main branches. (Photo at middle left by Paul Bardagjy; photo at middle right by David Strohl)
---
Pool Terrace & Moon Garden
Now the owners' and their guests' favorite place to enjoy distant city views while also appreciating close-up details, the pool terrace was developed to complement a Japanese-style teahouse that includes a bath and small kitchen, a pizza oven, an overhead arbor cloaked in flowering vines, a secluded outdoor shower and a variety of associated plantings.
Hand-hewn stone steps (with chartreuse 'Ogon' stonecrop peeking between the risers) ascend from the smooth terrace's paving. Crevices are dotted with ghost plant (Graptopetalum) and chocolate chip dwarf ajuga in shadier spots, while the outdoor shower nestles among subtropical gingers, bananas and palms that allow our clients and their guests to escape as needed to a veritable tropical paradise.
After sundown, when this corner is scented by the alluring sweetness of night-blooming jasmine (Cestrum nocturnum) and the heady fragrance of star jasmine (Trachelospermum jasminoides) that cover the arbor, the terrace is transformed into a spectacular Moon Garden.
The sensory experience is further enhanced and highlighted (literally) by white and light-colored flowers, including evergreen clematis (Clematis armandii 'Snowdrift'), potato vine (Solanum jasminoides) and fragrant butterfly ginger (Hedychium coronarum) – all of which seem to glow in the reflected evening light. It's a great place to contemplate the illusion of infinite space – not to mention the extraordinary views above the city lights.
In this context, the vanishing-edge watershape works as a sort of architectural reflecting pool, amplifying the beauty of its surroundings. The pool itself is much more than an ornament, however, and boasts a complex, highly functional interior design that includes a broad lounging shelf and intricate step configurations. (Photos by David Strohl)
Ben Dozier is partner and principal of design at Root Design Co., a landscape architecture, pool construction and estate management firm located in Austin, Texas. The firm focuses primarily on private commissions related to residential estates, with an emphasis on unique gardens and watershapes. A graduate of Western State College in Gunnison, Colo., with a degree in recreation business, Dozier has extended his studies in the industry through the Mike Lin Graphic Workshop and continuing education courses sanctioned by the American Society of Landscape Architects, the Association of Pool & Spa Professionals and Genesis 3. He currently serves as chair of ASLA's Design/Build Professional Practice Network.