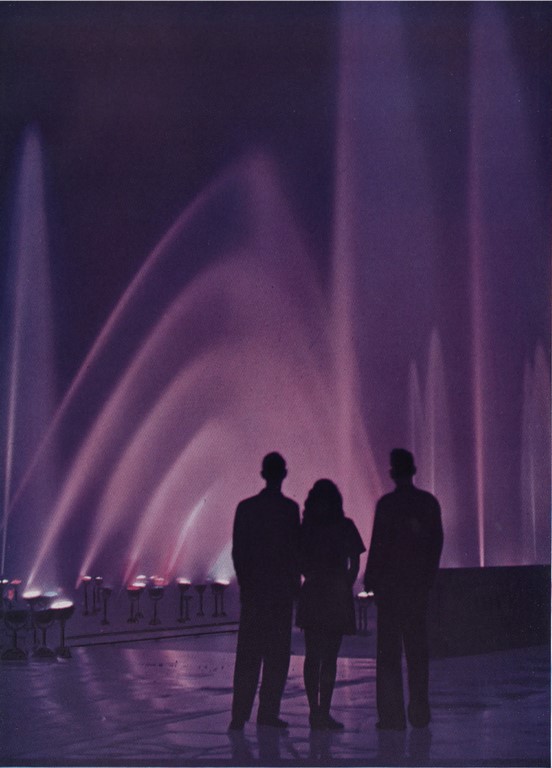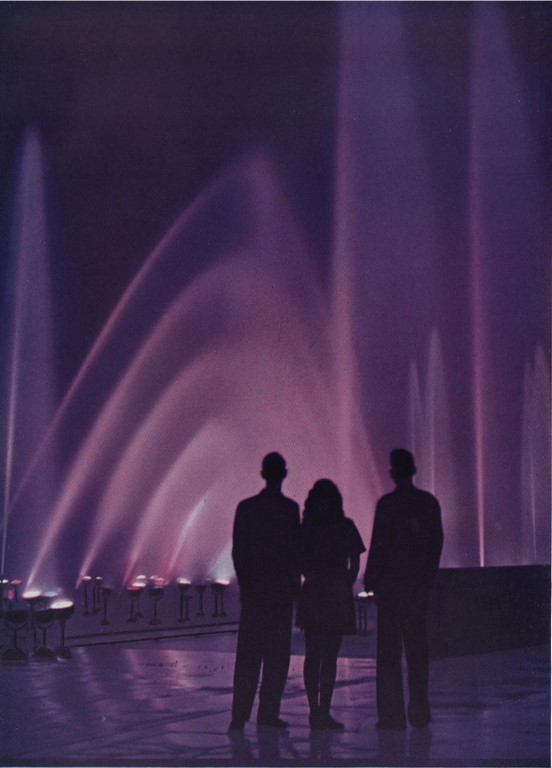 Three words come to mind when I consider what's been happening with the Main Fountain Garden at Longwood Gardens for the last two-and-a-half years: ambitious, audacious and amazing.
The people behind the project, from Longwood's management team to all of the outside players who signed on to get the work done, were supremely ambitious in deciding to reconstruct a historic national treasure – first commissioned in 1931 – and bring it abruptly up to 21st-century standards for performance, automation and serviceability.
They were audacious to the extent that they decided that all of this should happen in plain view, with no visual obstructions to hide what was going on from the public at large – no construction pen, no yellow tape, no barriers of any kind to keep the observers who crowd the fountain's famed Conservatory Terrace from seeing exactly what was happening with their beloved water display.
But so amazing! Although it had been in decline for a number of years and was clearly losing its battle with time, the Main Fountain Garden was nonetheless a touchstone of beauty and elegance for fountain fans worldwide. And not only that: Lots of us (and I do count myself among them) know so much about Pierre S. du Pont's grand vision that it saddled the project team with a good chance of upsetting some of us with decisions they might make about how the fountain was to be upgraded and modernized.
It's quite a stew, and from my perspective, what they've cooked up goes way beyond tasty.
SUBTERRANEAN STRATEGIES
As things stood when the revitalization process started in 2014, the project team knew it was running out of time and had little choice but to perform major reconstructive surgery. Then sure enough, when the season opened in May of the following year, a major pipe burst, flooded the pump room and made any further delay basically impossible.
This was the second of these huge pipes to give up the ghost, and now the system was left to limp along on the third and last of the aging pipes in what du Pont had devised as a triply redundant system. Time was running out, in other words, and we are all fortunate that Longwood Gardens had the wherewithal to put $90 million to use in seeing the restoration through to its conclusion.
Ever since the fountain was initiated in 1931, each leak, every breakdown, anything beyond routine maintenance of nozzles, lights and control systems meant that digging had to be done. Fortunately, when the fountain was built, detailed plans were made, so locating lines underground typically kept the excavations on a reasonable scale.
Trouble is, with repairs of this random sort having been undertaken for more than 80 years, there were so many massed changes and accretions that simply finding systems in need of repair was becoming increasing difficult to do. So an epic decision was made: All materials aboveground that could be salvaged were collected, numbered and cataloged, then everything else (other than the original pumphouse and a few walls) was scraped clean down to the concrete foundations.
Peeling back the surface of the Main Fountain Garden was an emotional process, but it had to be done. The project team left what they could of key walls, but for the most part, everything was removed down to a point well below the original strata to allow for inclusion of a big tunnel system that would eventually, for purposes of direct serviceability, house almost all of the system's pipes, wires, cables, valves and pumps.
It's startling to consider such a bold plan. It hearkens back to the restoration of the Statue of Liberty a couple years back where they discovered that Lady Liberty's arm hadn't been attached the right way. In both these cases, refurbishing presented opportunities for sorting things out and getting them right – and for doing it in such a way that these monuments are set up for generations of further service.
The Main Fountain Garden at Longwood Gardens didn't have an arm to straighten, but it was, below ground, an organizational, logistical and practical nightmare. By treating the space with a certain disrespect, the project managers were able to start more or less from scratch – and the result is a modern tunnel system beneath the fountain that gives technicians immediate access to almost all pipe systems – water, electrical, propane and more – with only limited need ever to dig again.
The all-new tunnel system is immense, with 1,400 linear feet of spacious passages installed beneath various key routes defined by the fountain array. The prefabricated units were assembled on site like building blocks and have been encased in 9,000 cubic yards of concrete. Within these passages, five miles of pipe (in various materials and dimensions) and 51 tons of copper wire are directed to those points where they need to turn topside – no more digging for access, no more public displays of "plumbers at work."
To keep the hydraulic systems running at peak (and consistent) efficiency, the subterranean structures also include storage for nearly 340,000 gallons of water used to feed the system's 1,719 jets. That water is treated in a variety of ways – with chlorine dioxide, ozone or bromine, depending on how and where it's to be used – to make all of the mist the jets kick up safe for human contact.
PRESERVATIONIST IMPULSES
As was mentioned in my first article on this restoration project (click here), one of the key components of the program involved salvaging as much of the original material and as many of the components as was possible.
This is why they disassembled aboveground wall treatments and carefully numbered and cataloged each piece for cleaning, stabilization and repair. This is why they carefully removed the original nozzles and sent as many as they could save out for cleaning and machining for use in the new systems. In fact, 379 original nozzles are among the 1,719 put into service with the revitalized fountain – and looked "new in the box" when they came back on site for installation. (None of the original fountain lights could be reused, but some of the old lighting fixtures in the pumphouse were removed, restored and reinstalled.)
The old fountain system was pretty well shot – and nearby wall surfaces and sculptures were in tough shape as well. But happily, much of the original stonework could be saved: Each element was painstakingly mapped before removal and then was treated to complete cleaning and conservation. With more than 80 years of grime eradicated and surfaces stabilized, these features came back looking as good as new.
Finally, this is why the excavation was much more careful than is implied by the word "scraping." Indeed, the site was approached like something of an archeological dig, with extensive exploratory work done to pinpoint underground features and map utilities to ensure the safety of crews working with big earth-moving equipment. Along the way, materials brought to light passed through inspections in which anything worth salvaging – or, more important, worthy of being put on display in the soon-to-open fountain museum – were set aside and stored for future use.
The entire original pump room fit into this category. In fact, it's a big part of a new museum display that will include the fountain's original pumps, valves, piping and control systems. As a watershaper who has set up more than a few equipment pads, I can't wait to see this exhibit in final, curated form and can't even begin to imagine how much easier life will be for operations personnel when they take up their posts in the new tunnel complex.
The original piping system had been fully documented and was, with some careful digging, readily found for necessary repair work. Courtesy of the new tunnel system, however, most on-site digging will be a thing of the past, with almost all water pipes, electrical runs, valves and various other parts of the Main Fountain Garden's infrastructure set up in the open for easy access and greatly enhanced serviceability.
Another reason for care in the excavation was that the fountain area is both the spiritual and the physical heart of Longwood Gardens. In fact, most of the service utilities for the entire estate passed below the original fountain. The new tunnel system was to be based an average of about 20 feet below grade, which was considerably deeper than the extent of the original utilities and fountain systems.
The positions of these layers of pipes and conduits were known with some precision, thanks to the original plans and on-site exploratory work, but the deeper the team dug, the more groundwater they discovered and the more they had to work to control the way it flowed through the site. There was also some concern, in going so deep, that the excavators might encounter large stones and outcroppings; unexpectedly and happily, this was not the case.
Nonetheless, the network of pipes and lines under the site was both extensive and impressive. As part of the project's master plan, it had been decided to take advantage of this excavation to sort out and thoroughly organize and reroute what was basically a spider's web of criss-crossing lines. Here and elsewhere, the team did everything required to modernize the Gardens' infrastructure while making certain that system maintenance would be a much easier proposition down the line – all within the easily accessible confines of the new tunnel system.
MANAGEMENT ON SITE
I've run a few big projects in my career, but nothing comes anywhere close to the scale of the fountain work at Longwood Gardens.
Three main entities guided the work on site: Beyer Blinder Belle (New York, N.Y.), an architecture firm that specializes in historic preservation; West 8, an urban design/landscape architecture company (also from New York) that guided development of fountain garden's public spaces; and Fluidity Design Consultants, the Los Angeles-based waterfeature design/engineering firm that tackled the fountain systems and show lighting.
More important in this context, on-site construction management fell to Bancroft Construction (Wilmington, Del.), which set the schedules and charted out the phases in which work was to be done. It was an essential role: At peak, there were 180 professionals working on site at one time, giving the work area the look of an anthill, with pockets of intense activity at various locations across the five-acre fountain site. On average, however, the crews consisted of a more-manageable 110 people on a daily basis – sufficient to give patrons on the Conservatory Terrace something significant to watch daily as the project unfolded.
The fact that the project team undertook their work in complete public view is deeply impressive – and even more so because the process included many months of system tests and demonstrations in 2016. I haven't included photographs here that give too much away, but it's no stretch at all to say that when the fountain is fully initialized in May 2017, the results will be spectacular – and definitely will have been worth the very long wait.
Every crew member who came on site had to take a job-safety course specifically tailored to the needs of this particular project – complete with discussion of the preservationist principles that insisted everyone be on the lookout for objects of interest that might be found anywhere on site. In all, approximately 3,000 people participated in these sessions – quite a population of new and changing faces rolling through the project.
Every two weeks for two-and-a-half years now, the project team has met to review progress and deal with grand-scale issues. Under that umbrella, weekly and daily meetings of smaller work groups have reinforced scheduling and goals and have made certain everyone has been keeping project objectives high in mind. That seems both necessary and sensible, given the ever-changing personnel rotations.
Special Thanks
Many people have had a hand in helping me pull this article together, but I want to offer my specific gratitude to three who made themselves available to answer my questions and get the "inside scoop": Paul B. Redman, Longwood Gardens' president and chief executive officer; Ken Grablewski, Longwood Gardens' vice president of facilities; and Mike Petka, project exceutive at Bancroft Construction.
I also want to thank Patricia Evans, communications manager at Longwood Gardens, who endured many exchanges of emails as well as my endless requests for more photographs.
— R.N.
I mentioned up front that the project team made the decision early on to keep what was happening with the fountain on full public view. In discussing that point with staff, I learned that the decision reflected a desire to keep the public involved with the process at every stage, building anticipation and a fan base as things moved along toward completion.
This process of engagement has been helped by the fact that both component and system testing have been ongoing since the pumps, pipes and nozzles started becoming operational during the summer of 2016. Step by step, system by system, jet by jet, the fountain's devotees have been able to watch their favorite watershape emerge from its long hiatus, and I can only wish that I'd had the time available to have visited the site more often.
I've been a fan of the Main Fountain Garden at Longwood Gardens all of my life, and I hope to be there when the fully revamped fountain makes its very public debut on Saturday, May 27. Working with the staff there to make this article possible (see the sidebar just above for details) has pushed my anticipation to incredible heights, and I can't wait for the big day.
As a professional watershaper, I am truly amazed by the ambition and audacity of what I've seen happening with the Main Fountain Garden. It serves as an inspiration to anyone who's ever put a shovel in the ground with the intention of making a watershape happen. I can't wait!
Sometime this summer, I'll write a concluding article that ties up the loose ends and offers my impressions of the restored fountain in action. For a preview and interview with Jim Garland at Fluidity Design Consultants, please click here. For a presentation on the history of the fountain and the revitalization project, click here.
Robert Nonemaker is co-owner of Outerspaces, Inc., which specializes in large, ultra-high-end, technically complex commercial and residential pool, fountain and landscape construction projects. He may be reached via email at [email protected].