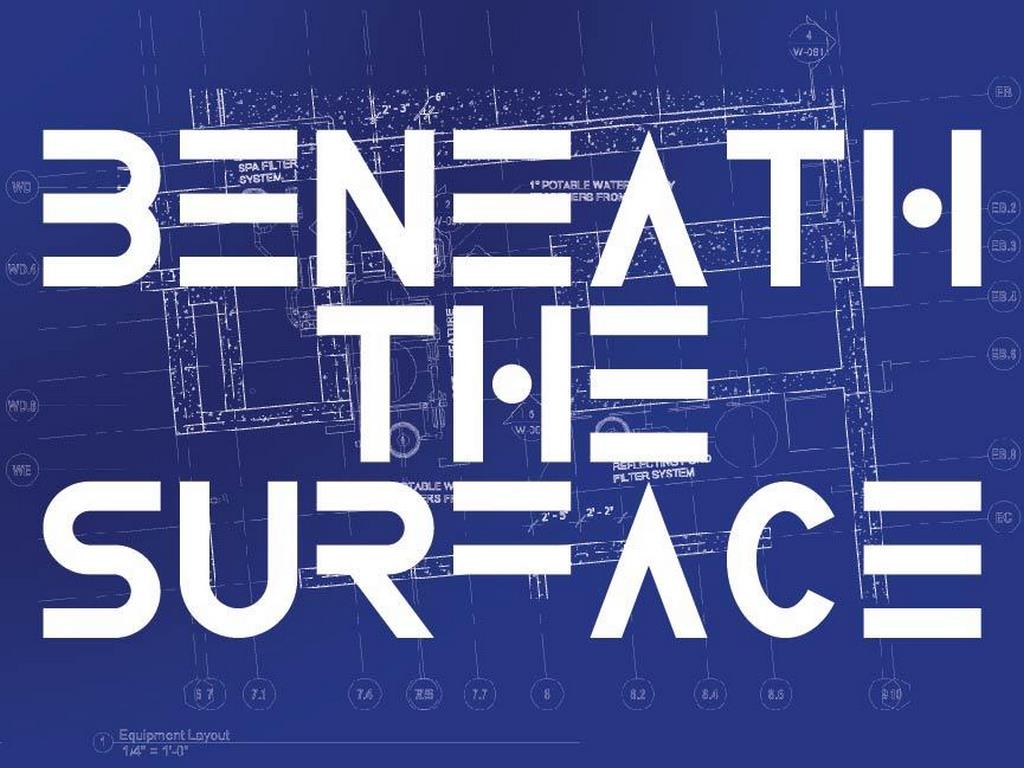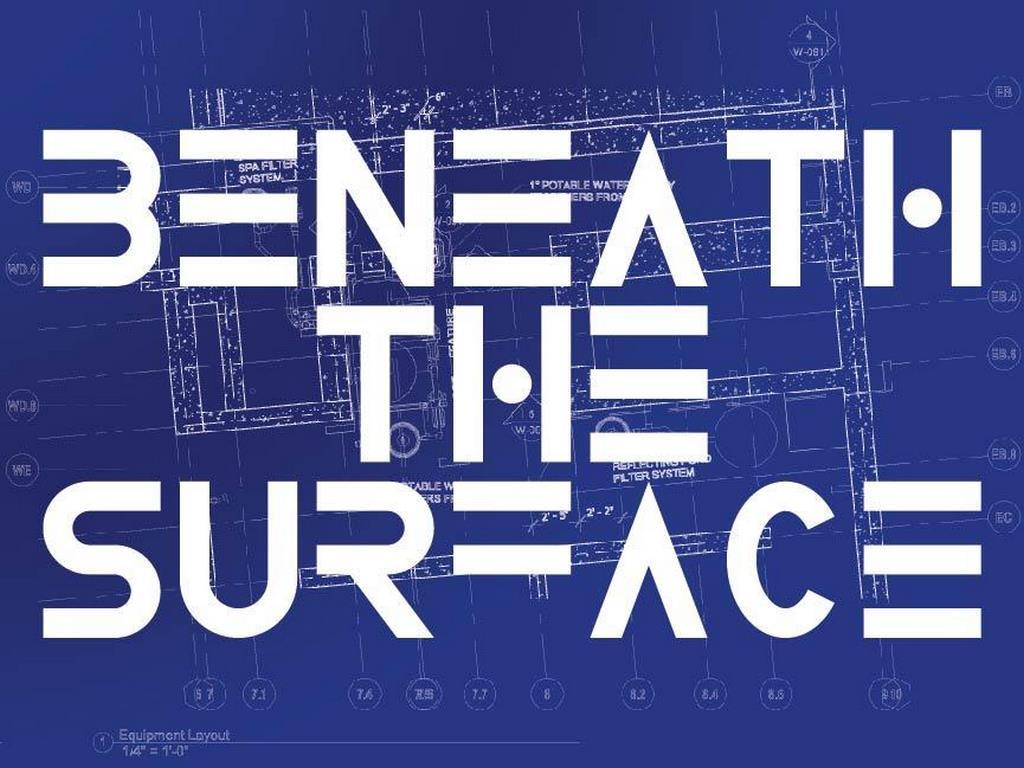 While many construction details are forever hidden from view, notes Dave Peterson, others stand front and center. This waterwall treatment, for instance, is a prime example of a simple design idea that shapes the fluid characteristics of the feature while also keeping it from splashing into the surrounding area.
Sometimes the law of unintended consequences actually results in a better project instead of making it worse. This past summer one of our resort spa projects was wrapping up when the owners called seeking a solution to an issue with one of the features we designed: an eight-foot tall by eight-foot nine-inch wide waterwall that was splashing all over the floor outside of the catch basin.
I frequently enjoy getting wet to solve these challenges so I headed up to the Sierras to the gorgeous Yosemite Rush Creek Lodge where our spa project was buzzing with activity in the final weeks of construction. There were two root causes of the splashing: first, there was too much texture on the stone veneer which created several "splash blocks" and, second, there was too much flow because the stainless-steel weir was not level and the pump was tuned up simply to get the whole wall wet.
Occasionally we purposely design splash blocks into our waterwalls to provide more texture, noise and interest to the white cascade of water but this was not the case here – we only had about 18 inches of width for the catch basin.
The owners liked the idea of a clean sheet of water falling eight feet but those of you who have taken my Advanced Fluid Engineering class know that falling water breaks up at 6′ due to wind shear so they would never get a clear sheet that far to the floor. Furthermore, this feature is outdoors and is easily manipulated by the frequent breezes that pass through.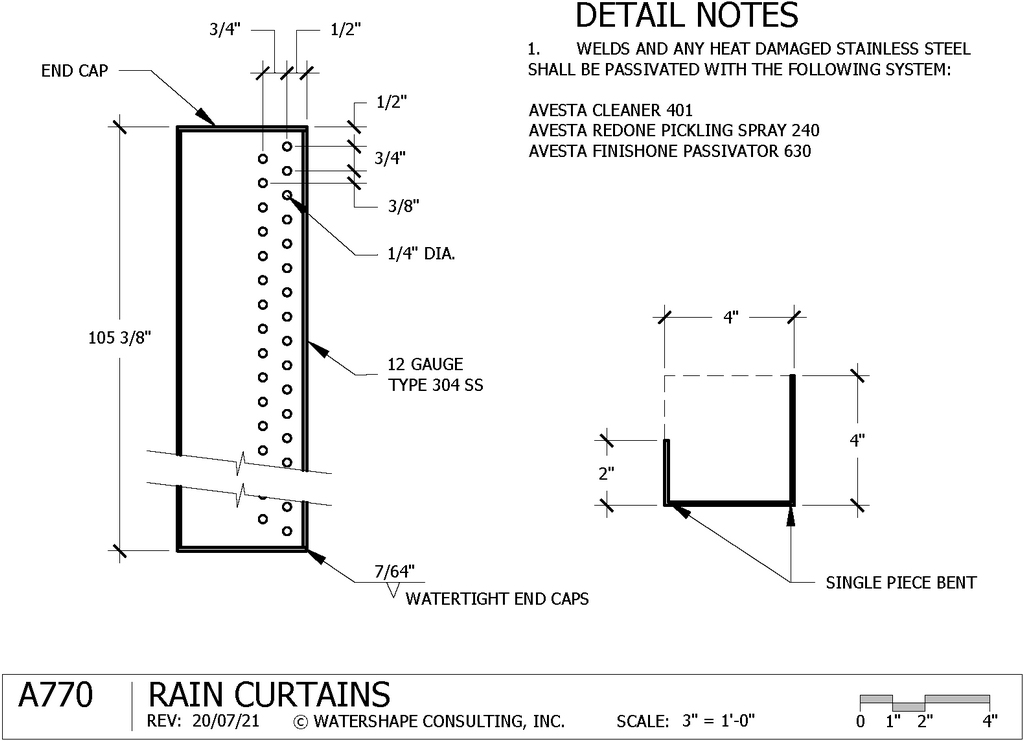 Importantly, this feature is also the entrance to the new Rush Creek Spa which is supposed to be about relaxation and not the tension inflicted by a thundering waterfall. My solution was to convert the waterwall concept into a rain curtain using new perforated stainless-steel trays that could be welded level to the existing unlevel weirs.
The result is beautiful, non-splashing and truly pleasing to the auditory senses.
Key points:
• A single row of perforations might be interesting for some concepts but I definitely prefer the extra dimension and texture of the staggered rows.
• Although I considered a 3rd row it didn't fit the scale of this project, it would have concealed the nice stone wall beyond, and it would have been more prone to breeze-induced movement.
• Calculating the fluid performance of such a creation can be done using worksheets only available in my two-day ENGINEERING 4311: Advanced Fluid Engineering Workshop scheduled for Atlantic City January 2021!
I highly recommend the Yosemite Rush Creek Lodge and you can catch a glimpse of the rain curtains here:
2004-2020 Watershape Consulting, Inc. All rights reserved. This image is provided for reference and
educational purposes. You may create your own version of this concept but do not copy this image.
David J. Peterson, P.E, IWI, is co-founder of Watershape University and president of Watershape Consulting, Inc. For additional assistance with this detail he can be reached at [email protected]