Designing a Design Business


Becoming a pure design firm in the pool and spa industry is not easy. The reason being, notes Mike Farley, the industry is geared entirely toward selling construction projects rather than earning design commissions. For those looking to move into design, he suggests a book that defines the business of design.
Every designer I know wonders "is there a better way to do things?" It's the nature of the designer mentality. We are always figuring out how to make things work in a better way. It's what we do. That restless spirit of inquiry and invention prompts some of us designers in the watershapes industry to look at how we approach the very business of design itself. This is an exercise that can be somewhat frustrating for people who want to focus their design work on structures that hold water.
Back when I graduated with my degree in landscape architecture, I was something of a weirdo, at least where my instructors were concerned. They had trouble accepting that I was going into residential work, and that I wanted to focus on swimming pools. My plans simply did not compute for faculty that were interested in cranking out designers and not necessarily people who dig holes in the ground and fill them with water.
The fact is, our industry has always lived by the design/build philosophy where design exists primarily to sell pools. Even the most educated landscape architect who chooses the pool and spa industry, will find his or herself stuck in the design/build mode of operation. It certainly makes you wonder, is there a better way?
This is why I sought out "The Business of Design: Balancing Creativity and Profitability" by Keith Granet (Princeton Architectural Press, 2011). This concise 208-page volume, presents a business model for running a design business – which is very different from how design works in conjunction with pools and spas today. Fact is, few in the pool industry has ever worked for a traditional design firm.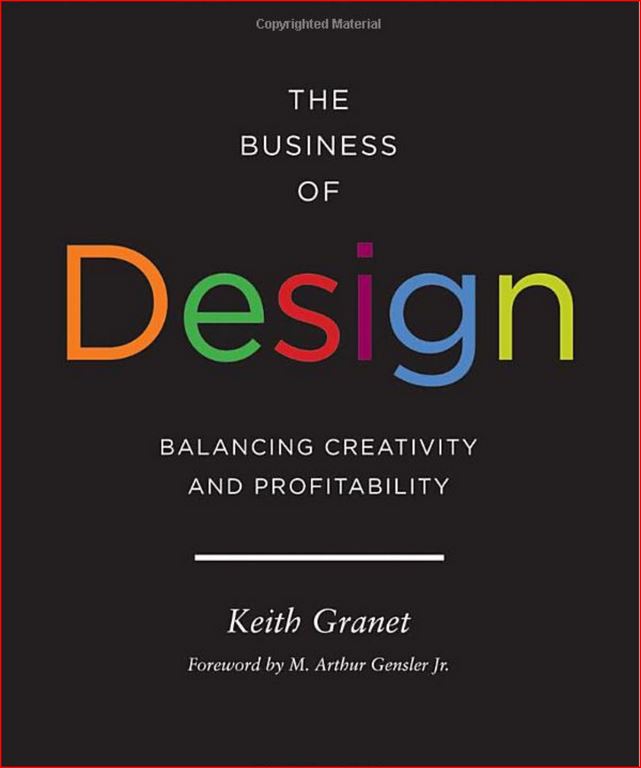 Nothing in this text could be considered an earth-shattering revelation; but, for someone looking to establish a business where design is the "product," this book is a great place to start.
The focus is primarily on architectural firms, with some discussion of landscape architecture, but there is absolutely nothing about the pool industry. Yet, for those intent on stepping away from the construction side of the industry, Granet does a terrific job of defining what you need to think about in terms of the business itself: things like equipment and human resources, and how to think about design as a way to generate revenue.
The author takes large areas of concern and breaks them down into specific topics with lots of useful advice and recommendations. As an example, in the first chapter, "Foundations of a Design Business," Granet delves into education, how to write business and strategic plans and how to lay the foundation for sound business practices. He offers equally useful analyses of marketing and PR, necessary technology, team building, and the anatomy of project management.
One of my favorite sections is all about learning to say no, a challenge I've faced throughout most of my career. I have only relatively recently become more comfortable with the need to focus my own efforts, which has become more crucial, especially during the intense demand our industry encountered in 2020.
When I look at the watershaping industry, it's obvious that we have far to go before we enjoy the status of being a "design-oriented industry" like the world of landscape architects, architects and interior designers. My hunch is the way to move toward a different way of doing business is to look at our design work from a business perspective.
This book is a good place to start. Check it out here.
Mike Farley has 30-plus years of experience creating custom pools and surrounding landscapes. He has designed more than 750 unique projects that have been built to date, winning numerous awards in both California and Texas. He is widely published, and is one of the watershaping industry's most experienced and sought-after instructors.