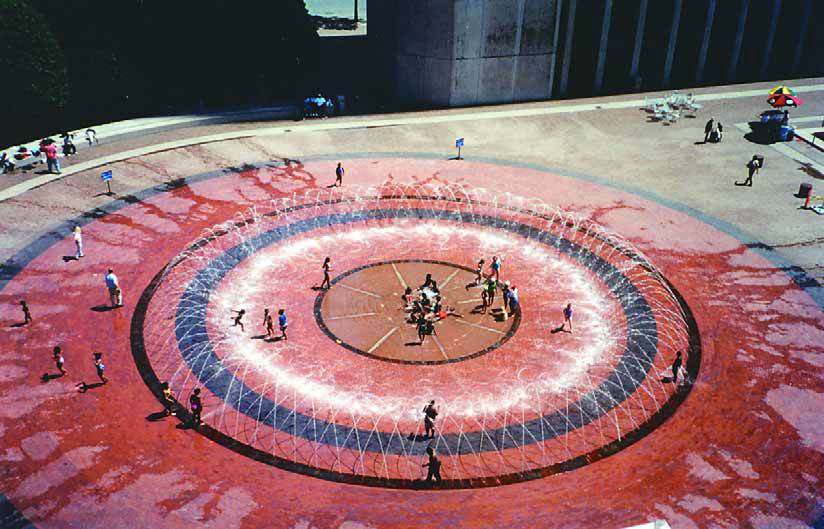 By John Copley & Lynn Wolff
Sometimes, it's the unexpected that gives a place its true spirit.
That's been very much the case for The First Church of Christ, Scientist, a 1975 addition to Boston's historic Back Bay district. The site features a campus plan devised by legendary architects I.M. Pei and Peter Walker, with grounds organized around a central reflecting pool flanked by a circular, ceremonial display fountain. The famed fountain is enclosed by an equally famous bosque of linden trees pleached into lollipop forms.
For Bostonians and visitors alike, this classic design has become part of the urban fabric – and the church's plaza a popular gathering place.
Not long after the original work was completed, children from surrounding neighborhoods (the South End, Fenway and the Back Bay) discovered the wonderful play opportunities associated with the 180-nozzle deck-level fountain, especially during the hot summer months. Since 1975, literally thousands of kids with their families in tow have made this space their summer hangout, and now second-generation children are being brought to the fountain by parents who grew up playing in its irresistible jets of water.
From the start, however, there was a problem with [more]
Please note: This project is highlighted among projects recognized for meeting 'Platinum Standards' established by the WaterShapes team. Only a few outstanding projects have been recognized in this way.