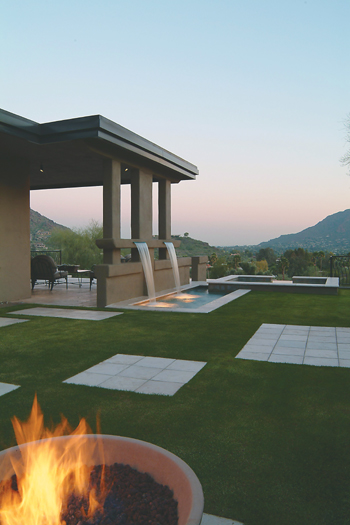 By Sheri & Roger Soares II
It's a rare project in which a watershaper has the opportunity to execute a complete design without compromise.
In our Scottsdale, Ariz.-based business, we often work with upscale clients on custom pool and spa installations, and it seems that there's always some element or other in the design that ends up being altered or left out. It sometimes reaches the point where we start to feel as though the result, although it may be satisfying to the client, is not fully reflective of our talent, our vision or our best effort.
The project pictured in these pages, however, is a dramatic exception to that rule. Although the clients were involved with general suggestions during the design process and construction project, when it came down to details of the plan, they let us go ahead and create an environment that fully reflected our creative vision.
They'd seen one of our projects in a local "Street of Dreams" program in which area contractors were selected to build spec homes on the same street in a town just north of Scottdale called Troon. Once the row of home was completed, there were tours, awards and lots of media coverage – quite the high-profile affair.
The clients had been in contact with four or five different pool builders in the area, but they'd never been satisfied by their designs. About a year after the Street of Dreams project had been completed and after visiting with a friend for whom we'd built a pool, the clients [more]