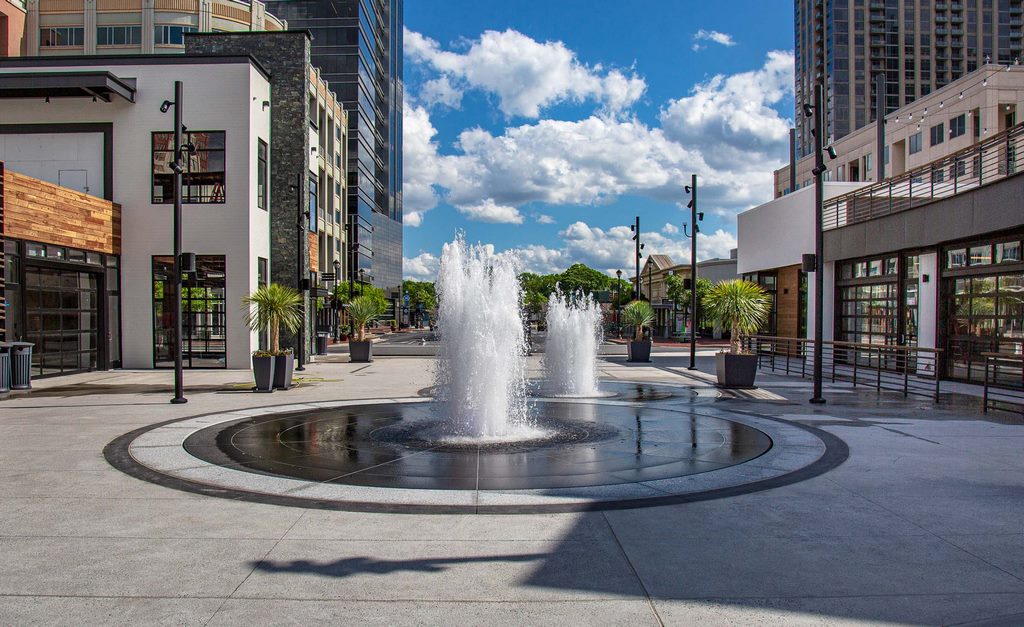 Designing fountain features requires understanding the needs of the space, the clients and how the technology meets those demands. The Atlantic Station Park Expansion Project in Atlanta is a classic example of that kind of design adaptation – especially considering the engineering methodology needed to bring complex water displays to life.
When our company, Fountain Source, Sierra Madre, Calif., became involved, the property was being reimagined by owner/developer, Hines Development. The prime objective was to transform the existing site to accommodate growing market demands. They sought to create a "Central Park" area — a pronounced, open, flexible and functional centralized space for public gatherings and events.
Through space integration and inclusiveness, visitors can participate in different activities, or simply relax and enjoy the surroundings. The space plays host to a variety of activities such as yoga classes and feature film presentations – and it includes a fountain the is centrally located in a plaza between the businesses adjacent to the park.
CONCENTRIC ARTISTRY
The main idea behind the fountain was to create interest and traffic, thus elevating the value of the retail and restaurant space that surrounds the plaza. There are also adjacent high-rise buildings that look down on the plaza, and now the fountain that is the very heart of the redevelopment program.
We were invited by Hines to envision and present a selection of watershape designs that would complement and enhance the plaza area. They wanted something iconic that would function seamlessly with the multi-use public space and attract visitors to the businesses in the immediate vicinity, and also disappear at a moment's notice.
Because our designs are so detailed and specific, we insist on controlling the entire construction process so that there is no deviation from plans that include, for example, exacting plumbing layouts.
That scheme fit neatly with our design approach where the water feature can be adaptive and function differently depending on what's happening at any given time. In this location, we also faced limitations imposed on the design because of people moving in and around the feature. That meant that there would be constraints on height and velocity of the water effects, and it had to contend with occasional high winds.
The varied criteria resulted in a two-dimensional functional mode, where the water feature can be little more than an attractive hardscape treatment; but, can instantly become a vertical fountain feature with a variety of effects. The idea was to enable the owners to adapt the function to a variety of events and desired looks.
The successful design consists of two overlaying co-planar, ultra-shallow circular basins that are embossed into the open deck plaza. The feature includes one large and one small diameter basins that are uniformly clad with contrasting black and light-gray mortar-set granite surfaces.
IMAGINING THE IMPACT
The fountain has a variety of possible looks with passive and more active modalities that are easily programmable. This particular design allows each of the two basins to produce water effect in six distinct display modes: a fixed vertical cascade, horizontal cascades, fixed-angle cascades, fog, flooded surface and RGB-LED lighting.
The iterations of combining these six effects give the feature tremendous aesthetic versatility that will enable its functionality to evolve with the park itself.
When the fountains off, it looks like an artsy hardscape treatment. Closer examination reveals a complex nozzle array, fabricated by Crystal Fountains and circular slots that enable the two concentric circles to be flooded with a shallow sheet of moving water.
Naturally, that functionality was the result of an evolutionary creative process amongst the project team members and property stakeholders. Oftentimes in early discussions, a client will have an idea that we build upon. We suggest ideas that complements theirs; we then inspire (and sometimes coerce) the clients to visualize the expanded concept.
In this case, there was a project team already in place that had come up with some initial ideas. As they presented it to the business owners/tenants in the complex, it was obvious they wanted more, which is why they brought us into the process.
We've taken on many projects like this before where one of the major benefits is that you can use the water features different functions to control pedestrian flow. By making it active or inactive, you can create a scene that attracts people, which is there one moment and gone the next. There are times you want something very passive, which is why this feature turns into an extremely shallow reflecting pool. At other times, perhaps Halloween, for example, you want a vigorous display that's pumpkin orange that will attract a crowd.
Fact is, water always attracts people, meaning the retail space surrounding a watershape instantly becomes more valuable. You are bringing people directly in front of the surrounding stores. That's why during the presentation phase, it was the retailers who really drove the decision to go forward with the more complex and animated design.
ENGINEERING IN ACTION
Our work, and indeed our philosophy driving our efforts, stems first and foremost from the engineering side of fountain design. We love the aesthetic aspects of the design, but when you're doing a project like this, it really comes down to the hydraulic design and mechanical layout.
Landscape architects often step beyond the pure aesthetics and will take a stab at designing the system; but, to succeed with these kinds of complex projects, you have to have the engineering background, including structural, mechanical and electrical, as well as thinking like an architect.
Fog is a wonderful element that adds random movement to the feature, wafting throughout the surrounding area, attracting attention and cooling the air, and it does a beautiful job of capturing light. Photos by BigCasino Photography, Oro Valley, Ariz.
This type of work encompasses all the process engineering you encounter in the industrial world (I have a background in working in factories and refineries); but, there is also a design aspect that makes it interesting rather than just purely functional.
Unlike some other companies that specialize in one type of water feature, our projects never look or function exactly the same. On this project, and many others, we worked directly with Crystal Fountain to develop custom components that didn't exist before. That requires an extremely detailed analysis of how you want the system to function, with all sorts of head loss, flow and pressure calculations.
At first glance, this design seems relatively simple, just two circles, a larger one that is 30-feet in diameter imposed on a smaller one that measures 15-feet across. We originally wanted to include a third smaller circle that was offset, but was eliminated from the design due to cost. At the center of each circle are custom-designed and fabricated identical nozzle arrays.
The twin nozzle arrays were prefabricated and assembled by Crystal at their facility in Toronto. Each array is comprised of three primary display elements and one lighting display. The lighting is located in the center of the waterfeature with a high intensity, high performance RGBW LED fixture. Crystal's lighting systems are robust and create brilliantly lit water effects.
Around the central light is an array of 56 straight-column nozzles, which provide the vertical plumes at varying heights and patterns. There's a circular manifold that ensures the nozzles all have uniform pressure. We love these particular nozzles from Crystal because of the way they generate a frothy, highly aerated display, which really captures the light. Even during the day, they create a column of water that is very white and almost luminescent that you can easily see from a distance.
The frothy plumes light up with a brilliant LED RGB system that dazzles the eyes with it highly saturated colors that are visible throughout the property and reflect in the black granite surface.
Around the nozzle array is another manifold that feeds 12 fan nozzles, which are shaped kind of like cowbells. Those shoot a fan-shaped spray pattern out at an angle. Finally, between the two water manifolds, we have a manifold that runs a series of fog nozzles. We like to use fog in some situations because of the way it captures light and can travel throughout the surrounding area, grabbing the attention of those who are far away from the fountain.
Fog is exciting because it is ever-changing and fun to look at. Depending on the humidity, this fog system can create quite the attention-grabbling spectacle. In the summer, fog cools the area, making the feature even more attractive to overheated visitors.
ABOVE & BELOW
The surface hardscape treatment is another element that largely impacts the character of the feature. Rather than going with a raised paver system with open joints — common in many of these types of projects — we created a solid, mortared-in-place surface with contrasting color that is slightly recessed by just a half inch.
The two concentric circles are surrounded by a -inch slot over a subgrade circular trough which, in turn, flows into what we call the array well. Over that surface we send a precisely controlled even flow of water, almost a thin film that flows from the center over the granite surface to the slot. Or, you can reverse the flow and have water flowing from the slot toward the center where it flows into the array's grate.
We take tremendous pride in the engineering side of fountain craft, with precisely engineered and configured equipment sets that are both efficient and easily serviced.
Like many of our projects, this one was built on an existing structure — in this case a parking garage. We designed all the structural support elements for the system, which we submitted to the project structural engineer for approval and inclusion in the plans. Because the water basin is part of the hydraulic system, and the system's function is so precisely calculated, the fountain has to be installed exactly as we've engineered it.
We essentially take the entire fountain system, put a box around it, and say, "We've got this. All we need is a drain, power and water supply." We've learned over the years that leaving details to chance is a recipe for disaster.
The structural deck we were working with was only 20-inches thick and we had to contend with structural beams underneath it, so we couldn't just make the plumbing penetrations anywhere we wanted. We made 3D models of the section to locate the plumbing and had the contractor take the unusual step of laying out the plumbing early in the construction process.
The equipment room is located two stories below the surface. We used existing chase ways and penetrations to run our plumbing up to the feature. That's part of why we insisted that the surface manifolds and the nozzle arrays were installed ahead of time, they had to be in the exact locations per our design, and be pressure tested.
We are also highly focused on waterproofing, especially in a project like this where it cannot ever leak. We use a combination of concrete admixture and surface-applied water-proofing measures that provide layers of protection. Again, we do not leave that up to others because it is so essential.
PLAYING A ROLE
This project was finished in February this year; and, as we all know, the world has been in varying states of suspended animation since then. It's tough to gauge the relative success of the entire project, as many businesses are not yet up to full speed.
We do know that the future will be very competitive for brick and mortar retail. Creating places that provide exciting engagement is emerging as a key strategy for retail properties looking to compete with online sales. It's fair to say that more and more property owners are looking to water elements to generate interest and attract customers.
The nozzle arrays offer multiple display functions that can combined and recombined in a wide spectrum of looks, from small and soothing to tall and robust.
With all the variety afforded by this simple-looking, but deceptively complex waterfeature, we are confident the owners will be able to use it to delight visitors and support tenant companies for years to come.
The project team includes the owner, Hines Development, Nelson Architects, HGOR Landscape Architecture , HOAR Construction and Aqua Undergroundand our company, Fountain Source Engineering and Design.
Daniel C.E. Netz III is president, project manager/engineering director for Fountain Source, an aquatic engineering and design firm located in Sierra Madre, Calif., with more than 30 years' experience specializing in fountains, water features, swimming pools and spas for public, private and commercial environments.