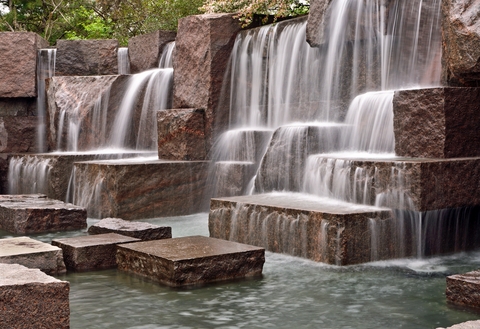 While sorting through family photos for a personal project a few weeks back, I came across a computer folder filled with images I'd taken the last time I visited my sister in Washington, D.C.
It had been a blustery, damp day and none of the shots I took was particularly good, but they brought back fond memories of my first-ever visit to the Franklin Delano Roosevelt Memorial.
The memorial has the distinct advantage of having been designed by Lawrence Halprin, the great landscape architect and environmental artist. He set the space up as a sequence of four huge outdoor rooms, with one to represent each of the president's four terms of office. In each case, the atmosphere is set by the presence of water.
In the first, a large, single drop symbolizes the nation's sinking into the Great Depression; in the second, multiple cascades represent recovery and regaining control of the nation's destiny; in the third and largest, raging waters capture the tumult of the Second World War; in the fourth, a placid pool marks the president's death.
Even without a program, the space is pervaded by Halprin's generous spirit and artistic gifts. His ability to use water to generate emotional responses is unmatched in my experience, and what I admire most is that, although the rooms themselves are truly immense, there's a sense of intimacy to the experience that made it seem as if I were privately communing with FDR himself.
I wish my photos had turned out in publishable form so I could share them here. But really, I think it works better if you go see the FDR Memorial for yourself the next time you're in Washington: It's well worth the effort.
Video: For a brief tour of the memorial, click here. The choice of musical background is a bit intense, but you'll get a sense of the space one photograph can't possible capture.