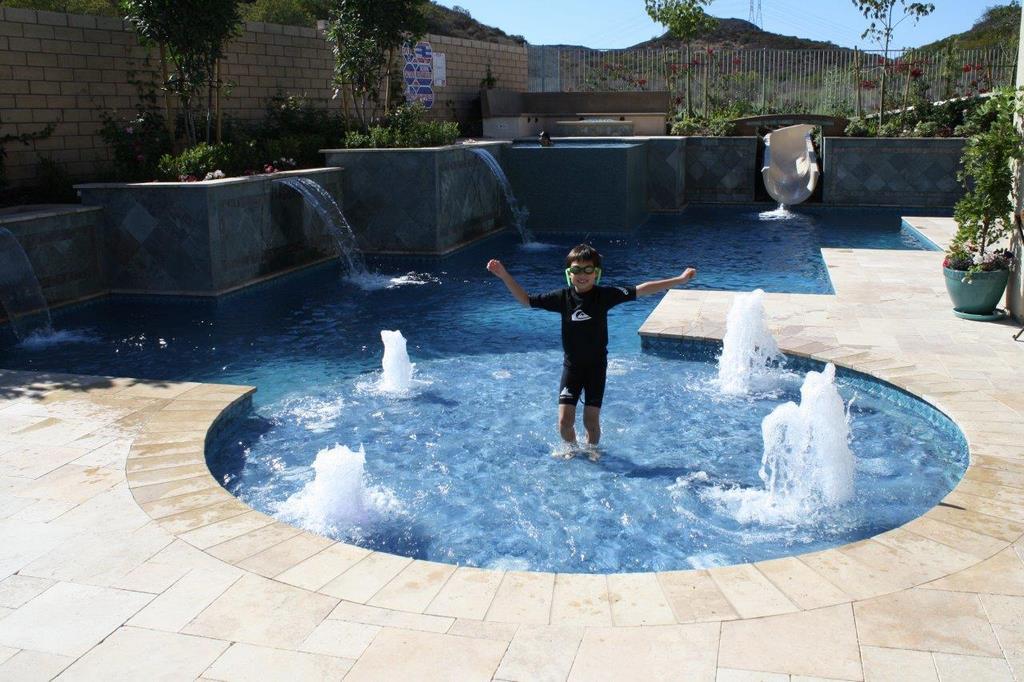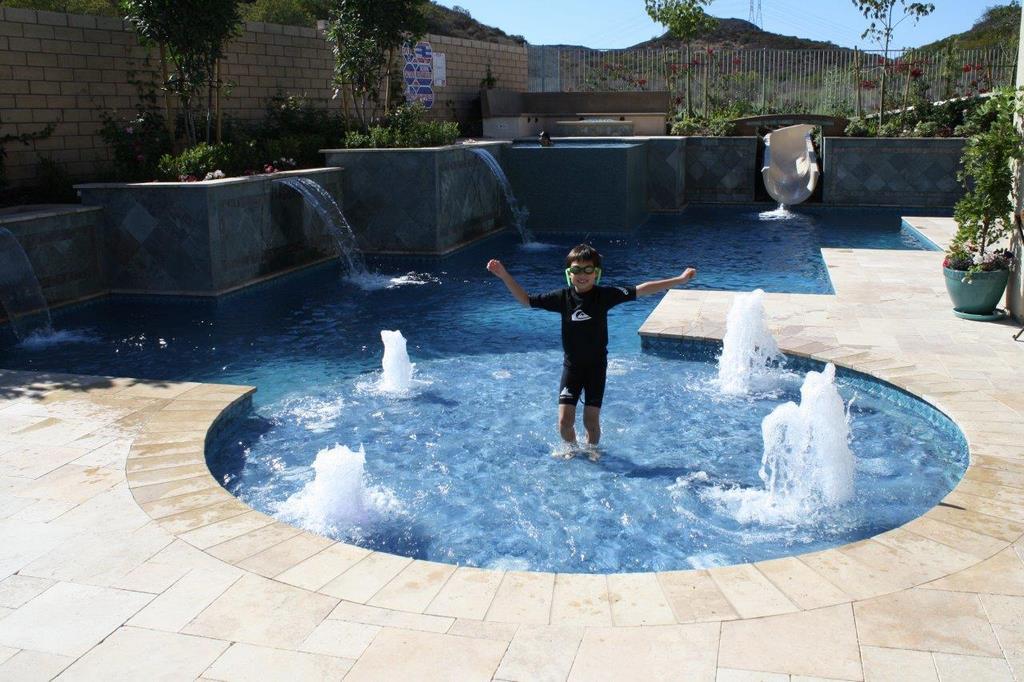 As we grow older, and our children have children, there's a powerful desire to spend time with younger family members. Savvy grandparents know that one way you can make that happen is to have an at-home environment that kids can't resist.
That's why in the last five years or so, I've been meeting with more and more prospective clients who want to make sure that their home is a fun place to be, where their families look forward to visiting on a regular basis.
Some will even admit with a wink that they want their backyard to be the "better backyard" compared to the other grandparents and family units competing for time with the younger generation.
LIVELY DIVERSIONS
It's easy to understand why they feel that way and are investing large sums of money in pursuit of their plan. Most people recognize that our 21st Century world is brimming with distractions designed to keep faces buried in computers, smart phones and binge-watching TV.
Creating an environment that motivates kids to get off the couch and jump in the water is very appealing for many people, especially those who already enjoy an active lifestyle.
Water slides, which are arguably the greatest "grandkid magnet" available, can be built one of two ways: either you construct them from scratch using masonry materials, such as gunite and plaster, or you buy them pre-made in a factory using fiberglass or other composite materials and then assemble them on site. Design and photos by Scott Cohen for GreensceneLandscape.com.
Some might say that this is arguably kind of manipulative and most kids should want to be with their grandparents because they love them. While that is certainly true enough, the reality is that kids will be kids and they are drawn to fun like iron shavings to a rare-earth magnet.
From a pure business perspective, this magnetism-based approach to watershape design has some distinct advantages. On one hand, the over-50 demographic is our company's sweet spot. Members of the aging Boomer crowd have resources, they value the at-home environment, are willing to spend money on creativity, and those who have grandkids are ready to make the decision to go forward with their project.
As for the kids themselves, it's a safe bet that many who have fond memories of fun and frolic at Granny and Pop's house may well be inclined to own a pool of their own someday. In fact, it is all those fond pool-side memories that I personally have that got me into the pool business in the first place.
The line-up of potential fun features should be familiar to most watershapers. We know that fire features, waterfeatures of all kinds, outdoor kitchens and dining area, pizza ovens, among other such amenities, are great for satisfying adult needs. That is part of the formula here because getting the grandchildren excited usually starts with the parents. If the grown children enjoy being there, that's a great start. And in almost all of these projects, the homeowners are also concerned with features they will enjoy themselves.
THE BRAT PACK
The real key here is all about the kids. Those self-centered, wonderful little knuckleheads may think they know everything, as most kids do until they get older, but they can be easily enticed, and incited, with the right set of features.
The list is long and may include: shallow lounging areas (great for small kids), splash pads, caves and grottos, basketball hoops, volleyball nets, and above all, slides (more on slides below).
Grandparent have an arsenal of outdoor fun option they can use to keep the young ones coming back for more. The menu includes splash pads, grottos, rope swings, giant outdoor games, themed elements (like this charming rowboat spa) – some of those might even appeal to grown-ups, as well.
Away from the water, things like simple bike/scooter paths give kids places to move through the yard. There are all sorts of yard-sized games you can include in the landscape, everything from checkers and chess, to giant Jenga games. Putting greens with artificial turf, horseshoe pits and sport courts have also increased in popularity amongst fun-minded homeowners.
(Unfortunately, we don't deal in playground structures or treehouses for liability and insurance reasons.)
Add it all up, and you can offer quite the menu of enticing design features. Everything we do for family fun can be put into the mix.
The discussions start with my initial questionnaire, which includes who's going to be using the yard? When grandkids come up, I ask if they're close by, and do they visit frequently? When the answers are yes, I know it's time to explore what types of features they might like to include.
Each of these features warrant separate detailed discussion. For now, let's look at slides as one of, if not the, most popular backyard kid magnet features.
GO FOR A RIDE
I know designers who don't particularly like to use slides because they can be tough to work with aesthetically, they can take up a lot of space and do present a potential risk profile, especially if you're not experienced choosing and installing them.
When you're trying to attract kids, however, there's nothing that works quite as well as a waterslide. The mainstay of waterparks for decades, with small versions popular in backyard pool (we all remember the curved fiberglass playground-style slides of the 1960s and 70s) backyard waterslides have become bigger, faster and more accommodating from a purely aesthetic perspective.
Even small slides can add a major dose of fun and frolic to the scene. We've found that a 10-foot slide can be almost as much fun as a 50-foot slide, which means that you can incorporate slides in projects with relatively modest budgets. You don't have build a waterpark-scale feature for big-time fun.
There are two basic options for adding a slide: pre-manufactured slides, and those built on-site from scratch, typically using gunite and other masonry materials. We've done both and have moved toward using composite material slides made in a factory.
Like so many watershaping features, slides may seem simple enough, but there are multiple variables involved. Building a slide on site means working with factors like friction coefficients, rider ergonomics, pitch and radii, and safety factors. The biggest challenge is the surface coating. We've found that the slide-coating products on the market don't hold up very well exposed to sunlight long term. So, you're recoating them every couple of years.
MADE TO ORDER
When you purchase a pre-manufactured slide that's delivered with installation instructions and all the flumes, necessary support structures and hardware, the manufacturer has already done all the mathematic calculations and design.
Quality manufacturers provide guidelines for things like how high the slide's exit should be above the water's surface. How deep the water should be at the bottom of the slide, the amount of space you should devote to the splash down area, the water flow rate and volume down the slide, and guidelines for the steps and approaches leading up to the slide.
If it's not about fun, what's the point? The big bottom line when it comes to competitive grandparenting is many are ready to invest significant resources to make a splash with the younger generations.
I'll give a shout-out to my preferred manufacturers, Paradise Slides and S.R. Smith, both of which make a quality slide and provide solid sales and technical support. The process involves submitting plans with basic information about the slide, which the manufacturer uses to design and price the slide, and then packages and ships when you order it.
The safety aspect is serious business and you need to be aware there are design criteria and safety margins manufacturers carefully observe for liability and insurance reasons. Given that no one wants anyone to ever get hurt on something they've built, and given that we live in an aggressively litigious society, I can only applaud the caution and design rigor the manufacturers provide, even if it isn't always convenient.
Like many other products in today's market, delivery time can be an issue. If you have a client who is champing at the proverbial bit, or has a specific date in mind, you may need to calibrate their expectations.
Naturally, the longer and more complicated the slide, the more time it can take.
Incorporating a slide into the design always means allocating the necessary space, which can be a challenge in small yards. Even affluent homeowners living in expensive homes face space and sometimes height limitations due to property line setbacks and homeowner association rules.
It's always less expensive when you can mount the slide on grade on a slope, making the most of hillside lots. On flat ground, you have to create the support structure, which adds to the cost and visual intrusion of the slide. Oftentimes, slides installed on flat lots are incorporated into faux rock structures or different types of architectural elements, as well as plantings, that in effect conceal the supports.
Installing premanufactured slides are not inordinately tricky, but require care and planning. We usually assemble them on the ground and then elevate them into position using a temporary two-by-four structure. We hen we locate our footings exactly where they need to be. That's much easier than trying to calculate footing locations on paper in three dimensions, which can be surprisingly tricky.
LIKE AN OLD TOY
While slides are fantastic for kids, they do have a shelf life. They're really meant for ages three or four up to about 16, and then most people are kind of done with it (outside of adults of various ages getting drunk and going down the slide at a party).
Some clients do think in terms of removing slides later on, which tends to favor smaller, more self-contained slides that can easily disappear without a trace. Bigger slides with large support structures, or those incorporated into the landscape or rock structures, are obviously more permanent in nature.
That same consideration applies to most anything you include strictly for kids. Some features are more timeless than others. A splash pad, for example might be seen as a fountain feature later on after it has served its purpose as a play feature.
Obviously, if you're including themed elements like a pirate ship or a slide that looks like a Flipper or Puff the Magic Dragon, the appeal of those items will fade as children grow.
In the meantime, there does seem to be an entire generation of clients who are ready to take up the battle for the grandkids.
Scott Cohen is a "garden artisan" and president of Green Scene Landscaping & Pools, a watershape design and construction firm based in Chatsworth, Calif. A widely published author and popular speaker, Cohen is known for his gardens that combine outdoor living with inspired artistic details.