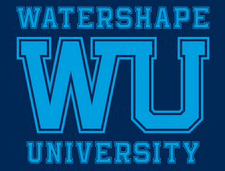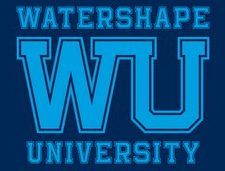 The Wolfpack recently returned to in-person instruction with a successful essential builder program in September. WU is also continuing its robust online presence with courses that cover technology, design, business and architectural history.
Watershape University instructors stepped back in front of a live audience September 25-27 with a presentation of C2111 Essential Pool Construction Workshop at the Hayward Industries facility in Clemmons. N.C. The 24-hour program was attended by a social-distant-capacity 21 students who came from as far away as Arizona and the event came off without a hitch.
"It was great to be back in front of a live audience," said Bill Drakeley, WU co-founder and one of three instructors for the program, which included WU co-founder, Dave Peterson and instructor, Paolo Benedetti. "It was obvious the students we had there really valued the live instruction and the opportunity to network with their peers."
WU also recently presented Business 3451: Essential Cost Estimating Workshop, a one-day course focused on calculating markups based on students' own financials. The course featured Watershape Advisor Estimator software developed for the watershaping industry as a platform to elevate cost analysis and client presentations, all while reducing liability exposure.
Further fall offerings include:
• Design 2321: History of Water in Architecture, Oct. 22-24, Pittsburgh, Penn. In person. Don Gatzke, FAIA, and Mike Nantz, IWI instructors.
This course offers a lively and immersive experience focused on the influence of water in shaping societies and the entire human environment, culture and history. Created for architects, landscape architects and watershape designers, the course spans the globe and human history from ancient civilizations to present day, with an eye toward what the future might bring.
This presentation forges connections with Frank Lloyd Wright's nearby Fallingwater and Pittsburgh's historical fountains and three major rivers.
• Engineering 2311: Essential Fluid Engineering Workshop, live online, Nov. 6-7. Dave Peterson, P.E, IWI, instructor.
This is the second time this two-day, 16-hour course has been offered live and on line. Students are immersed in hydraulic principles and applied science to help them design efficient, durable and serviceable circulation systems.
"We're working to provide different types of learning opportunities in both online and in person venues," Peterson explains. "While nothing can fully replace the in-person experience, we are also committed to providing educational access that doesn't always involve travel."
In other news, WU has introduced a new learning delivery system that we are using to provide access to our online educational offerings. We'd like to acknowledge the great work that Brett Herman, our director of digital online engagement, has been doing developing this new platform. Check it out at online.watershape.org
Also, Brett put together an instructional video explaining how to use the new platform, which you can view here.
Be sure to visit watershape.orgto stay current on the latest WU programs, both online and in person.