Adding the Beauty of Stonework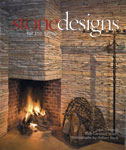 How do you define artistry?That's a highly subjective question, of course, but I've always thought of it as a completed work that radiates impressions of insight, effort, skill and mastery — even in seemingly ordinary applications.
Breaking it down further, materials are my personal passion — how they are selected and, far more important, how they are used.Indeed, while the presence of wonderful materials alone can make their impression no matter how banal a design, when the person wielding those wonderful materials has the ability and determination to use them in memorable and unique ways, I consider the clients to be truly fortunate and everyone who sees the work as sharing in the privilege.
And I believe that this artistic sensation can be engendered by all sorts of materials, from tile, plaster and decorative concrete to plants, metal, wood and stone.
As I prepared to write this column, editor Eric Herman suggested I find a resource that in one way or another related to such products by way of tying into the idea that the issue you hold in your hands is WaterShapes' annual Resource Directory.[Note: This review was first published in the December 2010 issue of WaterShapes.] For my part, I took up the challenge and sought out a book that showed a material used to its full potential, finding just what I was after in Stone Designs for the Home by master stonemason John T. Morris (with Candice Walsh).
This mostly pictorial 160-page volume (published by Gibbs Smith in 2008) focuses on Morris's creation of stone features for homes and other buildings in and around Santa Fe, N.M., a region overflowing with amazing geological formations and a long history of the use of stone in indigenous architecture and design.
It's interesting to note that Morris calls himself a mason rather than a sculptor, despite the fact that his work is without question brilliantly artistic and that he does it all with a chisel — no saws or grinders at all.And nowhere do you find easy ways out or any straight lines.It's truly remarkable, beautiful work.
The book mostly focuses on seven projects that include a variety of walls, decks, counters, benches and fireplace surrounds, and there are even chests of drawers finished in stone.Only two of the projects include swimming pools, which is a pity because I would have loved to have seen more.
Regardless, the value in this book is the way it shows how far one can take stonework as an artistic meadium. In one case, for example, Morris created a wall using round river rock: That's commonly done by others, but it's a look that generally falls flat for me because of the huge grout joints that always seem to result.Morris takes it to an entirely different level, however, creating a dry-stack wall by carefully selecting and, as necessary, chiseling each piece to make everything fit together perfectly.The effect is tough to describe in words, but just one glance convinces me that this rises to the level of sculptural art.
Some of his other projects include massive pieces of stone, including decks where some of the slabs appear to be in excess of four or even five feet across.By way of sharp contrast, he used mere slivers of stone in other applications, meticulously fitting the pieces together to create counters, showers and drawers.In all cases, he finds interesting ways of putting his material of choice together — ways I've never seen before.
There's a beautiful irony in Morris's approach:He uses ancient materials, ancient techniques and ideas borrowed from ancient structures to inspire his projects — but the results are unlike anything that's ever been seen before. To me, that's his greatest achievement.
As is true of many great artists, Morris takes cues from the environment.A native New Yorker, Morris recounts that in moving to Santa Fe, he was unsure at first how his brand of art would be accepted.He soon found his way, however, focusing on local materials and the area's cultural heritage to place his work in an appropriate context.In one of his more impressive projects, for example, he created beautifully tapered doorways that reflect structures found in Native American ruins in nearby Chaco Canyon.In others, he devised "standing stones" that reflect local geological formations while appearing quite sculptural.
Morris celebrates his region's "iconic material" and observes that all regions have such materials if one goes looking for them — something we all can and should be doing in designing and building our own watershapes and landscapes.
Mike Farley is a landscape designer with more than 20 years of experience and is currently a designer/project manager for Claffey Pools in Southlake, Texas.A graduate of Genesis 3's Level I Design School, he holds a degree in landscape architecture from Texas Tech University and has worked as a watershaper in both California and Texas.