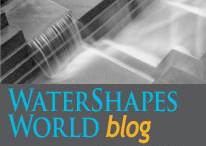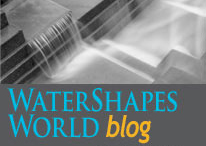 Three news stories caught my eye as I began thinking about the completion of another year's set of WaterShapes World blogs. These aren't the usual holiday-oriented/feel-good items, as you'll see.
The first comes from the web site of the Australian Broadcasting Corporation:
"On a Thursday afternoon, the Friends' Pool is echoing with the calls of swimming instructors and the splashes of excited teenage boys learning to swim."
"The lessons are organized by Australia's Migrant Resource Centre (MRC) in conjunction with RecLink Australia and local schools. 'Swimming is a really important skill to have and it's also a really significant cultural pastime in Australia.' . . . The ages and swimming abilities vary greatly from session to session, but they are rarely scared to have a go. 'They're teenage boys, pretty confident.' "
What a splendid way to break down social and cultural barriers for migrants driven far from home in our troubled world – and for introducing these children and young adults to the pleasures of being comfortable around and in water. I'm certain this program is transferable, and it would be great to see it adapted and adopted in other places worldwide, including the United States.
***
The second item is from California, courtesy of the Discovery Channel's news web site:
"A veritable zoo's worth of wildlife frequents a small urban makeshift watering hole in California, which is now in its fourth year of record-breaking drought. Camera trap photos are catching the animals unaware, and are adding to the growing body of evidence that larger carnivores, such as this coyote, exist in urban settings."
"While the man-made pond looks to be surrounded by a large forest, it's actually just a very small wooded corner of bustling Oakland, California's eighth largest city."
In settings urban, rural and wild, California's drought is stressing wildlife populations in ways few of us ever consider. Backyard ponds are indeed "attractive" features in more ways than one – and may prove the salvation of creatures with which we share our spaces. I've always liked a nice pond, whatever its size, and I love the thought of adding to their cachet by defining their role in making certain all of us, from top to bottom of the food chain, make it through this awful dry spell.
***
Finally, let's check in with Roanoke, Va., and the web site of its CBS News affiliate:
"If a second grader student falls in the water, would that child know how to safely get to shore or to the side of a pool? . . . [S]ome second graders in Roanoke are taking a break from class to take part in a program that could save a life. 'The basic premise behind the . . . program is water safety,' [and] it's not just for kids who like to swim but for the ones who are scared."
"These second graders . . . are also learning basic rescue skills including what to do if someone needs help in the water. . . . [I]f someone is in the water in trouble reach out to them or throw them something such as a buoy, but don't go in the water after them."
"The lessons are sinking in. . . . '[T]hese are lessons are children should know because you never know when your child may be around water.' "
Again, this is a valuable approach to making children comfortable, safe and sensible around water. But it gets better: According to the report, instructors evaluate the way each child performs in the water; if lessons are needed, a note goes to that child's parents with a coupon for free swimming lessons at the YMCA, which hosts these sessions in Roanoke. And once more, it's a transferable program that merits adaptation and adoption elsewhere.
***
On these positive notes, each one of which defines a value for watershapes that goes beyond the usual definitions, allow me to wish you and yours a happy holiday season and a New Year filled with grace and wonder – and many more great ideas like these!