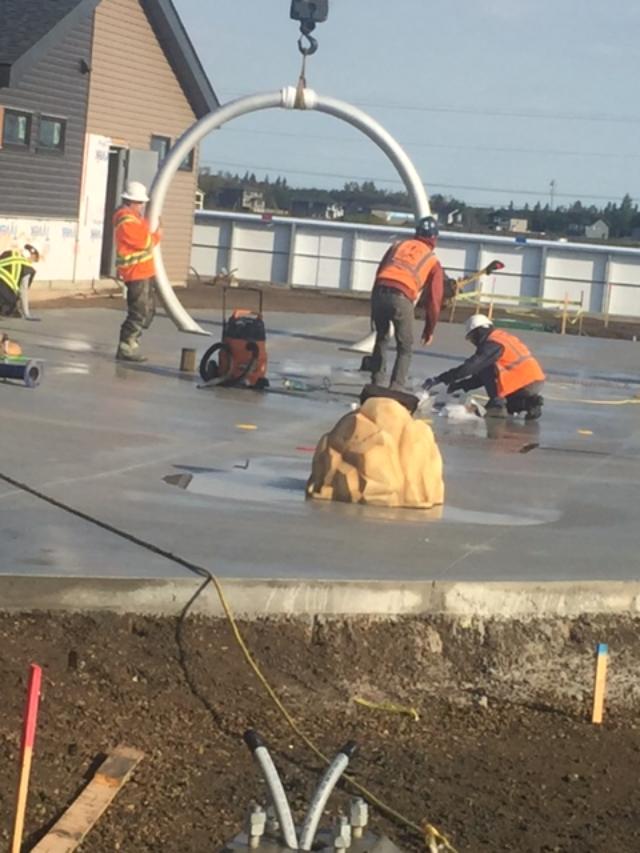 It was the perfect confluence of needs and ideas: Mattamy Homes, a Canadian developer based in Toronto, was working on a project in Edmonton, Alberta – a new community called Stillwater that they wanted to elevate with an "amenity center." This key space, we learned, was meant to promote healthy, active lifestyles by offering residents a play area that would include both a skating rink and a unique splash pad.
As planned, the community was set up with wilderness areas, hiking trails and other opportunities meant to encourage enjoyment of the great outdoors. To capture that spirit in the splash pad and playground, Mattamy Homes enlisted the services of Calgary, Alberta-based Park N Play Design, a designer and installer of custom indoor and outdoor recreation spaces throughout Canada.
The resulting splash-pad design includes a large, custom-fabricated set of spray rings that provides fun for children of all ages while at the same time creating an eye-catching, artistic visual at the heart of the community. We at Water Odyssey (San Marcos, Texas) became involved through this key part of the project and also participated in development of the rest of the splash pad's water effects.
INCLUSIVE PLAY
At 3,586 square feet, the splash pad offers a substantial wet-play area and recirculates a flow of a bit more than 225 gallons of water per minute to keep everything going. This size of the space enabled the design team to focus on inclusive play, programming distinct areas to be enjoyed by people of all ages and abilities – including those who walk or run or crawl as well as those pushing strollers or using wheelchairs or walkers.
To encourage safe use by these diverse users, the splash pad was divided into multiple zones – some areas where users get soaked and others where they get splashed to any degree they desire. There are also areas with cannon shooters for users with more energy (including lively teenagers), while along the edges are areas designed specifically for those who prefer to play alone.
The rendering captures the fun that will be had atop the splash pad, but there was a lot of work to do below grade to make it all happen, particularly given the region's intense freeze/thaw dynamics. Even with lots of digging and placement of all plumbing lines and connections below the frost line, the system will still need to be thoroughly drained and winterized each year.
Throughout the space, the designers sought to integrate numerous features into the beautiful natural surroundings and distant views, in one spot, for instance, setting up an artificial-rock spray feature meant for climbing or sitting. There are also several smaller artificial rocks that emit cooling mist or water sprays – all intended to tie the park setting back into its environment.
Shelly Robinson of Park N Play Design led the project from start to finish, focusing on turnkey systems that would make things as easy as possible for the community's managers once the splash pad became their responsibility. That can be tough with seasonal systems, but for the waterfeatures, the team at Water Odyssey was also able to draw on the resources of Fountain People (also based in San Marcos and of which Water Odyssey is a division) to bring the project the reliable, practical solutions it needed.
Even with all the varied, robust and colorful features the design team selected, however, it's clear that the three coiling spray rings stand out as the splash pad's focal point. In fact, it was an element the designers worked on in close consultation with the developer because of the rings' intended role as a theme structure for the community as well as a calling card for the amenity center.
Delivery day for the three big spray rings was a key project milestone. Once they were craned into position and all connections were made, the process of completing the splash pad rapidly accelerated.
We at Water Odyssey fabricated the three water-coil spray rings at 14-, 16- and 18-feet tall, then installed them according to a layout that positioned them to be enjoyed visually from all angles. Given the different circumferences, each system has a different operating level, ranging from 13 gpm at 10 psi in the smallest ring to 21 gpm in the largest – always enough to make certain that anyone who ventures through the rings gets a good soaking.
The rings not only allow users to run beneath them and be sprayed with water, but are also so large that they can be seen year-round, even when the ground is covered by several feet of snow or the splash pad is turned off. Indeed, the appearance of the rings is so eye-catching that the composition looks like a grand piece of public art.
KEY PRACTICALITIES
As with most projects these days, this impulse for public fun and recreation must be balanced by water-consciousness. In the case of Stillwater's splash pad, that involved a process of back and forth with local regulators – both the municipality and the local health department – that took more than two years in all.
Most of this effort went into defining and fine-tuning the circulation/water treatment system. Long gone are days when it was common to let water flow through these interactive systems just once before being sent to waste: Instead, splash pads now capture, filter, treat and recirculate their water – a more expensive proposition, obviously enough, but one that comes with a special plus: Because they use water in a closed system, more features can be included and can operate with higher flow rates, so users get wetter and generally have much more fun.
The equipment room's manifold delivers filtered, treated water to each of the splash pad's water effects, and all seven lines are valved to allow for individual control of flow rates to make certain water velocities are both safe and fun for users of all ages and capabilities.
In this particular system, all water collects beneath the pad, flowing to a 10,000-gallon reservoir that's capable of providing the necessary 2,500-gallon-per-minute flow with fully treated, filtered water without any question, straight through the system's daily, in-season operating hours. There's an autofill system, but the decking also collects rainwater to top off the tank; when the water hits capacity, the system automatically sends the excess to waste.
This is Canada, so the recirculation system has been placed entirely below grade (and the frost line) so that winter freezing will never be a factor. Nonetheless, the system still must be completely winterized by the time October rolls around. Another key factor here: The design consciously encompasses the notion that splash pads in cool- or cold-climate places like Canada should be about more than water play, which is really an attractive proposition here for no more than three or four months a year.
By the time we finished installing the splash pad's systems, it was already late enough in the year that we knew we'd need to winterize everything once testing was complete. All of the effects worked beautifully – as one of the few kids willing to brave the cold water could attest – and will be ready for a full summer's use when warm weather returns.
As a result, the design team focused on drawing full-year attention to the pad through its artistic, visual appeal – including lighting in particular – that makes the space both interesting and attractive no matter the season. We were involved here as well, bringing in lighting and control systems that engage the community and make the amenity center a persistent resource regardless of the weather. And as was mentioned up front, there's also a nearby skating rink to offer the perfect cold-weather counterpoint to the splash pad's summertime appeal.
Year-round fun in the shadow of an artfully coiled tunnel of steel rings: Just what the developer ordered!
Peter Arnold has been west coast sales manager for the Water Odyssey division of Fountain People (San Marcos, Texas) since 2016. He began his career in the aquatics industry with the YMCA, moving along after 12 years to begin a 15-year stint with two commercial-pool construction companies. He has been certified by the National Recreation & Parks Association and is the author of a training series called "Pool Schools" for new pool operators.