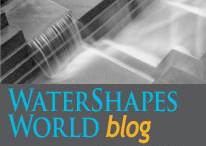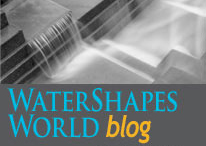 Sharing time in a pool has a way of carrying everyone involved to a relaxed state of mind that lets the rigors of daily life temporarily slip away. It's a sensation Eric Herman recently experienced with a group of friends, all of whom lead energetic, stressful lives.
Eric Herman
I recently enjoyed a weekend experience that beautifully revealed the empowering and even healing aspects of time spent in water. A lifelong friend of mine was hosting a "guy's weekend" with a few close buddies at ahis beautiful home just a few miles from my humble abode here in swanky Palm Springs.
The home is a classic Mid-Century Modern gem with an equally classic circa. 1960 backyard pool, which happens to have this interesting "off rectangle" shape that mimics the home's roofline. My friend invited a group of five guys over to spend the weekend to enjoy the warm desert air, beautiful setting and, as it turned out, a rich repast of amazing food, top-shelf libations, various smokables and lots of time lounging in the pool.
It was an eclectic group of middle-aged dudes who have all been extremely successful in their careers. The cast of characters included a reality TV executive producer, an architect and nightclub owner, a live events producer, a commercial real estate agent, a music producer, our host, who is a high school English teacher and well-known advocate for LGBT rights, and however one might describe what I do.
It was a fascinating group of personalities having vastly different backgrounds. Each one of us checked the outside world at the door and focused entirely on comradery and mild self-indulgence. It was obvious from the moment I walked in that these guys simply wanted to enjoy the experience and take a breather from their busy lives. There was fantastic music blasting, top-shelf drinks in the blender, and an ongoing river of banter and good-natured BS.
INTO THE POOL
Here's where the pool really came into play. The beautiful old pool, with its classic white plaster and shimmering water, and the entire outdoor area, looking like something out of a "Rat Pack" movie, pulled all of us into the water like some kind of hypnotic force field. Once all these men of a certain age were immersed, the most amazing thing happened. It was subtle but also unmistakable. The conversation turned incredibly introspective, candid and free flowing, while staying mostly very lighthearted. It was a largely silly and funny conversation but also one that got down into some deep issues and personal observations.
The whole scene reminded me of a play I saw, many years ago in London with my dad, called "Steambath" (Note to be confused with the American television special of the same name back in the early 70s.) The entire play took place in a woman's steam room, with the all-female caste performing almost entirely in the nude, save for a few towels and robes. The story's "action" was simply these women openly discussing their lives, aspirations, hopes, challenges, losses, disillusionment, tragedies and dreams. It was as if the cleansing and nurturing setting created a bond of trust and openness they all desperately needed. It was a great play that was both hysterically funny and poignant at the same time.
In many ways, this guy's weekend was very much the same. In fact, if someone had recorded the remarkable discussions that took place while floating around on pool noodles and citrus-fruit shaped floatation devices, it would make for some pretty entertaining theater. At one point, my friend, the restaurateur and architect, said to no one in particular, "Right now, I'm just a guy in a pool with a beer."
It was a funny comment and one that kind of summed up the weekend. Whatever else was going on in our lives, those moments in the water brought everyone into the same pleasurable space and mindset. We were all just guys in a pool. And isn't that what luxuriating in water can do?
Water can strip away the cacophony of the daily grind and reconnect you with feelings of peace, enjoyment, friendship, humor, imagination, and I dare say, emotional fulfillment.
I came away thinking that this is the true of art of watershaping; staging the magic alchemy of turning everyone into just a guy, or gal, in a pool.