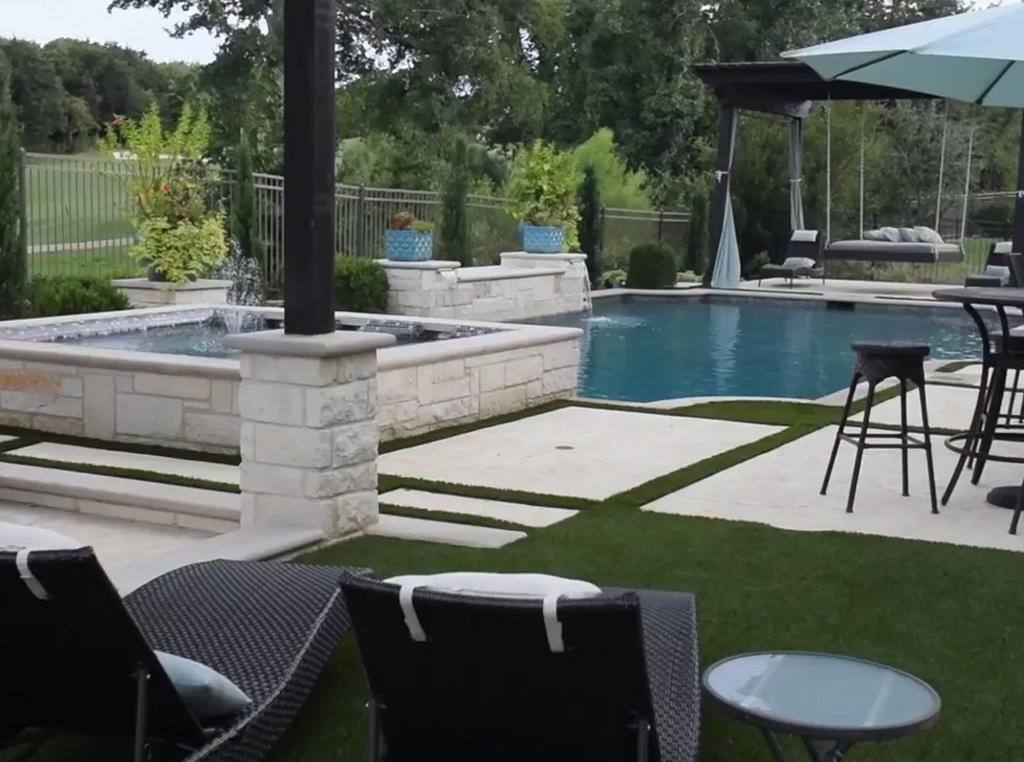 If you'd asked me 20 years ago if I'd ever consider using artificial grass with one of my high-end pool projects, I would've looked at you like you had two heads and three hats: There was just no way on earth that would've been a possibility.
A lot has changed in the past few years, however, and it's getting to the point where I'm working with fake turf on a surprisingly number of projects – including three I highlight in the single video linked below. (Forgive me for repeating a joke or two along the way: The various segments were recorded with substantial gaps in between!)
The big advances with today's synthetic grass have to do with color and texture, both of which were wanting in the first-generation product. I don't know how they do it or what led them here, but they've taken something that was the epitome of artificiality and made it so convincing that it actually fools many people. That's something special.
The three applications I highlight here use the material as a lawn, as a patterning element and as a frame. If there are other uses out there by now, it wouldn't surprise me a bit, and I'm far enough into its potential that I'm pretty sure I'd pick any new applications up quickly.
A few technical issues need to be considered. First, there's no denying that artificial turf is just sad when its corners lift, its edges curl or weeds and real grass start popping up through its surface. Installation is no casual exercise, in other words, with adequate compaction of the substrate being essential for long-term surface smoothness. For that reason alone, it's best to work with professionals who know what they're doing and can make the material look its best.
Second, these surfaces can get hot in the summertime – one of the details that makes me less inclined than I might be otherwise to use it to replace big swaths of natural lawn.
Finally, you get what you pay for – or your clients do, actually. The quality stuff with the subtly mixed colors, great body and texture and a convincing appearance even at close range costs a good bit more than the thin, neon-green stuff that comes off rolls at home supply stores.
Ask me about synthetic grass today, and I'm all in: It's a great, steadily improving product category, and my clients love its low-maintenance style.
To take quick looks at three artificial-grass applications, click here.
Mike Farley is a landscape designer with more than 35 years of experience and is currently a designer/project manager for Claffey Pools in Southlake, Texas. A member of Genesis 3's Society of Watershape Designers since 2012, he holds a degree in landscape architecture from Texas Tech University and has worked as a watershaper in both California and Texas.