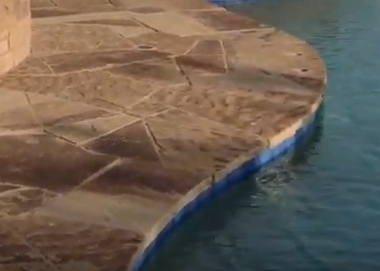 Of all the videos in this series, this is one in which I covered almost all of what I had to say about flagstone decking while on camera – a fact that doesn't leave me as much as usual to write about in this introduction. But as always, I've spotted a few areas worth additional comment.
One small point needs more emphasis than I gave it, for example, and that has to do with differences that arise over time at a given quarry. As I say in the video, the material available from this supplier of Oklahoma flagstone three or four years previously is subtly different from material they're shipping now.
These distinctions will very often have to do with color and tone, but often you'll perceive minor differences in surface texture and patterning. These can be quite subtle, but if you're matching an old field of decking right up against a new one, the contrast will often be noticeable. And even if there's little change at the quarry, material that's been exposed to the elements for several years develops a patina that won't be matched by new material for quite a while.
One more general point that I'd like to add: When quality is your goal (and the client's expectation), it's important to have competent, professional craftspeople on hand to get the job done right.
With flagstone decking, for example, the results can be beautiful no matter the approach – that is, whether the stones are fitted as rough flags and backfilled with uneven volumes of grout, or saw-cut and tightly fitted with narrow gaps. I happen to prefer the latter approach, but I've also seen wizardry on the part of skilled applicators who work pretty much by eye to make huge jigsaw puzzles some together with natural edges rather than sawn lines.
Finally, I must note that flagstone decking leaves us with the opportunity to hide surface drains and avoid visual intrusions on big, beautiful fields of stone. Pieces can be "floated" over drainage ports, for instance, with water flowing down around an ungrouted perimeter. Or holes can be drilled into the surface of a piece to let water pass to the drain head beneath it.
Any way you slice it (or don't), flagstone decking is a wonderful poolside choice: It generally stays cool, has a high degree of slip-resistance and comes in beautiful colors that just get better when they're splashed by pool water!
To see a video on a deck made using Oklahoma flagstone, click here.
Mike Farley is a landscape designer with more than 35 years of experience and is currently a designer/project manager for Claffey Pools in Southlake, Texas. A member of Genesis 3's Society of Watershape Designers since 2012, he holds a degree in landscape architecture from Texas Tech University and has worked as a watershaper in both California and Texas.