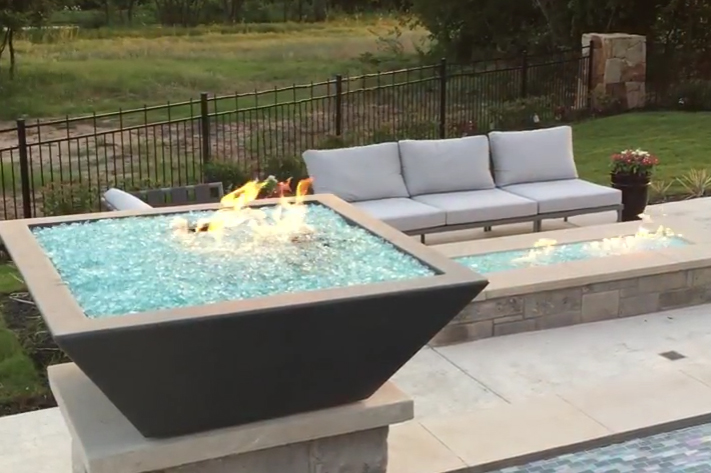 This article concludes a little series I've been doing that feature bowls in association with my pool and spa designs. The first two were about water bowls in very different applications. This one is about fire bowls and, in greater detail, about materials you can put in them to cover the burners, disperse the flames and make them look good even when they're not in operation.
Where water bowls are common these days, fire features are becoming omnipresent – and there are lots of good reasons for this. First, human beings are almost as fascinated by fire as they are by water – and it's truly a toss-up for which is more important to some of us.
That's because fire is unmatched in visual drama: It's never the same from second to second, and they way flames make light dance on nearby walls, trees and buildings can't be seen with any other source. Fire is also an amazing mood modifier: It's tough to carry the day's burdens with you when confronted by one of nature's purest spectacles.
Second, fire features offer the most aesthetically appealing of all options when it comes to heating outdoor spaces, making evenings outside more pleasant and stretching the outdoor season out in both directions by at least several weeks if not a couple months. And there's great flexibility here: In the first project seen in the video linked below, for example, we included three fire features: This offers multiple focal points, with the two bowls flames framing the fire table beyond when viewed across the pool – and setting up multiple sources of heat.
All of this is why we find ourselves installing more than one fire feature with increasing numbers of our projects: Our clients are seeing the value of this sort of space heating at multiple points around a backyard, making it possible for more people to enjoy the space while allowing for multiple conversations – a great benefit when it comes to parties that involve more than the six or eight people who might be able to fit around a single fire pit.
With fire bowls mounted on pool walls, however, there's another immense benefit for the pool's owners, kids and guests: The flickering reflections of fire off water are beyond beautiful. Even on warm nights, fire and its ever-changing reflections on the water are powerful visually and even spiritually.
Finally, please pay attention to the second half of the video and take the materials you insert into fire bowls very seriously: Beyond the possibility of eruptions that can burn holes in pool covers, there are also personal hazards here that make doing your homework about suitable materials more than just a good idea: It's essential.
A quick apology about the blurriness at the start of the video linked here: If you bear with it for a few seconds, we shifted over to images and set my narrative up as a voice-over for a survey of some of our recent fire-bowl projects.
Mike Farley is a landscape designer with more than 35 years of experience and is currently a designer/project manager for Claffey Pools in Southlake, Texas. A member of Genesis 3's Society of Watershape Designers since 2012, he holds a degree in landscape architecture from Texas Tech University and has worked as a watershaper in both California and Texas.