#21: Exposed-Aggregate Decking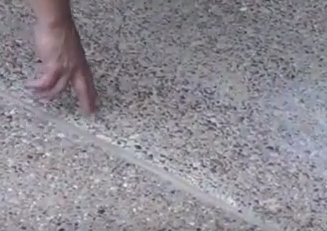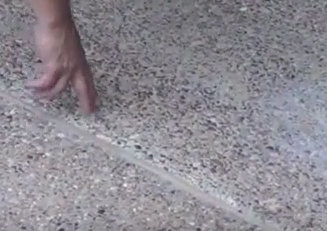 This is one of those "What Is It?" items I hesitated to write, mainly because the material and concept behind exposed-aggregate decking is so familiar (and maybe even so old-fashioned) that most of us rarely think of it. In the case of the poolscape featured in the video linked below, for example, it's possible and maybe even likely an alternative approach would have been taken had the existing patio been made using another material.
But personally, I've always liked exposed aggregate as an option for the two big reasons I mention in the video as I move around the project: It forms a slip-resistant surface that's great for high-energy, active kids, and it works well with all sorts of stone colors and finishes in the form of coping, raised walls and other watershape-related details.
If you want this warm, retro look, I have two important suggestions. First, make up a good-sized sample board and have your clients stand on the surface. This will help prepare them for the surface's texture and may lead them to make another choice if the granular roughness makes them uncomfortable. And if this is an option you really do like to use, you might even prepare samples with a couple different aggregates to broaden the choices and clarify the matter to an even greater extent.
Second, when you do this dog-and-pony show, expose the sample pads to the sun for a while before having your clients step on up. Again, it's a matter of full disclosure, and in my book it's best to avoid miscommunication at any stage with something as fundamental as a decking choice. And by the way, I'd recommend this approach with other decking options as well!
Look at it this way: Your clients will likely be spending more time walking around their pools than they will being immersed in them. Basic comfort is important, so why take chances when it comes to what they'll experience with their bare feet?
For a look at a project where exposed aggregate decking was an obvious choice, click here.
Mike Farley is a landscape designer with more than 20 years of experience and is currently a designer/project manager for Claffey Pools in Southlake, Texas. A member of Genesis 3's Society of Watershape Designers since 2012, he holds a degree in landscape architecture from Texas Tech University and has worked as a watershaper in both California and Texas.