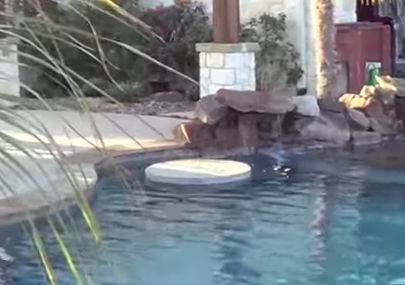 It's not what I'd call a common request these days, but every now and then I come across homeowners who want to be able to sit in the water to enjoy a cool drink or even a meal. It gets hot in Texas, after all, and these folks figured that relaxing under an umbrella around an in-pool table would be a great way to beat the heat.
It's actually a decent concept, but just as is the case with the stools we sometimes set up for swim-up bars, the designer or builder needs to think a couple things through to keep the homeowner wishing that inspiration had never come. Indeed, these features can become an annoyance and can lead homeowners to wonder why the designer or builder never warned them about the pitfalls.
The trouble, as I explain in the video, is that many pools have cleaners that move around to do their jobs – and that includes trips into spaces where their hoses or cords can get wrapped all around a table support or stool.
As always, our goal should be to discuss this and other "sensitive" issues in ways that don't spoil our clients' good moods. And there are a number of these "full disclosure" discussions associated with watershapes these days, including conversations about safety as well as chats about the use of salt-chlorination systems.
I make it my goal never to get in the way of homeowners' imaginations and the basic visions and desires they bring to projects. How I manage conversations about the pros and cons of their ideas and guide clients to well-informed conclusions is the key to my success as a watershaper.
As much as I might wish it were otherwise, I know there's one thing I can't do – that is, avoid these difficult subjects and proceed as though ignorance is bliss!
To see the results of our conversations about feature of this table-inclusive Texas pool, click here.
Mike Farley is a landscape designer with more than 20 years of experience and is currently a designer/project manager for Claffey Pools in Southlake, Texas. A member of Genesis 3's Society of Watershape Designers since 2012, he holds a degree in landscape architecture from Texas Tech University and has worked as a watershaper in both California and Texas.