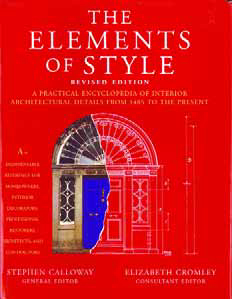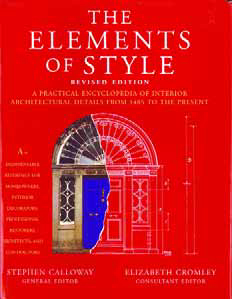 When people ask me how I approach the design process, I tell them it's always based on three things: The clients' ideas about what they want; the site's characteristics; and the architecture of the home.
If I had to pick one of those factors that's been the most challenging for me to master, I'd have to say it's been gaining a firm grasp on architecture and the details that make up architectural styles. And when I've been asked where that kind of background can be gained in the form of a reference book, I've always been at something of a loss to make a recommendation.
Basically, it's tough to narrow things down because architectural design is so huge a topic. Without an architect's educational background and training, I've been left to pick up what I can mostly by paying attention to what I see around me – a challenge in itself in my area, where most
homes are relatively new and don't adhere to easily identifiable styles.
But the fine points of design are becoming less of a mystery to me now, courtesy of The Elements of Style, edited by Stephen Calloway (Simon and Schuster, 1996). I spotted a copy of this 560-page textbook in the office library of a general contractor I've been working with lately, and I knew right away that this was a volume I needed to add to my collection.
This bountifully detailed, well-illustrated text covers major architectural styles dating to 1400 AD with a primary focus on architectures of the United Kingdom and the United States. It highlights periods and traces design traditions that are probably familiar (at least by name) to most of us, including Baroque, Colonial, Federal, Empire, Georgian, Arts & Crafts, Art Deco and Modern (among many others).
Each section offers a general description of the style and the historical period in which it originated and was first applied. On that level alone, it's useful as a design primer – but more helpful still is the degree to which each section conveys information on specific details and features that constitute each tradition.
The focus of the book is primarily on interior design, but each section also includes information on architectural basics including doors, windows, walls, ceilings, floors, fireplaces, staircases, built-in furniture and even service items such as appliances. Each section also offers detailed illustrations of such things as doorknobs and windowsill composition. In the section on the Baroque period, for example, are four pages carrying dozens of images of balustrades and another set of pages on fireplace surrounds.
This focus on interiors doesn't bother me, because as a watershaper the book gives me ideas about details I can incorporate outdoors that will capture or extend the spirit of elements found indoors. There's just so much here that I see this book as being essential to anyone who's following current design trends and needs to find ways to link interiors to exteriors both subtly and seamlessly.
The Elements of Style is a true treasure chest, and I have thoroughly enjoyed it an as introduction to the work of pioneering architects and homebuilders as well as a resource on the depth and richness of the vocabulary of architectural style. It has changed the way I look at neighborhoods when I travel and increased my appreciation for the fact that, as a watershaper, I'm tied into a vast design heritage.
Fair warning, however: The book makes for bland reading, but I value every page.
Mike Farley is a landscape architect with more than 20 years of experience and is currently a designer/project manager for Claffey Pools in Southlake, Texas. A graduate of Genesis 3's Level I Design School, he holds a degree in landscape architecture from Texas Tech University and has worked as a watershaper in both California and Texas.