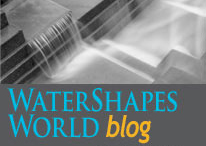 By Jim McCloskey
The Number One question I have been asked since the announcement of the acquisition of WaterShapes by Watershape University is fairly blunt: "What does this mean for WaterShapes?"
My usual answer is, "Not much – and everything!"
The "not much" part pertains to the fact that WaterShapes won't change significantly beyond some new contact information on the staff box. In fact, my conversations with Dave Peterson and Bill Drakeley from the get-go have emphasized their desire to maintain the independence of the WaterShapes web site and its twice-monthly digital publication with respect to editorial decisions and content. As they told me, rather than tinker with their new property, they want to build on the synergies between our operations while exploring ways to enrich and enliven the existing editorial program.
As they observed, Watershape University already has its own web site and social media outlets, so beyond establishing links back and forth and including a new standing feature in the WaterShapes newsletter to reach out to readers (in much the same way as we've set things up to keep you informed about the WaterShapes Professional Network), there won't be any effect on the depth of information we've offered since WaterShapes went all-digital in 2011.
The "everything" part is a direct expression of my joy that WaterShapes now has a bright and promising future. For many years now, I have been concerned that I would someday run out of gas. Since the magazine faded away in 2011, I have defined a nice, dignified existence as editor and publisher, but I've also assumed the roles of staff writer, art director, bookkeeper, Internet technologist, archivist and juggler and have become such a slave to computer screens that I haven't been able to develop long-term plans the way I once could.
Dave's and Bill's intervention has already changed all of that. Indeed, they've turned my thinking around and I am ecstatic that WaterShapes will continue far into the future, buoyed by our intellectual harmony and built on a shared commitment to education and effective communication. So yes, WaterShapes and the newsletter will continue as beacons for the industry – a resource with staying power, momentum and an ongoing dedication to the betterment of the watershaping trades.
And that still means all watershaping trades. Although Dave and Bill hail from the pool industry, they let me know immediately that what they've always liked about WaterShapes is the fact that it has such a broad base, with coverage not only of pools and spas but also of ponds and fountains and other crafted waterfeatures – "from birdbaths to lakes," as we've always put it.
Even more important, they know how much effort we've expended through the years in reaching out to architects, landscape architects and other professionals, both to include them as editorial contributors but also to get them to pay attention to water as a design medium worthy of its own category and its own measure of respect. And they've told me that they want to redouble those efforts and expand our mission of making watershapers credible participants in the overall creative process.
I love that commitment and the potential it has to elevate watershaping and its practitioners to a whole new level. I also love the direct association of WaterShapes now has with an educational resource. We have been philosophical supporters of educational outlets in the past, of course, but I look forward to seeing what happens when we take a more direct, active role.
As I work my way through this first week of the New Year, I have to confess that I can't wait to get 2020 fully on the road, just to see what happens next. I urge you all to come along on what promises to be a thrilling ride!