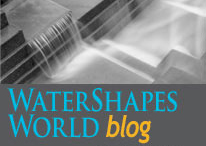 By Jim McCloskey
As you see this on November 1, I'm already in the WaterShapes booth at the International Pool|Spa|Patio Expo in Orlando, saying hello to old friends, making new acquaintances and doing all I can to make the most of our participation at the show.
It's a celebration for us – our twentieth time
exhibiting at an event we first attended in November 1998 in anticipation of launching WaterShapes as a printed magazine in February 1999.
I remember the 1998 show quite well. It was in New Orleans, and one of my first pleasurable duties involved having breakfast in the French Quarter with Brian Van Bower and Eric Herman. We were after Brian to write what became his Aqua Culture column, which went on to have the distinction of being part of every single issue we published up to the point we went all-digital in July 2011.
After that splendid meal, however, the reception for us at that first show was more, shall we say, rough-and-tumble? Nobody really wanted to see another magazine in the pool-industry space, any more than they wanted to see another in the landscape-industry space. But it was our combination of those two main shadings of what we called "watershaping" that gave us the unique proposition we needed.
Not only did it broaden the base of advertisers we could approach, but it also set up a media slot in which pool designers and builders who were striving for recognition in the greater design community could rub elbows with landscape architects and designers who were generally skeptical about the abilities of those they dismissed as "pool guys"—this despite the fact few of them knew much about the nuts and bolts of working with water.
It was fun watching the barriers start to crumble and traffic on the bridges we'd built begin to thicken, even early on. We set our sights exclusively on high-end, custom concrete pools and top quality ponds and fountains with a level of practicality and specificity that hadn't been available to water-oriented professionals for many years. Once the sharing started, there was no stemming the flow – and that's been true ever since.
So please do stop by our booth (#857 in the Genesis Pavilion) and wish us a Happy Anniversary. Making it to our twentieth hasn't exactly been a walk in the park, but I'm happy to report that it feels more and more like one every day!
***
In the last edition of the WaterShapes newsletter, we noted the passing of Ron and Suzanne Dirsmith and the end of a creative partnership that kept them happy for more than 62 years. Permit me to do a more thorough job of recalling them here with a pair of brief anecdotes.
Through the years, they wrote six articles for WaterShapes, starting with one about the effects of ice on fountains and how, as designers, they enjoyed using winter's chill deliberately to transform some of their watershapes into distinct, unexpected sources of interest and even entertainment in the dead of winter.
That was early in 2001, and I saw it as a key moment in our developmental history: It was then that I recognized the degree to which we'd been accepted by the design community as a place where "trade secrets" weren't a consideration and sharing was the watchword. That was a cool feeling.
Fast forward to late 2011, when one of my early WaterShapes World blogs bemoaned the changes we were going through and how much I missed the printed magazine. Ron sent me a long note in which he wrote about the value he'd found in the magazine through the years – and then chastised me for seeming down about the changes we were making. "Digital's better," he observed. "You have the potential to reach many more people around the world, and you're sparing trees at the same time." It was just the poke to the ribs I needed at that moment.
I don't know when we'll present more Joseph McCloskey Prizes for Outstanding Achievement in the Art and Craft of Watershaping – which we used to celebrate our reaching the 100-issue milestone back in 2008 – but the short list for new recipients has always included Ron and Suzanne. They were earnest sharers as well as great watershapers and valued friends.
I miss them. I know they rest in peace.