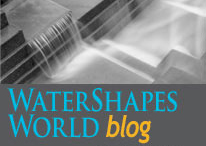 By Jim McCloskey
At this point 20 years ago, WaterShapes was running at full throttle as we prepared to publish our first-ever printed edition in February 1999. In that era, this meant we had to have the final version of our premiere issue in the printer's hands very early in January.
From the hatching of the initial concept in
the spring of 2017 until about October 1, WaterShapes had basically been a two-person operation, with Eric Herman rallying editorial voices to appear in our first issues and me focusing on marketing and getting things organized for the sales effort. Plenty happened before that fateful Thursday, but as of that date and beyond, WaterShapes was a juggernaut.
The big thing that happened October 1 was the firming up of funding we needed to start producing collateral material and hiring key staff, including an art director and a sales manager. But perhaps more significant was what Eric and I started hearing after the completion of the first-ever Genesis design school at Morro Bay, Calif., in September 1998: Not only was it affirmation that there were professionals who would be interested in the upscale direction we were taking, but also that there were multiple folks out there with whom we were philosophically aligned.
That alignment was important given what we were trying to do. To this point, water-oriented designers and water-containing builders were fragmented across several industries – some in the pool/spa trades, some in the landscape design/architecture business, some in the world of architecture and still others in the emerging pond trades. Our intention was (and still is) to serve the diverse needs of all those industries with a single resource: Without a binding philosophy of some sort, making it work would've been impossible.
The glue we found was this: an impulse to excellence. We knew going in that this was a driving force among conscientious, ambitious architects, landscape architects, pool professionals, engineers and others on our target lists, but before Genesis came along as a lightning rod, we hadn't seen the personal impulse as a movement. We'd known individuals who wanted more – but now, even with just that first design school in September 1998, we saw like-minded folks getting organized, reaching out and showing every sign of multiplying.
We were on our way and have seldom looked back.
Indeed, we've always focused on the future – no more avidly than when, after 131 printed issues, we went all-digital in July 2011. Where our mission previously had been to serve only the interests of professionals in water-oriented design, engineering and construction roles, we now saw both the need and opportunity to expand our perspective.
That's why we have another October landmark on file, this one also in 2011, when I found myself needing to revise a mission statement that hadn't been touched since 1998 to reflect changes in our approach to the marketplace. It now reads:
"The mission of WaterShapes.com is to centralize, organize and democratize information having to do with the processes by which water-containing vessels and their surroundings are designed, engineered and constructed. It serves all visitors – professionals as well as consumers – as a forum for communication about how these environments and their amenities can be assembled practically, properly and profitably.
"For all visitors, WaterShapes.com will be a constantly growing, constantly evolving resource offering access to practical information – a forum that leads professionals to the state of the art and the materials, tools and methods used to achieve ambitious results; and simultaneously equips consumers with the information they need to ask the right questions as they aspire to own or improve their watershapes and aquatic environments. In addition to being about products and services, the site is furthermore about developing a strong sense of community and communication among water-oriented professionals and consumers alike."
It was a big step and an aggressive declaration. I'll have more to say about what it has come to mean in practical terms in a blog or two to come.