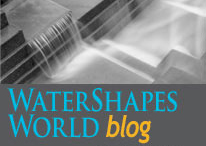 By Jim McCloskey
I promise not to be insufferably happy in too many more of these blogs, but I have to say that the trade show I just attended as a new member of the Watershape University team was an over-the-moon experience for me.
It has been decades since I can recall being even slightly keyed up about a trade show. As I prepared myself for last week's Atlantic City event, however, I knew I'd have to be on my toes, pay attention and figure out how to talk about the organization I'd joined – what WaterShapes.com means in the context of Watershape University's approach to communications, outreach, education, curriculum development and member services, not to mention its relationship with the International Watershape Institute and its emerging agenda.
So I arrived at the Atlantic City Pool & Spa Show ready to watch, listen and absorb – in itself a cool change of pace for me after more than 20 years of seeing everything through a very familiar and much narrower lens. My new colleagues helped by sharing how they see WaterShapes fitting into the game-changing, growth-driven organization they're now unwrapping.
I have to say, however, that I detect no learning curve or obstacles at all when it comes to understanding or writing about one of my new-found siblings – that is, Live Blue Foundation, a philanthropic offshoot of the Watershape University initiative that embraces a number of advocacies WaterShapes has worked to advance for the past 20 years.
Heck, I've been an active supporter of learn-to-swim programs since joining the industry in 1986 and have also been interested in reaching out to other water-related industries for almost that long because I recognize the importance to them of spreading an essential skill that makes people comfortable on, under, near or in water. The foundation will deal with these related issues all at once, and I know it'll be great.
Honestly, it's as though Dave Peterson, Bill Drakeley and Lauren Stack had been reading my mind and were feeding my inner dialogues back to me: I can't wait to dig in deeper, because this new foundation they've started has the potential to be incredibly productive.
A few people mentioned during the show that it was odd to see me sitting in a booth that had more than WaterShapes as its focus. I have to say that I miss the utter simplicity of my old banners and sign-up sheets – but that I like even better being part of an organization that engages watershapers on more levels than WaterShapes ever could alone.
A new home with like-minded partners: I am indeed a happy man.
***
I knew the name Wesley Bintz from an epic series of articles on the history of the swimming pool industry that Fay Coupe wrote for me in the late 1980s when I was with Pool & Spa News. Fay had been the first editor of what had been Pool News in the 1960s and was a formidable news hound, especially when it came to uncovering stories about the people who had set the foundations for modern watershaping.
Bintz was an engineer who designed and built at least 70 (and possibly many more) public and commercial pools beginning in the early 1920s, most in distinctive oval forms with locker rooms and support systems tucked underneath the shells to save space. Although few survive, there are reports that several are still in operation, and it was a news story about one of them – at Moores Park in Lansing, Mich. – that caught my eye and reminded me of just how important Bintz had been.
That recent article (click here) indicates that the iconic Lansing pool is under threat as it approaches its centenary. The good news is that there are people in the community who are defending it, which is deeply encouraging. But what bolstered me even more in doing a bit more research is that they're not alone: Bintz and his pools actually have a fan following – including a presence on Facebook via the 464-member Wesley Bintz Swimming Pool Network!
These are interesting times, and it's nice to know that there are folks out there who value the past – and are willing to defend it using up-to-the-minute techniques!
For more on Bintz and his pools, click here.