By Jim McCloskey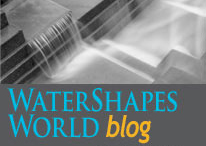 In my lengthy publishing career, I've experienced a whole pile of rollouts and launches – more than a dozen new magazines, almost as many books and a few Web sites. Truth be told, none of them were ever as long in the making or as painstaking in the details as the one that occurred a few days ago, when the new WaterShapes.com took flight.

We started working on this remastering project last year, just after we suspended publication of WaterShapes' print editions. There were some fits and starts, most of them having to do with the trial-and-error process of finding a Web-development team that, on the one hand, understood what we needed and, on the other, was as excited as we were by the project's potential.

Our initial contact with GrossiWeb Consulting (Atlanta) finally came late last year, and discussions moved along gradually until we inked a deal in March. Ever since, we've pounded away at the challenge of incorporating a massive trove of content – ultimately, every article published in 131 issues of WaterShapes over more than a decade plus a whole lot more – into a Web site that is user-friendly, fully searchable and, above all, ready for plenty of growth.

Our primary post-relaunch task is to build the site's user base, which is a significantly different undertaking than it was when we were a trade magazine and had access to mailing addresses for pretty much everyone in the watershaping business. Moving forward, our ambition is to embrace all of our past readers – and to invite consumers to the party as well.

We're confident that there is a hunger out there among watershaping professionals and their existing and potential clients for the valuable information we will provide. We believe the more both professionals and consumers know about what can be done and what is being done in residential backyards (or on commercial or institutional properties), the more likely it is that consumers and the watershaping professionals they employ will experience more satisfying outcomes, whether the project is a renovation or a fresh start.

Look at it as a process of democratizing information that so far has circulated exclusively within the trade. Instead of limiting the creative, informative dialogue to watershaping professionals, we'll also help consumers deepen their understanding of the process of designing and building pools, spas, fountains, ponds, streams, waterfalls, waterwalls and all other watershapes.

Now that our expanded and improved Web site is up and running (we certainly hope you'll check it out), we'll start working on a whole list of additional features that will give professionals and suppliers even greater opportunity to reach out to, and interact with, the "civilian" users of the site.

It's community development on a grand scale and will take time to unfold completely, but it starts now.


You can help: Please let your clients know about the new www.watershapes.com – and about our biweekly digital newsletter, WaterShapes EXTRA!, which is available free of charge to anyone with an e-mail address.